There are awesome ways to boost home value. When you are selling your home, the goal is to obtain the highest and best price in the shortest time frame. The average price of a home sold varies but the area and the amenities. There are certain areas of the country which do command a higher price point. The location is to be the number one factor that influences value.
When you are selling, you cannot just ask for an inflated price without having comparable sales to justify that price. If you overprice your home, then it will likely sit in the market and accumulate a number of days on the market. This generally sends a message to the buying public wondering why it has so many days on the market. A buyer might think something is wrong with it, or that the seller is unrealistic with their price. And they make think the seller may not be reasonable to negotiate with a real estate transaction so they don't even bother to make an offer because no one wants to waste time!
Try to avoid selling your home as-is because it can result in fewer and lower offers on the home. If you are looking to obtain the highest amount of money in the shortest period of time, there are some simple ways to improve the value of your home.
Improve the Curb Appeal
Keep in mind, the home has only one chance to make a good first impression. The first place a potential buyer is going to see the home will be online, so it is imperative to excellent listing photos. If a potential buyer drives up and the property has a poor curb appeal with obvious signs of deferred maintenance, this can turn off a potential buyer. As a buyer is walking up the walkway, they are already imagining if they can see themselves living there or not.
Be sure to look into ways to improve your curb appeal if you want to easily boost the home's value. Exterior landscaping should be neat and tidy. Ensure flower beds are weeded and add fresh annuals to add color in the flowerbeds. Make sure the grass is cut and the foliage has been trimmed. Be sure to power wash the walkway and make sure it is clean. Address the entryway. Repaint the front door and update hardware if it is in poor condition. Clean or replace exterior light fixtures and ensure all light bulbs are operable. New lighting fixtures can add to the entryway. Exterior yard lighting is inexpensive and easy to add. You can find exterior lighting at Home Depot which is solar operated and turns on at night for evening drive by's and showings. Consider twilight photography as this will demonstrate that the property looks appealing in the evening as it does during the daytime. Curb appeal should not be underestimated, and there are some inexpensive ways to improve it.
Deep Clean the Property
In addition to having the first impression and curb appeal inviting, be sure to deep clean the property. Clean windows to allow the natural light to come up during the day time. If the screens are in need of repair, either rescreen or replace them. Buyers don't want to move in and have to pay for repairs such as screens when they come in.
Declutter and remove personal items. You want the property to be as neutral as possible. Remember you want buyers to imagine themselves living there. Address the backyard as well and add some outdoor string lights for ambiance. Create an inviting space where a home buyer can imagine themselves enjoying the outdoor space. Clean patio furnishings and add decorate art in strategic places to stage the property.
Keep it Safe and Secure
Everyone wants their home to be safe and secure, so boosting the security and safety of your home should help it become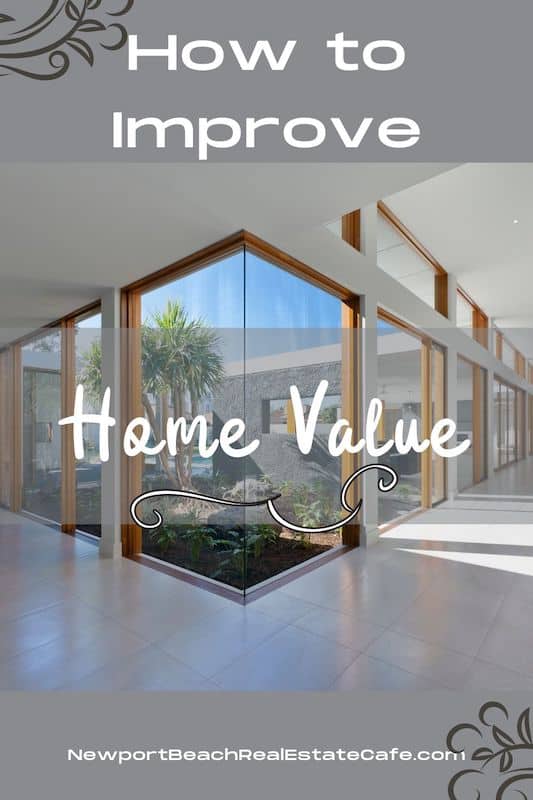 more valuable. Thankfully, this is simply due to all the security measures that are available today. You can install wireless security systems, cameras, alarms and a variety of other solutions. Many homes located in populated areas are now utilizing wi-fi security cameras. It is an easy way to monitor the property in the front and in the rear. And this will most likely dissuade potential thieves. Should you decide to install security cameras, then consider utilizing the ones which are hard-wired so you don't have to continue to charge the battery.
Other ways to improve the security of your home including adding higher fences to your yard if that is permitted in your city and or home owner's association. Other ways include adding more secure windows and doors. You can also utilize smart locks on the doors and garage doors. Smart home technology is definitely a factor that is desirable for a home buyer.
Add Eco-Friendly Home Upgrades
People care more about the environment than ever before, it is important to reduce your carbon footprint. Having a home that is as energy efficient as possible is very important. Many people want their homes to use as little energy as possible. Some of the things you can do to make your home more efficient include using efficient appliances, changing your windows and ensuring all leaks and cracks are sealed.
Also, as energy costs rise, many buyers would love to know that their bills would be lower if they purchase your home. You can perform an eco-friendly audit of your home to see where you can conserve energy usage and reduce utility bills. Even if you don't sell immediately, it is a good idea to make your home more efficient. You will save money on your utilities and energy costs, while also doing your part to help the environment.
What are Five Ways to Boost Home Value?
Click To Tweet
Renovate and Remodel Carefully
Of course, making renovations in your home is also a good way to increase its value. However, you want to make sure you make the best renovations that have a good return on investment. While all should offer a decent boost to home value, you want to make the renovations that are the most profitable. In most cases, this means making renovations to your kitchen, bathrooms, and outdoor space.
Also, not every renovation needs to be a massive home-wide change. Changing up a few things in a given room can still have the potential to boost the appearance of your home.
If the home is perceived as comfortable and does not have obvious deferred maintenance, it is more appealing to more buyers.
Final Thoughts
Getting your home ready for selling can be an arduous task, however, it is not impossible. Planning ahead can help you to get ready to sell. Decluttering and getting rid of unnecessary items will help the process to go smoother. Hire a professional Realtor and obtain guidance on what is necessary to do in order to sell the home for the highest amount of money in the shortest period of time.
About the Author
The above real estate article "Ways to Improve Home Value" was written by Sharon Paxson a top Newport Beach CA Realtor. Sharon has experience representing clients with their residential real estate needs in Coastal Orange County and the Newport Beach area since 2005. Reach out to her anytime to get your most pressing real estate questions answered.