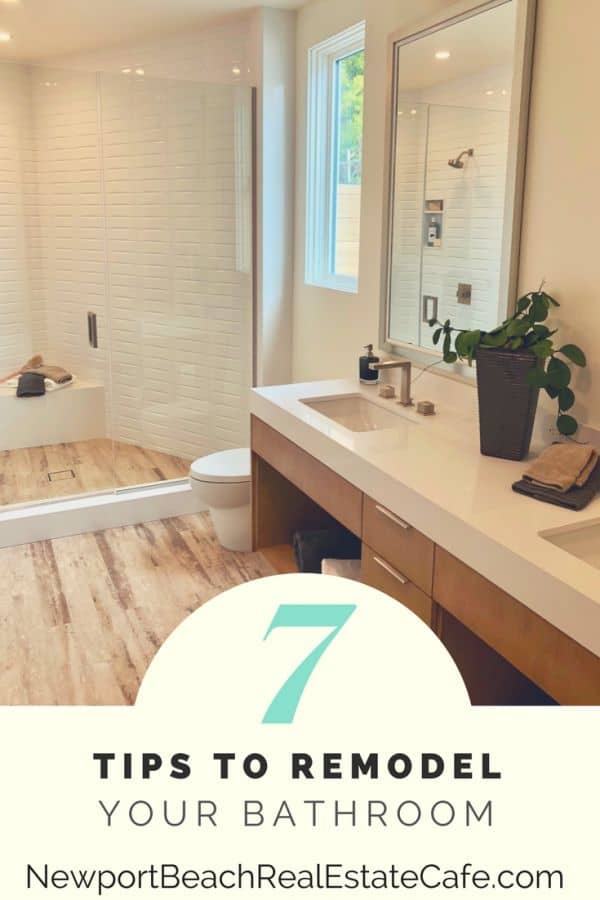 When you remodel your bathroom, it adds value to the home. When you are considering selling your home, it is important to stage your home to prepare it to sell. The two areas of the home that are very important to buyers are the kitchen and the bathroom.
Therefore, when you are preparing your home to sell, you want the bathroom to stand out and have appeal! Buyers want to imagine themselves living in the home and the bathroom is an integral and essential part of the home. There are many bathroom remodel ideas to search for so you can decide what will work best for your home.
The following are seven tips to remodel your bathroom and stage your bathroom in preparation for selling.
Deep Cleaning
One of the first steps is to decide how to plan a bathroom remodel Begin your remodeling by doing a deep cleaning of the bathroom so that you can take a good look at what really needs to be updated. Bathrooms by nature are always wet or have moisture in the air, due to the showers and/or bathtubs being utilized on a constant basis. This continued moisture can create mold and mildew which can grow in grout lines and caulking. That needs to all be very thoroughly cleaned to determine what needs to be done.
If budget is an issue, then a thorough cleaning of showers, glass enclosures, counters, and sinks. Ensure that faucets and hardware do not have hard water spots and stains. There can be hard water spots on glass enclosures which can be removed utilizing certain cleaning solutions such as CLR bath and kitchen spray or other products found at home improvement stores. After it has been cleaned, caulking can be added where needed.
Remodel Your Bathroom | Seven Quick Tips
Click To Tweet
Look at the light fixtures in the bathroom and replace any burned-out light bulbs, dust off, and clean the light fixture. If it is old and outdated, consider replacing the light fixture. These are excellent first steps to take when you remodel your bathroom.
Organize and Declutter
Another factor to take into account when you remodel your bathroom, be sure to do a deep clean. Clean out your drawers in the bathroom and clean out the cabinets. Be sure to wipe down the inside of the drawers using a cleaning solution and the cabinets under the sinks. At the same time, when all the "stuff" has been moved out, you can see if there are any water leaks, which can cause problems and need to be addressed. Whether you are selling or not, any leaks and their subsequent damage need to be fixed!
Fresh Paint When You Remodel Your Bathroom
Painting the entire bathroom will make a huge difference. Take down all the pictures and accessories, and fill the holes, and paint the entire area with a neutral color.
Again because the bathrooms are notoriously wet places, the baseboards may end up getting a little more worn out than other areas of the homes. If the baseboards are made from a material which is known as MDF (medium-density particleboard). The MDF can absorb water and discolor, and the seams can be exposed to continual moisture. It can also swell, and show signs of water staining. If this product is utilized in a high-humidity area, then it needs to be waterproofed prior to painting.
Be sure to replace the baseboards and have them painted to create a finished look.
If you have a bathroom that has no operable windows, then you will want to make sure that the exhaust fan is operable and is venting to the outside of the house. If you have one making a noise, or not working properly, it is not going to be efficient to remove the moisture from the area. Replace the exhaust fan if needed. A home inspector will note if an exhaust fan is inoperable or noisy.
Bathroom Cabinets
Bathroom cabinets can be made from a variety of materials. Some of those materials include plywood, particleboard or MDF (medium density particleboard) and sometimes the drawer faces will have solid wood.
Sometimes home builders will utilize laminate or melamine cabinets in bathrooms and I have seen them utilized in the kitchen. Because of the high moisture situation in a bathroom, the laminate can bubble and begin peeling. It can be utilized as a short-term solution, but it will not last a long time. The laminate should not be painted.
There are companies however that will re-face the laminate cabinet door with a new coat of melamine and restore them to looking as if they were new. This is actually a good option if you are selling and do not want to invest in new cabinets.
On a side note, the laminate cabinets in the kitchen can wear out quicker due to the moisture in the kitchen and begin peeling. They are also subject to heat, so if you have a coffee maker or toaster under them, then the heat can cause them to peel.
Flooring in Bathroom
After the flooring has been cleaned, you may want to consider replacing it. If you have a natural stone or travertine, it can be professionally cleaned, and imperfections can be addressed.
Tile flooring should have the grout lines cleaned and show no sign or dirt.
If you are deciding to replace your flooring in the bathroom, you can look at the options. Carpet is never recommended in bathrooms. A throw rug or bath mat is great!
Countertops and Sinks
What do your countertops look like? If they are tile, be sure to clean the tile and grout. If there is missing caulking between the sink and the countertop, you can add caulking in that area to ensure it is properly sealed. You may have a solid stone countertop such as stone or granite, and that may need to be refinished and subsequently sealed. Even with a solid counter, the caulking near the sink needs to be addressed completely and sealed.
Take a close look at your bathroom faucets and hardware, and look to see if there are hard water spots on them, or if they need replacing. These can be replaced and purchased at a home improvements store such as Home Depot or Lowes. A plumber can install them and the faucets will definitely be an enhancement.
Updated Mirrors and Medicine Cabinets
There are many options with a mirror if yours does not need to be replaced, then just be sure it has been thoroughly cleaned. Otherwise, there are options including framed mirrors which are decorative. Recessed medicine cabinets can get worn out, and may need to be replaced. Any cracked mirrors should be replaced.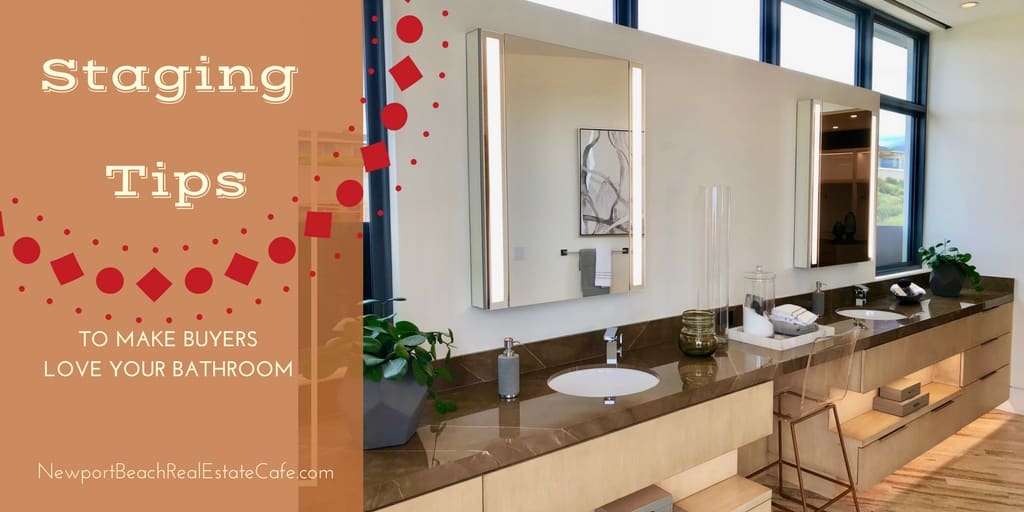 Turn Your Bathroom into a Spa
Now you have your bathroom all clean, functional and inviting, here are a few more suggestions to appropriately accessorize.
Be sure all hygiene items such as toothpaste, toothbrushes, hairbrushes etc are kept out of sight. Have a place for these items in a drawer that is neat and organized so space looks neutral.
Put away hair dryers and store them neatly under the sink or in a dryer bag.
Bring in fresh towel sets and keep some rolled up near the bathtub.
Consider diffusing a neutral essential oil such as lemon.
Add a small vase with fresh flowers.
Use a few hand towels near the sink and some liquid hand soap in an attractive container.
Utilize a healthy houseplant (they do like the humidity).
Consider hanging a decorate framed mirror on another wall in the bathroom.
Utilize an attractive shower caddy to store necessary bathing items such as shampoo and conditioners to keep them off the shower floor.
Final Thoughts
When you are considering selling, you want to do as much as you can to have your home in tip-top shape and so that it is inviting in all areas including bathrooms. There are many ideas to remodel your bathroom to consider when you begin this project. Sellers often ask how to remodel a bathroom on a budget to save money while updating the home.
Ensuring it is clean, with clean caulk lines, and a sparkling shower will make it so much more appealing to a buyer.
Find Other Valuable Resources for "7 Tips to Remodel your Bathroom" from Real Estate Professionals Across the Country. Please check out the articles below, and please share them across Social Media if you liked the articles.
Top Home Features that Today's Buyers Want via Kyle Hiscock, Rochester Real Estate Blog
Should I Remodel Your Bathroom or Move via Bill Gassett, Maximum Exposure Real Estate
8 Tips for a Stress-Free Bathroom Renovation via Michelle Gibson, Wellington Home Team
What to Clean Up When Preparing Your Home for Sale via Paul Sian, Cincinnati, and Northern Kentucky Real Estate
9 Killer Staging Tips for Your Bathroom via Kevin Vitali, Real Estate in Essex and Northern Middlesex
Your Home Might Be Less of an Asset than you Thought via Conor MacEvilly at My Seattle Home Search
Thinking of selling your home? I have a passion for Real Estate and welcome the opportunity to share my marketing expertise and knowledge! Please contact me!
About the Author
The above real estate article "Seven Quick Tips to Remodel Your Bathroom" was written by Sharon Paxson of Newport Beach Real Estate. With combined experience since 2005 with selling or buying, we would love to share our knowledge and expertise and guide you through the home buying or selling process.
We service the following Orange County CA areas: Corona del Mar, Huntington Beach, Laguna Beach, Newport Beach, Newport Coast, Orange, Santa Ana, Sunset Beach, Tustin and more! If you are considering selling your home, we welcome the opportunity to work with you and list your home with a top Newport Beach CA Realtor.