Homes with small gardens it can be difficult to find the motivation to make the most of it. Gardening in a small space may seem like it isn't worthwhile and the results not that impressive.
But this is not necessarily the case, with some imagination and ideas, you can make the most of the space to produce stunning results. We take a look at some interesting options for people wanting to make more out of their small gardens. There are definitely ways to create an epic garden in a small space.
Growing Upwards
If you don't have much ground space, why not grow upwards? The use of vertical growing space will make your small garden more abundant with plants. Try using walls or fences to host planters or mesh to allow plants that are suitable to grow upwards instead of across.
Selecting plants that will naturally climb can turn bland fencing or walls into something far more appealing. Some plants that like growing upwards include; beans, grapevines, squashes, tomatoes, and peas. You need to make sure that the mesh or trellis will be strong enough to support your choice of plant, and that it will have enough sunlight to thrive.
Certain types of fruit trees can also be trained to climb up your walls. Think about peaches, apples, and pears as options if the area catches the sun. In shadier parts of your yard, there are still plants that can do well. These would include gooseberries, sour cherries, and red-current bushes.
Mix It Up
Traditionally, you would set aside areas in your garden for different types of plants. The vegetables would be in one area, flowers in another and a section for fruit perhaps. However, if you have a small garden this isn't a luxury you have space for.
Mix up your planting instead, with vegetables mixed in with flowers and other types of planting. This can have many benefits while still looking attractive and interesting. Mixing vegetables and other plants have the advantage of deterring pests from attacking your edible crops. The flowers encourage pollinating insects to help out in your small garden as well.
You can choose edible plants which both look great and provide tasty results. Select plants that have contrasting leaf colors, like different types of cabbage and lettuce, or go for vegetables that produce flowers. It is good to add plants with edible flowers like calendula or choose flowers that attract pests so that they leave your crops alone.
Maximize Your Crops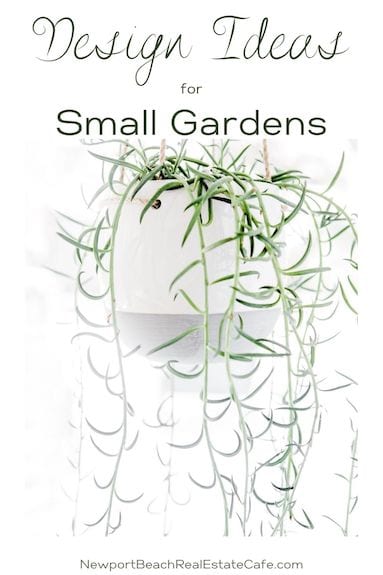 With only a small space to work with, you will be better off if the vegetables you plant produce crops more frequently. Choosing higher-yielding crops like tomatoes, runner beans, radishes, and zucchinis will give you more from your small garden. Some of these, like radishes, will give you the chance to pick them fresh from your garden repeatedly in the same season because they grow so quickly.
Using containers packed with soil high in nutrients will give your high-yielding plants the best chance to produce great results and multiple crops. If you choose more compact plants you will be able to fit more varieties of plants into your garden.
Stunning Design Ideas for Small Gardens
Click To Tweet
You can make the containers interesting as well. Perhaps you can find pots with colorful designs or find unusual objects to use as containers for your vegetables. You can also use hanging baskets to give you more room to grow.
Accessorize Your Garden
Outdoor space should be considered as an extension of your home. And there is no better time than the spring season to begin planting and accessorizing your garden. season to enjoy your backyard. Whether you have a small balcony, a deck, or a large backyard with lush landscape, there are always ways to accessorize. You will want to add a few accessories which are sophisticated and add ambiance.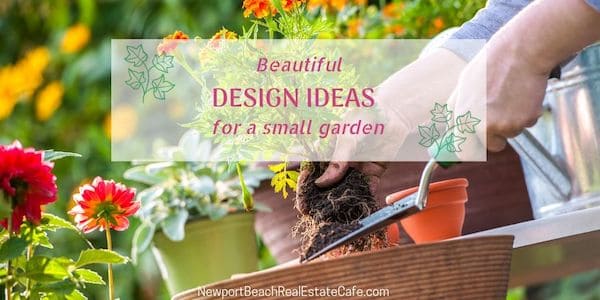 You can utilize seasonal accessories to decorate and add ambiance. However, during the spring and summer months, utilize neutral accessories that are pleasing to the eye and add atmosphere. Consider adding string lights for the evening and adding a water feature. Outdoor accessories will contribute to the overall appeal of the home. Adding beautiful umbrellas create shade and ambiance. You want your outdoor space to be inviting and an extension of your home.
Room to Relax
Since you are creating a small garden paradise, don't forget to make an area for you to sit and enjoy the fruits of your labor.
Both metaphorically and literally if your climbing fruit trees do well.
Select an area where you will best be able to admire the results of your green fingers and create a seating area. You could build your own seats out of logs or purchase a bench for the job. Whatever you choose, plant flowers around the area which produce lovely aromas. This section of your garden needs to be relaxing and somewhere you can rest after an afternoon of gardening.
Make your seating area more of a feature, with pathways of different colors perhaps, or build it within a pergola or archway which can be used as a host for more climbing plants. It could become the center point of your small garden as well as a comfortable place to rest and enjoy the outdoor space.
Utilize containers as well to add color to the garden. Containers are an excellent way to add greenery and utilize seasonal annuals to add color.
Final Thoughts
If you are selling your home, having a beautiful garden with accessories will definitely add to the first impression of the home. If your garden is tended to, this impression may carry over to the home.
Enjoying a garden regardless of the size is very rewarding. Especially if you are growing your own food and flowers. Even with small spaces, you can have a productive garden. Hopefully, we have given you some ideas on how to create amazing small gardens, so that you will be inspired to give it a try yourself.
Find Other Valuable Resources for "How to Improve your Curb Appeal in 8 Simple Steps" from Real Estate Professionals Across the Country. Please check out the articles below, and please share across Social Media if you liked the articles.
Kevin Vitali has put together an excellent article about 15 Springtime Curb Appeal Tips that will provide lots of suggestions on how to prepare for gardening this spring.
Paul Sian has written a detailed post about Tips for Creating a Better Landscape. In the article, he discusses how adding flowers can draw attention to certain parts of a home.
Adding outdoor lighting can create a lovely ambiance in a backyard. Bill Gassett discusses Ways to Make Your Outdoor Space Classy. He also shares specific perennials to utilize to add color in the backyard.
About the Author
The above real estate article "Stunning Design Ideas for Small Gardens" was written by Sharon Paxson of Newport Beach Real Estate. With experience since 2005 representing sellers, buyers, and landlords with their real estate transactions, we welcome the opportunity to share our knowledge and expertise and guide you through the home buying or selling process.
We service the following Orange County CA areas: Corona del Mar, Huntington Beach, Laguna Beach, Newport Beach, Newport Coast, Orange, Santa Ana, Sunset Beach, Tustin and more! If you are considering selling your home, we welcome the opportunity to work with you and list your home with a top Newport Beach CA Realtor.