Listing descriptions are very important and they do help to sell! When selling your home, the photographs are very important to attract potential buyers but don't overlook the description. The photos, or even video, might be the first things they look at, but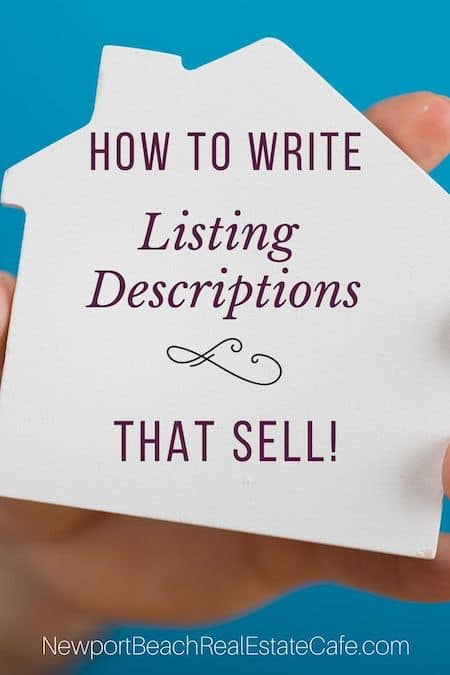 if they are interested in your home, they will want to read all about it. If you don't have an appealing listing description, your home could be sitting on the market for accumulating days on market.
Your home isn't the only one being added to the Multiple Listing Service in your area. If your real estate agent isn't making the most out of your listing, and many don't put in enough effort, you could be missing a crucial marketing opportunity for your property.
Listing descriptions are considered an essential part of marketing in real estate. A well-written listing description one can differentiate your house from other listings. Your listing description will be syndicated to all third-party sites when your home is listed on the MLS. Additionally, the listing description is the language that will be utilized for your social media marketing and internet marketing.
Images Aren't Everything
Having good pictures of your home are clearly important to your listing. And when selling, it is important to prepare your home for professional photography. More and more, buyers also expect to see video tours of your home as well. These are the first things that will get the attention of homebuyers, and they need to be done well.
If you have bad photos of your home, your listing won't attract the buyers, and you won't sell for the amount you should. Even if you have great photography, a compelling listing description will draw buyers in. A lackluster description has the power to put buyers off even if they liked the images.
Keep in mind that images are still an important part of presenting homes. Especially in today's climate, it is imperative that the images are stellar and present the home in the best possible light.
Appealing to Buyers
The description added to the Multiple Listing Service needs to give all the essential information that buyers want to know. It should be detailed, without going too far, and be creative enough to help sell the home.
This isn't an easy thing to get right, though, unfortunately, many agents won't try too hard anyway. The right real estate agent will know the sort of things that work and be experienced in creating listing descriptions that help sell the home.
It is important to be accurate with your MLS listing description and not to overexaggerate your home's description.
Focusing on the Right Things
The description should highlight the best things your home has to offer. It should make your home appear better than similar homes on the market, emphasizing anything that is an advantage over other properties.
Is the home set in a larger than average plot, or in a prime spot in a cul-de-sac? Does the property have energy-saving features or benefit from having quality brands in the kitchen?
If you have made any upgrades to your property, this can be something else that makes your listing more appealing. Anything that buyers could potentially be attracted to, or looking for, needs to be mentioned.
Descriptions that Work
There are certain elements that successful listing descriptions normally have in common. The entire listing description should be approximately 250 words. The reason for this is because most buyers are not going to read a wall of words.
Write an Appealing Headline
One of the first things that people see, and the most important part of the description, is the headline. It should make your listing stand out from the crowd, perhaps highlighting the standout feature of your home.
Great listing descriptions that sell a home!
Click To Tweet
Opening Sentences
This should include the features your home has that you want the buyer to remember. It should be something that you know will appeal to a lot of potential purchasers. You want this to drive the buyer to continue to read the description. Your opening statement should answer a buyer's question giving a thoughtful description of the home. The opening sentences should include information that will showcase the features of the property. If the property is new construction, then be sure to include that information as well.
Listing the Features
This shouldn't just be a simple list of what your home has to offer. Instead, it should tell a story, finding creative ways to describe the features of the home. Paint a picture that will make the reader start to imagine themselves living in your home. Be sure to include information about the community the property is located in as well.
Listing Descriptions Need a Call to Action
An important part of any listing is to actually tell the reader to make contact if they like the property. This should be at the end of the listing, and if you can find some way to add some urgency to this, all the better.
You want to make the buyer take action right away if possible, rather than have them leave it till later. They might continue to look and find another home that they like, forgetting all about your property. The listing description must captivate a buyer and be inviting for them to come and view the property.
Spell Check and Punctuation
Other considerations include the fact that the listing description needs to be spell checked. There are many apps that can be installed as extensions on a computer such as Grammarly. It will spell check for you as you type. Don't write the entire description IN ALL CAPS. You want to utilize proper grammar and punctuation with the listing description.
Keep the sentences short, and avoid long run-on sentences. Not every single sentence should end with an exclamation!
Final Thoughts
When choosing a real estate agent, look at their listings to see if they really try with the listing descriptions. Do their descriptions add to the listings making the home more appealing?
When you have a real estate agent create a listing for you, does the photography and their description of your property stand out from other homes? Does it do enough to describe the features of your property that should interest buyers? If it doesn't, don't be surprised if your home takes longer to sell than you might have expected.
About the Author
The above real estate article "The Importance of Listing Descriptions" was written by Sharon Paxson of Newport Beach Real Estate. With experience since 2005 representing sellers, buyers, and landlords with their real estate transactions, we welcome the opportunity to share our knowledge and expertise and guide you through the home buying or selling process.
We service the following Orange County CA areas: Corona del Mar, Huntington Beach, Laguna Beach, Newport Beach, Newport Coast, Orange, Santa Ana, Sunset Beach, Tustin, and more! If you are considering selling your home, we welcome the opportunity to work with you and list your home with a top Newport Beach CA Realtor.