Are you interested in ways to reduce your carbon footprint? Natural resources such as water and energy use are becoming top commodities. The costs of energy are going up, and we are continually being encouraged to be mindful of the environment. So you may be asking yourself what you can do to reduce your carbon footprint.
There is so much you can do and there is a lot of information available about this topic. Consider these topics and research your own to reduce your carbon footprint. Be sure to include the family with your energy savings so they feel involved and feel as though they are contributing. It also teaches them how to save energy for the future.
Shop Local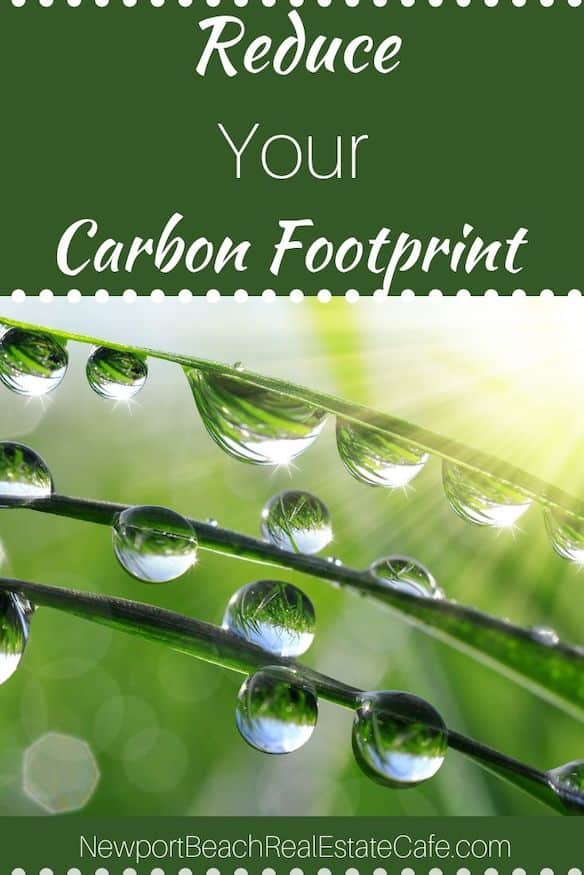 Food that needs to be transported far distances utilizes fossil fuels to keep the food cool and for fuel. Find a produce shop that has in-season produce which is local to you. Shopping local promotes local businesses as well as reducing your carbon footprint. Consider shopping at Farmer's markets as well.
Additionally, consider eating low on the food chain. This means eating mostly plants which include vegetables, fruits, grains, and beans. It takes a lot of water to produce even one pound of meat. Try to avoid eating meat even one day a week. And it's better for your health! There are groups on social media sites that promote Meatless Monday.
Appliances
Many appliances for sale in the United States are ENERGY STAR certified, which means that they use less energy than other
appliances which are not energy efficient. Dryers utilize the most energy in a home, but ENERGY STAR certified dryers use 20 percent less electricity than a conventional model, Buy energy-efficient appliances! The internet is a fabulous way to research appliances. In Southern California, there is the Bosch Experience Center where they do not retail the appliances but will take you around to demonstrate to you the differences between the models of appliances. It allows you to create a new sustainable home with appliances.
Select energy-efficient settings on your appliances. All appliances come with a variety of settings! For example, your dishwasher probably has a regular wash, a sanitize and extra drying time. Select the settings which are the most efficient. Only run your dishwasher when it is full to conserve more water and energy. Washing clothing in cold water utilizes less energy to heat the water, and will ultimately make your clothes last longer!
Seal All Windows and Doors
An average home loses up to 30% of it's cooling and heating energy through air leaks in doors and windows.
To prevent air leaks and prevent your home heating and cooling dollars disappearing it's important to seal any air leaks around windows and doors. If you reside in an older home, and the windows are drafty, add weatherstripping around the window frames. A bead of silicone caulk can seal gaps and cracks.
Replace Incandescent Bulbs
Halogen bulbs, compact fluorescent lamps (CFLs) and light-emitting diode (LED) bulbs offer long-lasting light and are more energy-efficient than incandescent bulbs. The average home utilizes about 40 light bulbs, so if you switch over to the greener bulbs, it is an excellent way to save money on your electric bill.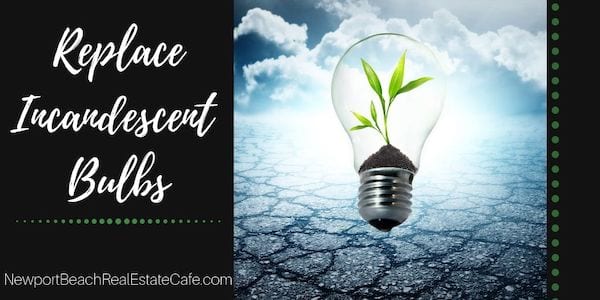 Energy Saving lightbulbs typically use approximately 25%-80% less energy than traditional incandescent light bulbs which will ultimately save money and save energy. Consider utilizing lightbulbs in your home. Additionally, the lightbulbs last 3 to 25 times longer than a traditional lightbulb.
Unplug appliances and chargers that are not in use. Coffee makers, toasters, gaming boxes left plugged in utilize un-necessary energy when not in use. Unplug un-used phone chargers as well. Just one phone charger may not reduce your bill, but collectively, doing some other items on this list will help to reduce your energy bill. So, unplug your chargers when not in use.
Water Usage
There are many ways to reduce water usage. Looks for any leaks in your home. Is the hose bib dripping water and just wasting water? Look around the home to determine if there are any leaks anywhere including under kitchen sink which can have a few different sources of a leak such as a drain, dishwasher hose or garbage disposal.
Other things you can do to save water include installing low flow showerheads to help reduce water use in showers and take shorter showers. There are also low flow toilets that use less water each time you utilize them.
Other Things to Do to Reduce Your Carbon Footprint
Utilize recyclable bags when shopping. Bring your recyclable bags when grocery shopping to avoid utilizing more plastic bags which can end up in a landfill.
Use natural cleaners. You can make them yourself with natural products such as vinegar.
Recycle everything.
Don't waste any food.
Cut out the use of plastic.
Utilize a hydro flask or other containers to refill your water versus plastic bottles of water.
Run sprinklers on a timer and water in the morning to avoid evaporation.
Establish a watering schedule to tend to your landscape.
Consider a drought-resistant landscape.
Avoid hosing down outdoor patios and driveways, sweep if possible.
Replace your desktop computer with a laptop computer!
Ways to Reduce Your Carbon Footprint and Preserve the Environment
Click To Tweet
Perform an Eco-Friendly Home Audit
Take the time to conduct an eco-friendly audit of your home. Consider your appliances, do you have an old refrigerator in your garage which is just sucking energy? Electric companies offer rebates when you get rid of an old outdated refrigerator.
Consider hiring a professional energy auditor to evaluate any inefficiencies or wasted energy in your home. A certified and trained auditor will inspect in your home and identify areas that need improvement. Auditors typically charge by the hour or by the square footage of your home.
Final Thoughts
Every time an idea pops into your head about how to reduce your carbon footprint, write it down and add it to your daily life. Each and everything you do to conserve energy will have a positive benefit on the planet. You will be saving natural resources, and saving money as well. Keep the family involved as well so they help to preserve the planet and reduce the carbon footprint.
Find Other Valuable References for "Ways to Reduce Your Carbon Footprint" from Real Estate Professionals Across the Country. Please check out the articles below, and please share across Social Media if you liked the articles.
If you are trying to reduce your energy expenses, have you considered solar panels? John Cunningham has written an excellent article about Solar Panels, The Good, The Better and The Best. He discusses the tax incentives that can be obtained with solar and leasing versus owning solar equipment.
Paul Sian has written an excellent article about Green Features that Improve the Value of Your Home. He discusses adding solar panels, utilizing a solar hot water heater and using green building materials can improve the value of your home.
You will find additional information about Solar Panels and What You Need to Know from Bill Gassett. He discusses the location of the solar panels and that if they are installed on a beautiful luxury residence and are unsightly, they may not add value to the home. Bill also discusses the implications of selling a home with solar panels.
About the Author
Top Newport Beach CA Realtor Sharon Paxson has written the article "Ways to Reduce Your Carbon Footprint " With experience since 2005, we welcome the opportunity to assist you with your real estate transaction.
We provide real estate service to our clients within the coastal Orange County CA area including Corona del Mar, Newport Beach, Newport Coast, Tustin and more! We welcome the opportunity to meet you!