Sell Your Home in the Fall
Technically we are still in the summer season, and although in parts of the country it is still warm, the seasons do change and it does begin to feel like fall. Autumn is approaching on September 22 which is coming upon us quickly. And if you are considering selling your home, the fall is still an excellent time to sell your home. The fast pace of summer is behind us now, and the buyers who will be out looking are generally very serious home buyers.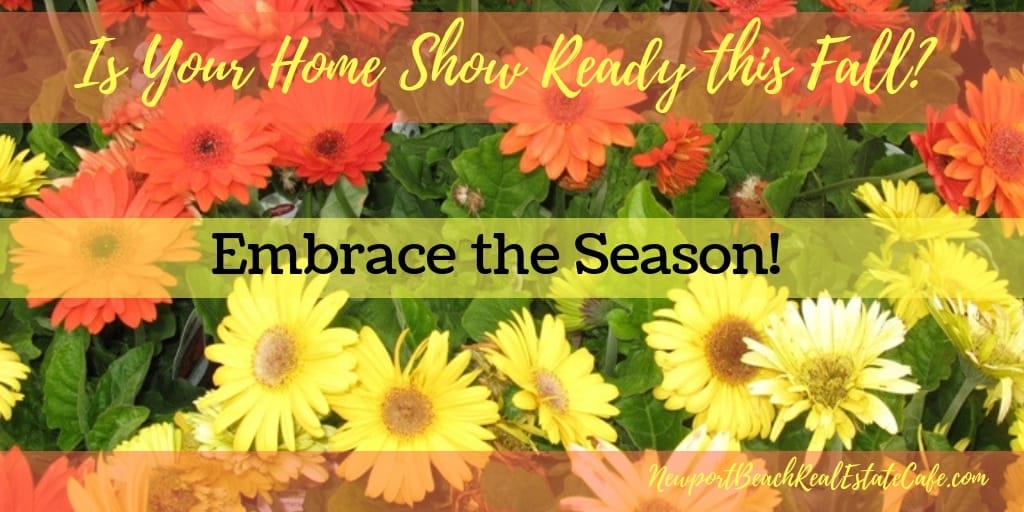 Does Your Home Stand Out?
Try to be objective when looking at your home. If the exterior of your home is in disrepair and needs to be painted, then consider painting it along with the trim to ensure that it looks neat and presents well. Consider painting the front door a contrasting color which of course should blend with the architecture and design of the home. Try not to be too trendy as it can be off-putting to potential buyers. Remember you want your home to appeal to the masses, as that provides you with a larger buyer pool.
Make Sure your Home Makes a Good First Impression
Does your home make a good first impression when you drive up to the property? Are there leaves in the driveway, do the flower beds need to be weeded? Look for cobwebs on the exterior of the home and remove those. Be sure to clean out rain gutters so that they are free of leaves. If not, this is something that a home inspector may call out on a home inspection.
Keep in mind that your home has ONE chance to make a good first impression, not only in the photos but in person! Your home should shine! If the property needs paint, then you will want to have it painted prior to putting on the market! If the property is vacant and there are any defects, they will definitely stand out! Also once the house is listed for sale, you will want to address the fact that it is easy to show! Using a lockbox is beneficial as a buyer and their agent can peruse the home at their leisure without the listing agent being present.
Add Seasonal Flowers and Plants to Exterior
Visit the local nurseries to find out what plants are being planted in fall to add color. Flowers such as chrysanthemums, different colored pansies including yellow, orange, gold and lavender makes a nice accent color! Keep in mind if you reside in an area where the weather can be harsh, you can look for chrysanthemums which are considered hardy.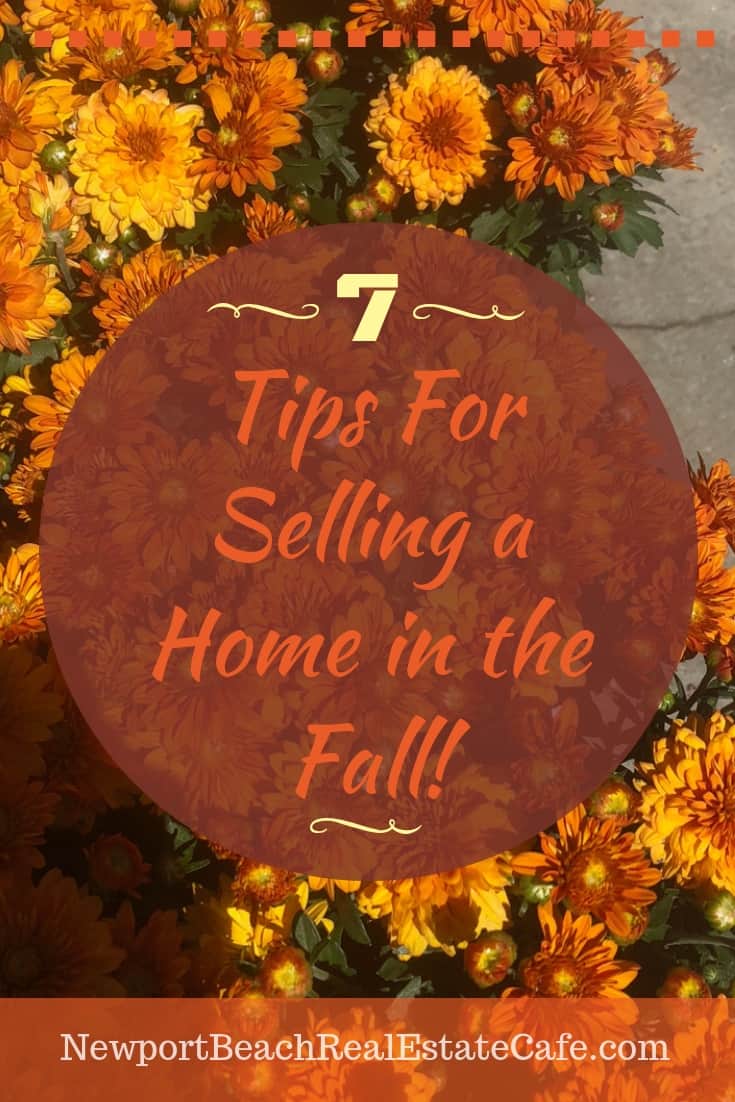 Marigolds also come in yellow and orange and a beautiful accent plant for that is the vibrant blue ageratum. Even if there is no room to plant in flower beds, consider planting some seasonal flowers in flower pots at the entrance to the home by the front door! Hanging flower baskets also can add color and make the home feel welcome.
It is not uncommon to see people adding pumpkins to the entrance of their home for the fall season with Halloween and Thanksgiving. A lovely arrangement with the different color pumpkins can also be interesting.
One consideration, not everyone celebrates all the holidays, so if there is decor, try not to go over the top!
Complete Any Necessary Repairs
Another super important pre-listing activity is to perform inspections and make necessary repairs. Replace burned-out light bulbs too (that is important before photography to avoid having a "dark spot" in a photo). Replace HVAC filters and smoke detector batteries too as you don't want those chirping when a buyer is coming through the home. Another consideration is to clean the chimney if you have a wood-burning fireplace. And make sure to clean out rain gutters and rake leaves in the yard!
Embrace the Fall Season
Regardless of what area you reside in, there will always be the autumn season. Embrace and enjoy it. Check out the local nurseries for decor which is appropriate for fall and again is not over the top! Adding flowers which are autumn colors and add pumpkins and gourds as well.
Consider adding a decorate fall wreath for the front door as well.
Select Your Realtor
Now that you have gone through the steps to prepare your home for sale and have made sure that it looks in tip-top
condition, it will be time to select the Realtor that will sell your home. There are some great questions to ask a Realtor to ensure that you will be hiring the right agent and that it will be the correct fit! Ask the agent about previous experience and ask if they have a stellar online presence to establish that your home will be marketed to the masses! Ask for testimonials from the agent! It is always nice to read and hear what others are saying about that agent!
Other questions to ask the agent which social media sites they are using to maximize exposure of your home! Some very popular social media sites include Twitter, Google+, Facebook for business, YouTube, Pinterest, Instagram (Insta stories are very popular now) and LinkedIn to name just a few!! Your agent should have a strong presence on all of those sites in order to have your listing seen!
Confirm it is Show Ready
Is your home ready to show? You have completed the maintenance, painted, cleaned and more!! Once your home is listed for sale, you will need to confirm the home is "show ready" all the time. Don't defer showings! It does not help. You have decided to sell your home, so make it available for buyers to see it! Making sure the beds are made, laundry is put away and the kitchen is clean is important. Another important fact is to consider the olfactory senses or the smell. Burning candles that are commercial may be offensive to some. You may consider diffusing a neutral essential oil that is light is not offensive to a potential buyer!
Closing Thoughts
If you are selling your home in the fall, it can definitely be done! Ensuring that you have prepared your home to sell and addressing deferred maintenance will help the home to show in the best light which will result in a quick sale. Evaluate the market and price the home accordingly.
Find Other Valuable Resources for "Top 7 Tips to Sell Your Home in the Fall" from Real Estate Professionals Across the Country. Please check out the articles below, and please share on your Social Media sites if you enjoyed the articles.
Tips for Selling in the Fall via Jeff Nelson, Live Gulf Shores
Things to Scrutinize Before Selling Your Home via Lynn Pineda, Imagine Your House
Tips for Selling a Home in the Fall via Paul Sian, Cincinnati and Northern Kentucky Real Estate
How to Sell a Home During the Fall via Kyle Hiscock, Rochester Real Estate
Ways to Make Your Home Stand Out in the Fall via Bill Gassett, Maximum Real Estate Exposure
Costly Mistakes Home Sellers Make via Michelle Gibson, Wellington FL Real Estate
About the Author
The above real estate article "Top 7 Tips to Sell Your Home in the Fall" was written by Sharon Paxson of Newport Beach Real Estate. With combined experience since 2005 with selling or buying, we would love to share our knowledge and expertise and guide you through the home buying or selling process.
We service the following Orange County CA areas: Corona del Mar, Huntington Beach, Laguna Beach, Newport Beach, Newport Coast, Orange, Santa Ana, Sunset Beach, Tustin and more! If you are considering selling your home, we welcome the opportunity to work with you and list your home with a top Newport Beach CA Realtor.