---
Would you like to sell your home quickly? In that case, you should '"stage" your home. It may sound like something out of a blockbuster movie, but it is not. This is all about showing a potential buyer the best side of your home.
Some real estate agents are better at recommending staging companies than others. There are some real estate agents who do provide staging consultation as part of the service that they offer. It is all about finding the right estate agent to work with to make sure you get the best advice. These days, most professional many estate agents utilize a professional photographer for photos, however, there are some who take their own photographs, and with the help of modern technology, make your home look like a Hollywood mansion.
Good staging is all about attracting interest and making sure your home gets as many visits from potential buyers as possible. A good idea is to think about those visits as "hits" on a website.
How to Stage Your Home
Don't only sell your home to a buyer, sell it to your local real estate agent as well. If a real estate agent tells you that your home is beautiful, you have got a good thing going. As they say in England, it means that you are "on to a winner".
Good staging starts outside the home. You really need to make sure your home has curb appeal if you would like to seel it as quickly as possible and at the best price.
Creating curb appeal is easy to do. Simply stand outside your property and look at it. What would make you want to buy your property and turn into your home?
Yes, there is a difference between buying a house and a home. Try creating a home for a buyer by cleaning up the front lawn and putting some new flowering plants out. At the end of the day, nothing shouts home more than flowers. They create color and WARMTH. Just what you expect of a family home.
Staging The Interior
Staging the inside of your home is just as important. It is a good idea to do so before you invite a couple of real estate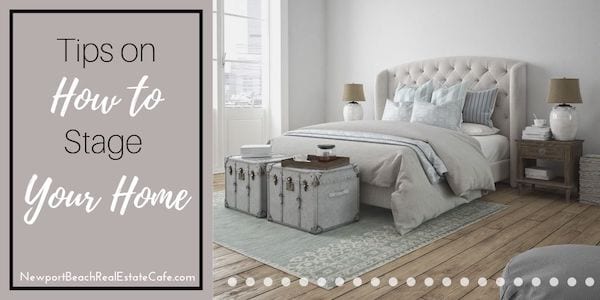 agents around to check it out. Real estate agents are a picky bunch and if you can impress them, you will undoubtedly impress a buyer.
Prior to staging your home, it is imperative to clean your home. Seriously declutter all rooms and get rid of all of the stuff which is in the way of the best features of the home. You may not think it matters, but it does.
The less stuff you have laying around, the better those photographs will look on a website. Stop and think about what attracts you to a certain style or decor. The answer to most people is a sense of space.
Creating Space to Show Off Your Home
A lot has been written about the ancient art of Feng-shui. It is easy to think that it is all hocus-pocus, but this ancient technic of "placement" certainly works. It is said to make energy flow, but in reality, it does so much more than that. By applying some simple Feng-shui techniques, you can easily make your home significantly more appealing to buyers.
Let The Light In
To showcase your home, you want to let the light in. There is nothing like natural light to make your home sell faster. Natural light sources make your home look cleaner and fresher. In other words, it will open up your home and fill it with energy. That will make it look just great in those real estate listing photographs.
Add A Splash of Color
Don't worry about your grey comfy sofa. Yes, it is a bit of drab color, but you can easily spice it up with splashes of color.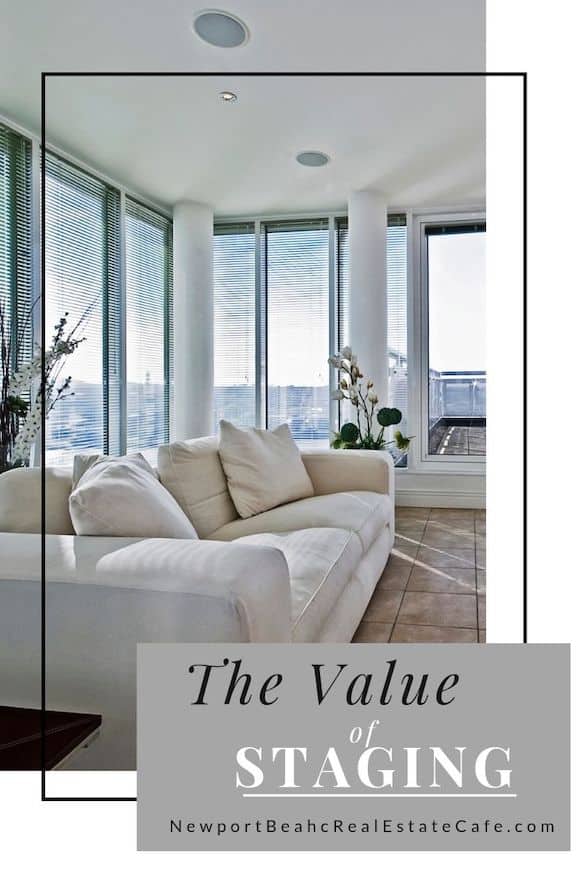 Utilize accent pillows in contrasting colors to highlight the sofa. Turquoise and shades of blue accent gray nicely. Before you know it, it will be the centerpiece of your living room. The idea is to let a buyer see himself and his family in your home. That is what good staging is all about.
If you are not sure, how to stage your home, you should ask your estate agent to help you. Most real estate agents really appreciate the value of a well-staged home. It will speak volumes about what kind of properties they have available and will often help you to sell your home much faster than you could have imagined.
It is certainly worth considering hiring a professional stager. Remember the initial impression of the home will be beautiful as well as the photographs. Your home has one chance to make a good first impression, so staging does make a difference.
Who Pays for the Staging
Generally speaking, it is the homeowner who pays for the staging. Unless, the homeowner is willing to compensate the Realtor for their professional time to bring in furnishings, accessories, deep clean, then it is the home owner's responsibility.
If you are concerned with the cost of the staging, remember spending the additional funds to stage the home will give the homeowner a good return on the investment.
There are certain situations with high-end properties when a Realtor will agree to pay for staging, however, there should be some type of agreement for the seller to pay that money back if the home does not sell.
Why a Realtor Would Not Pay to Have a Home Staged
Staging a house does not always benefit the agent. There are some scenarios where staging is not going to make a difference. If the home has obvious signs of deferred maintenance, and by staging you are putting lipstick on a pig, most home buyers are going to see through that. Generally speaking, staging companies usually require payment upfront. There are also rental fees for the amount of time that the furnishings are in the home. Ideally, the furnishings are in the main areas of the home for photography and at least the first month or two. And if all goes to plan, then the home will go under contract, contingencies will be removed, and then the stager can pick up their furnishings.
Never Underestimate the Value of Staging Your Home
Click To Tweet
Do Realtors Think Staging is Beneficial?
Absolutely, in most cases. A Realtor may agree to pay for a consultation for staging, however, this is always negotiable. Realtors know that having the home staged will help sell the property within a shorter time frame. When a home is staged, the photos are appealing and then the online presence will be enticing for buyers to want to come and see your home.
There are some cases where agents may think that staging is not needed. I personally do not agree. Whether or not a seller is going to stage their home or not depends on whether or not it is the correct property to stage with furnishings or if the money should be spent elsewhere to sell the home.
Are There Benefits of Staging?
There are many benefits of staging a home. The first one is that the photographs will be inviting. The photos will be appealing and entice potential buyers to come and view the home. It is very difficult to have photos taken of a vacant home or a cluttered home. With vacant homes, the rooms go on and on and it can be difficult to differentiate. With cluttered homes, the pictures look messy and the home will be uninviting. The last thing you want to do is turn away buyers with poor listing photos. With excellent photos, you can be assured buyers are going to want to come and view the property.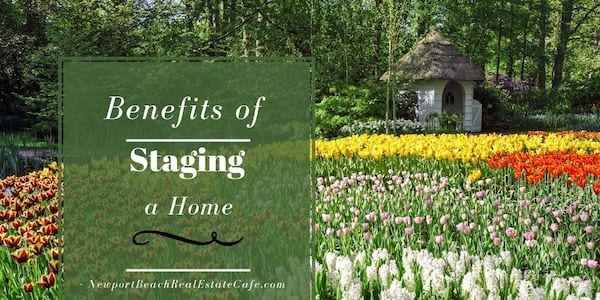 Another benefit to staging is that you will have more successful showings from potential buyers. Visiting properties that staged with decor that is current and in style is always appealing. Buyers will prefer a home that is staged since the overall appearance is orderly and beautiful. This will benefit a seller compared to other homes on the market.
Staging will help to validate the asking price. The home will be perceived in a better light compared to others just by having it staged. A buyer has an easier time imaging themselves living in a home with comfortable surroundings. Just like model homes with new construction, everything is decorated perfectly, buyers get excited about living amongst such luxury.
Staging will likely produce more offers in a shorter amount of time. Due to more competition, a home buyer may be eager to make an offer on a property which is staged.
Final Thoughts
Staging will always cost less than your first price reduction. Staging will result in appealing photos which will result in buyers wanting to come and view the home. Staging may also result in an increased sales price of the home and faster closing. If you have any questions about staging and the benefits, please consider reaching out to us.
Find Other Valuable Resources for "Never Underestimate the Value of Staging Your Home" from Real Estate Professionals Across the Country. Please check out the articles below, and please share across Social Media if you liked the articles.
If you are looking for staging tips, then you must read Luke Skar's post 40 Home Staging Tips. He discusses making the porch inviting, ensuring that it is clean and all light bulbs have been replaced. Interior tips include decluttering, having a pretty table runner down a dining room table. Clean and organize closets and leave them open which will show how the organization of the home.
If your home is currently vacant and you are not sure if you Should I Stage Your Home or Leave it Empty written by Bill Gassett. He explains the advantages of staging and the disadvantages which is cost and time. It can be expensive to stage an entire home. He also discusses the disadvantages of selling a vacant home which can make it feel empty and buyers may have a difficult time imaging themselves living there.
There are staging tips to avoid and be sure to check out Michelle Gibson's article Ugly Staging Which Does Not Work. She cautions a homeowner about utilizing unsightly furnishings or decor which can completely turn off a buyer. Other items to avoid are fake plants and area rugs which can take over a room!
About the Author
Top Newport Beach CA Realtor, Sharon Paxson has written real estate article "Never Underestimate the Value of Staging Your Home". With experience since 2005 representing buyers and sellers with their real estate transactions, we welcome the opportunity to meet you and share our expertise to guide you through the home buying or selling process.
We service the following Orange County CA areas: Corona del Mar, Newport Beach, Newport Coast and many more. You can follow us on Instagram, Twitter or Facebook.