Spring is here and you may be considering new home renovations. It pays to have the knowledge of what of kind of return on investment your remodeling project will produce. Whether you are ready to transform your home from a dated Mediterranean style to an updated chic farmhouse style. Not all home remodeling projects yield the same financial result with respect to return on investment.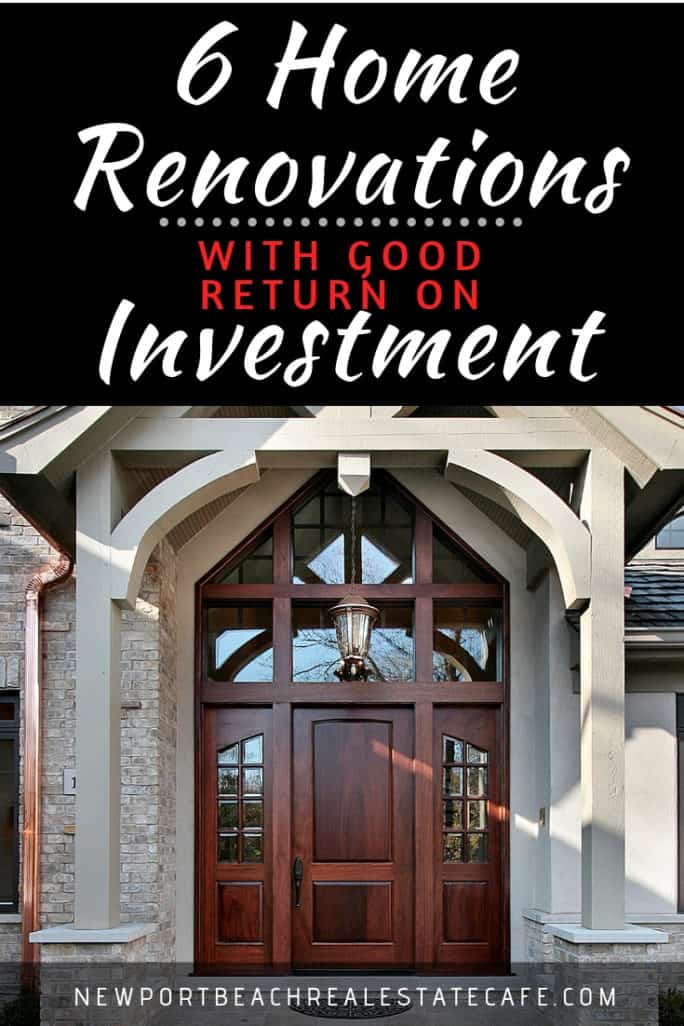 According to Cost Versus Value Report for 2019, this report provides the percentages of the cost recouped by the project.
ROI or return on investment is the amount of money invested in a renovation project and the return is the gain or loss which is generated on the investment. For example, if a homeowner had an in-ground swimming pool installed to the tune of $150,000, the seller will most likely not get back all that money which was invested in a pool within a short period of time. Pools can be risky investments for a homeowner.
If you want to renovate your home for reasons including personal enjoyment including the fact, that you may just "want" a pool for your personal lifestyle, that that is a decision for a homeowner to make. However, there is no guarantee, that the premium invested in the home will be seen on the net sheet when the home is sold.
There are, however, renovations that a potential home buyer will appreciate and may provide you with a good return on investment. You do not want to fall into any these pitfalls buyers make when remodeling a home. Find out which renovations will generally yield the highest return.
Replace the Garage Door
A garage door can set the style for the home. Consider removing the existing garage door and install a new one. New garage doors will have a warranty which is an attractive feature to a home buyer. There are many options with garage doors. If you are replacing the garage door to sell it, do not select the most expensive option. Options include garage door that features clean lines and translucent glass panels. Other considerations are vinyl garage doors which is desirable if you reside in a coastal area or near the water.
Other styles of garage doors include wood which is beautiful, however, they do require maintenance. Composite garage doors are another option which does not rust or dent. Be sure to consider the options as to what style will compliment your style of home, while considering the overall cost.
Look for specials, there is a lot of advertising about certain garage door companies which are waiving installation fees, taxes and more. And certainly, around holiday weekends such as Memorial Day Weekend, there are always more incentives to purchase!
Upgrade the Front Door
Your front door is the gateway to your home, and the front entry will be one of the first things a potential buyer will notice when they arrive at the home. The front door sets the tone of the house. You have many choices to make with regards to style and the color as well. Consider painting the front door with a contrasting pop of color to enhance the entry and create an overall good first impression.
Exterior doors also do get a lot of wear and tear. So you will want to select a product which is able to tolerate the elements in the area that you reside. Select hardware that has good reviews and will not break or weather quickly. Read reviews about the different hardware options for the front door.
A home's exterior which is inviting will encourage potential buyers to want to view the home.
Minor Kitchen Remodel
Most families spend the majority of their time in the kitchen as most families congregate in that area. Whether it be for meals and children coming home from school, the kitchen is generally considered to be the heart of the home.
Improvements in kitchens are generally favorable as most buyers want to see a home which has been remodeled and updated. Whether or not you are going to be remodeling and staying in the home or selling in the future, it is a good idea to select quality appliances. One of the first things a buyer is going to look at is the manufacturer of the appliances. Depending on what area you live in, you may be selecting Wolf or Viking for appliances and these can be a substantial investment. However, if the appliances are in alignment with the rest of the home, that may be an investment that a buyer will recognize, especially in the higher price points.
If you do not reside in the ultra high-end area and want to replace appliances there are some very good quality appliances out there that provide a myriad of options. Consider visiting factory showrooms. An example, Bosch has factory showrooms which do not sell the appliances, rather they provide you with the specifications of the different appliances that are offered. And the appliances get better and better every year. A buyer will want to know if the appliance installed is going to last!
Keep in mind when you are going to be selling the home, to have all the appliance information up to date. In most cases, a buyer will be obtaining a home warranty, but there may be manufacture warranties on the appliances as well, of course depending upon the age of the appliance.
Along with the appliances, consider the countertops and check out what is the current style. Granite is lovely, however many are now using other materials such as quartz or stained concrete. Other materials may be eco-friendly countertop materials which include recycled porcelain tile or recycled glass.
Siding Replacement
There are many options with replacing siding, but if your home has wood siding, then you may consider replacing or updating it to give the home an updated look. Wood siding may also have dry rot or termite damage which generally shows up at a home inspection. Additionally, if the exterior siding has failed, this can allow for moisture to enter the property which may ultimately be very destructive and potentially result in mold.
Some newer homes may not utilize siding at all, and the entire home will be finished with stucco. If the stucco is compromised, then you can consider having the stucco re-done.
New siding includes vinyl, engineered wood, metal, brick/stone and more. There are pros and cons to all of them, however, depending upon the style of your home, select a siding which is going to provide the home with the most updated look!
Deck Addition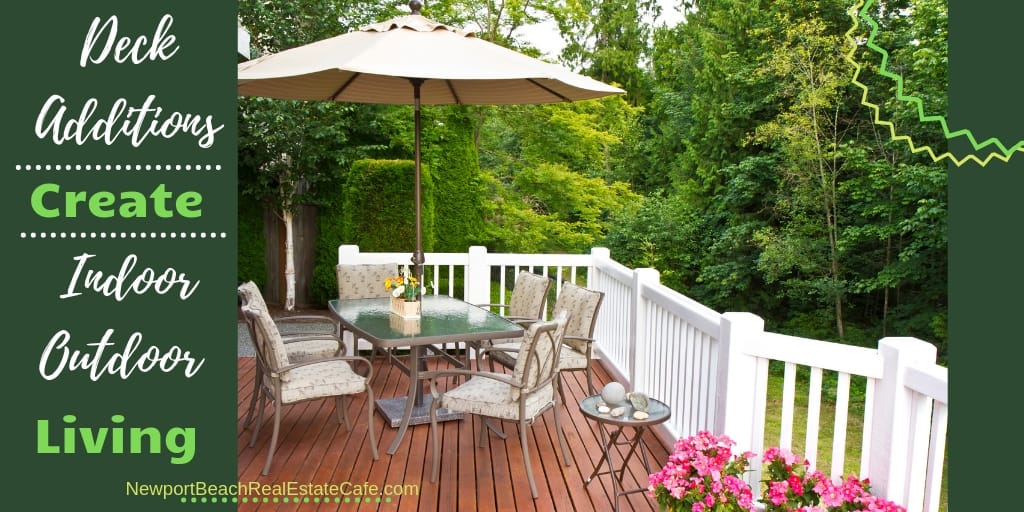 Decks add a lot to the home. They do not technically add living square feet to the home, but they do add for indoor-outdoor space where the occupants can enjoy the outdoor space. Decks do offer a way of adding additional space without erecting any walls. Cities will require that permits be obtained for the decks to ensure that they are built in accordance with the code.
There are a variety of decking materials. Although there are some who think a wood deck is desirable, keep in mind there will be maintenance on a wood deck, and ultimately it may have to be replaced. Composite decking is a popular choice due to low maintenance and environmentally friendly. The composite decking comes in a large variety of textures and colors.
A custom bench area can be built with custom cushions for seating which adds to space and allows enjoyment of the outdoor climate. Adding a custom water feature or perhaps a fire-pit adds to the overall ambiance in creating an outdoor oasis.
Bathroom Remodel
A bathroom remodel may be pricey, however, a seller may not get a very high return on investment. There are certainly ways to update a bathroom so it looks desirable and inviting, without obvious signs of deferred maintenance.
The biggest considerations to increase the value include updating any worn out items. If the bathroom cabinets are in need of paint, consider repainting them. If the cabinets have a melamine finish, and it is peeling, there are companies which will re-apply the melamine finish and makes the cabinets look brand new! Consider updating faucets and any items which are worn out to improve to look and feel of the bathroom.
If the toilet is old and out of date, consider replacing it, That is not terribly expensive and you can purchase one at Home Depot or Lowes which are low flow and environmentally more friendly. A bathroom can be remodeled without taking it down to the studs.
Takeaway
I find it interesting that home sellers complete many home upgrades in order to sell, but they don't complete them while they are living there. Consider upgrading as you live there over a period of years. It will be less expensive and allow you to enjoy the upgrades that you have created!
It is not recommended to do a major HOME remodel and then sell as it will be unlikely you receive a decent return on your investment. There are some items as stated, that you can complete and offer your home for sale as a package that a new homeowner will be grateful to own!
One last takeaway, home renovations should not look like an inexpensive flip. If a home buyer thinks that the renovations have been completed without much plan or care, then they will think other things in the home are not up to par.
Find Other Valuable Resources for "Home Renovations that Have a Good Return on Investment?" from Real Estate Professionals Across the Country. Please check out the articles below, and please share across Social Media if you enjoyed the articles
If you are getting ready to sell your home, then be sure to check out this article Don't Waste Your Money Getting Ready to sell via Michell Gibson.
Considering selling, then check out Glenn Shelhamer's recent article about whether or Not to Renovate or Stage Before Selling.
In addition to renovating your home, make sure that maintenance is addressed. Danny Margagliano discusses Maintenance Tips before Selling which are beneficial.
Bill Gassett has provided information about Home Repairs worth Repairing in his article about preparing your home to sell.
About the Author
The above real estate article "Home Renovations that Have a Good Return on Investment" was written by Sharon Paxson of Newport Beach Real Estate. Having experience representing buyers, sellers, and landlords with their real estate transactions since 2005, we welcome the opportunity to share our expertise and guide you through the home buying or selling process.
We service the following Orange County CA areas: Corona del Mar, Huntington Beach, Newport Beach, Newport Coast, and more! If you are considering selling your home, we welcome the opportunity to work with you and list your home with a top Newport Beach CA Realtor.