There are summer gardening tips that will improve your curb appeal. Summer is here! And there is no time like the present to ensure that your garden is tended to and look the best. A home that has a beautiful garden will be admired by many whether you are selling your home or not.
You want to ensure that your plants and flowering plants are continuing to grow and produce beautiful flowers. Find tips on tending to your garden and what to add to create ambiance.
Add Color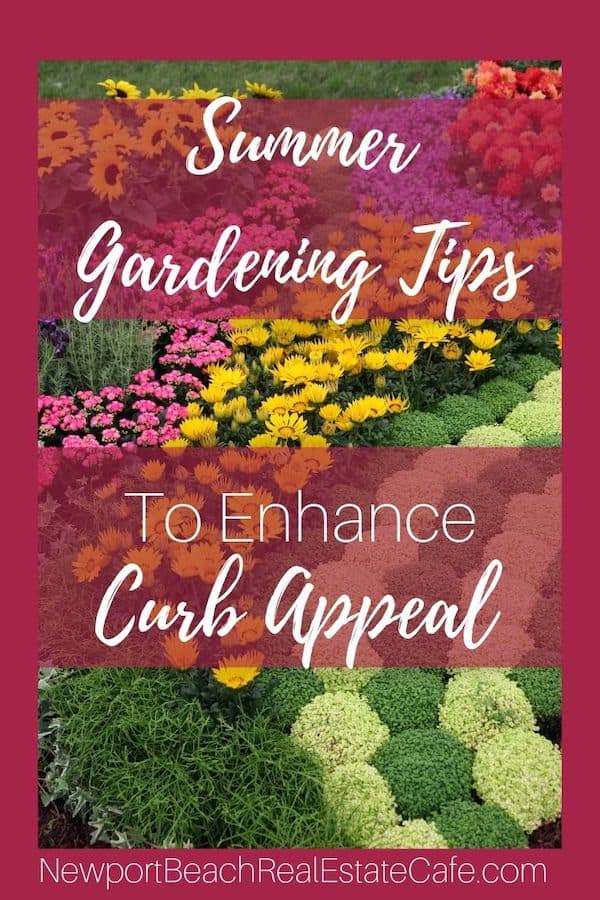 Perrenial plants are flowering plants that generally live 2-3 years. Perennials offer a great variety of plants with little replanting. They generally grow and bloom in the spring and summer months and die back during the fall and winter months. Perennials generally bloom for a 4 to 8 week period. However, utilizing a technique called deadheading (prune the dead flowers) can facilitate another set of blooms. Plants produce seeds and by pruning the dead blooms, and it facilitates additional blooms.
Annuals plants are a plant that completes its life cycle in one year. This means it goes from seed to a flower and then back to a seed. Then it dies off and is generally replaced. An annual has one growing season. Examples of flowering annuals include lobelia, pansies, lantana, and alyssum. Most annuals bloom all season, and you can also deadhead the annuals as well to keep them producing.
Annuals are bedding plants, and it is an easy way to add instant color to your garden. You will need to know whether or not the direction the home faces as to which flowers will do best. Some are better with partial sun, and some prefer full sun.
Establish a Watering Schedule
You do not need to water the plants unless they are thirsty and need water. A simple way is to test the soil with your finger, or there are moisture meters you can stick in the soil to see if they are dry or not. It the soil is still wet, no need to water.
During the full summer sun months, container plants may require more water. Often times they will need to be watered twice a day. Consider keeping the container plants out of the direct sunlight.
Plants and flowers should be watered during the early morning early afternoon. Avoid watering in the evening as the foliage that is wet can lead to mildew and mold.
If you are watering from a hose or nozzle, this may result in evaporation if the temperatures are elevated. For some of your bushes, consider utilizing weeper hoses. When you water trees, it is best to utilize low pressure and slowly allow the water to penetrate deeply to the roots. If not surface watering can cause the roots to begin to grow on the surface. These can ultimately be destructive to sidewalks or foundations. They can also be a trip hazard when tree roots grow near the surface. Weeper hoses are useful since they help water to directly seep to the roots. Lay them on the ground next to plants, and set your timer for about an hour.
Maintain Flower Beds
If you have weeds in your flower beds, remember that weeds are stealing moisture and nutrients from the soil. Be sure to keep the flower beds weeded and it will also maintain a neater appearance in your flower beds.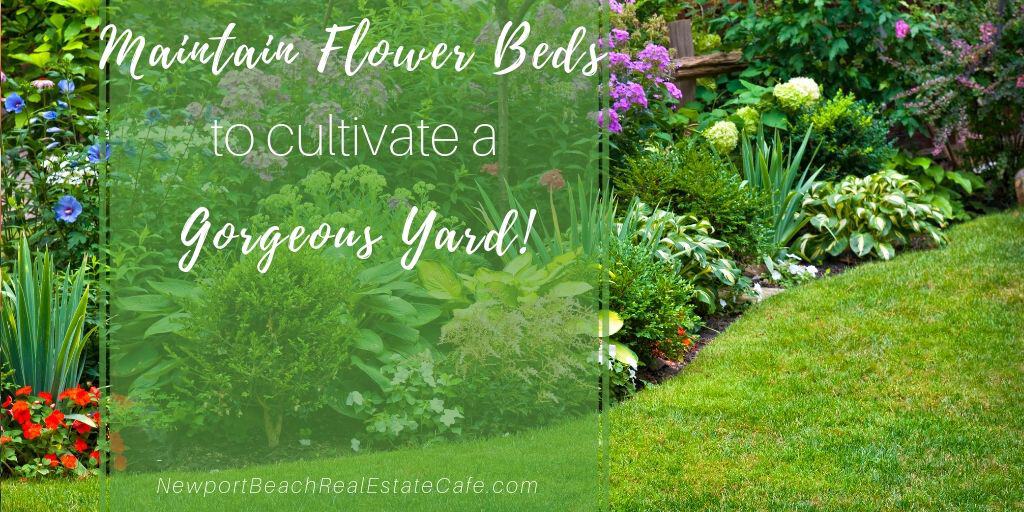 Remove any dead foliage from the plants in your flowerbeds. Deadhead or prune back any dead blooms from the plants to keep them producing more blooms. Consider adding mulch as the soil dries out as this will keep the roots wet. Also, be sure to fertilize the plants to ensure that they will bloom. Consult with your local nursery on which fertilizers are best to use. And if you have pets, be sure to check that the fertilizers are pet safe.
Beautifully maintained flower beds will be enjoyed by all who pass by your home and will enhance the overall curb appeal.
Keep Potted Plants from Drying Out
Plants and flowers that are grown in containers may require a little extra TLC. Plants grown in terracotta pots, may be vulnerable to overheating. This can dry out the soil and roots. You can minimize this by adding mulch and reposition the plant out of direct sunlight.
When watering the potted plants, do not allow them to sit in a dish saucer full of water. This can cause root rot and ultimately the plant will die. You want a plant to be able to drain completely. The standing water can cause mosquitos to breed!
If a potted plant dries out where the soil is hard and it is difficult to see the water absorbing, then submerge the entire potted plant into a bucket of water for 30 minutes, then take out and allow it to drain.
Keep the Water Flowing
Make sure that all of your hose bibs, hoses, irrigations systems do not have leaks. It can be obvious to someone walking up to a home and they look down to see the obvious signs that a hose bib is leaking. Unblock any nozzles as well, as they will be more efficient when watering.
Jazz Up Your Garden With Colorful Containers
Plant annual containers and keep them looking their best with consistent watering, fertilizing and deadheading. During the mid-summer months, trim back annuals which are trailing such as petunias, and fertilize to stimulate new blooms. Utilize the fertilizer to enhance flowering. Keep the containers looking fresh by replacing plants that are tired looking with new ones. Containers can be added to strategic locations to create additional colors and dimensions.
You can create some unique colorful containers by utilizing container plant pairings. Look at the color and texture of the plants. A popular combination of annual plants may include marigolds and lobelia. The striking contrast between the yellow and deep blue is beautiful and attractive. Additionally, marigolds may help to deter bugs.
Container gardening is ideal if you have a home with minimal outdoor space. You can still have an epic garden on a deck or patio to enjoy the outdoors.
Add a Water Feature
Water features add a wonderful element of the sound of the trickling water as well as they are aesthetically pleasing. You can purchase a water feature, and set it up on your front porch or in your back yard or deck. Keep in mind it is important to maintain the water feature. Don't let the water level go too low and then it consequently may burn out the water pump which keeps the water flowing. Keep it clean and sparking too!
Accessorize
Outdoor space should be considered as an extension of your home. And there is no better than the summer season to enjoy your backyard. Whether you have a balcony, deck, or a large yard with lush landscape, there are always ways to accessorize. You will want to add a few accessories which are sophisticated and add ambiance.
A few ways to accessorize your outdoors is with outdoor furnishings, patio cushions, throw pillows, colorful umbrellas, and comfortable seating and lounging. Another very popular accessory now is the string lights which are easy to install and add dimension to enjoy your outdoors in the evenings!
Find Other Valuable Resources for "Summer Gardening Tips to Improve Curb Appeal" from Real Estate Professionals Across the Country. Please check out the articles below, and please share across Social Media if you enjoyed the articles.
Check out the June Gardening Checklist written by Eileen Anderson. She discusses perennials, trees, shrubs, and lawn care. Excellent information provided on types of plants to utilize as well.
Sprucing up your landscaping before you sell is an ideal way to prepare your home to sell. Bill Gassett has written an excellent article about improvements to boost value, which does include landscaping. Having a manicured front yard will definitely be inviting to any home buyer.
Luke Skar has put together an excellent post about summertime projects to improve curb appeal. Having a clean and vibrant garden will portray a positive image of your home.
About the Author
"Summer Gardening Tips to Improve Curb Appeal" was written by Sharon Paxson of Newport Beach Real Estate. Having experience representing buyers, sellers, and landlords with their real estate transactions since 2005, we welcome the opportunity to share our expertise and guide you through the home buying or selling process.
We service the following Orange County CA areas: Corona del Mar, Huntington Beach, Newport Beach, Newport Coast, and more! If you are considering selling your home, we welcome the opportunity to work with you and list your home with a top Newport Beach CA Realtor.