How to ensure that your home is secure. In the United States, there are approximately 2.5 million burglaries a year according to alarm dot com. 66% of these burglaries are home break-ins. Police only solve 13% of the reported burglary cases due to the lack of physical evidence or a witness to the crime. It is important to safeguard your home and family.
Burglaries are the second most common crime in the United States. It is the equivalent of one burglary happening every 23 seconds and the clearance rate is only 18 percent nationally. With statistics like this, it should be a priority of every homeowner to make sure they don't become a victim.
Fortunately, there are many things you can do to protect your home and make burglars look elsewhere.
Basic Precautions
It can be all too easy to let your guard down, forgetting to take the most straightforward of security precautions. Simply making sure you lock your doors, is going to secure your home from an opportunistic criminal.
Leaving windows or your garage door open is another way homeowners allow criminals an opportunity to gain access and steal! Letting expensive items be seen and leaving the way open to steal, is inviting trouble. If you remember the security basics you reduce the likelihood that you will be targeted.
In a new home, you should check if all the locks on windows and doors work correctly. If not, you are making things too easy for a burglar.
Changing Your Locks
When you move into a new home, you aren't going to know how many people still have a key to the property. This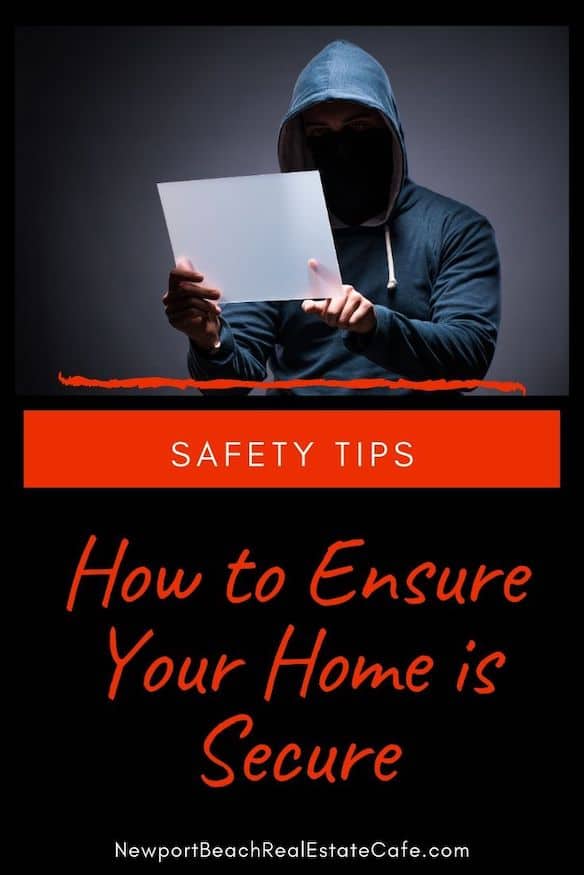 is, of course, a security risk. You should immediately have the locks re-keyed.
Hiring a locksmith to completely replace the existing locks is a good idea. They will be able to help a homeowner choose the best locks on the market. Popular locks include Schlage and Kwikset. They are not interchangeable (meaning you cannot key a Kwikset key to work in a Schlage lock). When counting the locks on the house, there are entry locks, deadbolts and more.
It is normally cheaper to have your lock rekeyed instead of having a new lock fitted. An experienced locksmith will be able to change the tumblers inside your lock to match a different key in a few minutes.
You could have additional locks added, to improve your security. Smart locks, for example, give you more versatility and allow you to open your door with a smartphone. A smart lock can operate with other security measures to upgrade your whole home security system.
Don't forget the garage when moving home. If you have an electric garage door, previous occupants of the house could gain access. If the garage has a keypad be sure to change the code on that to prevent unauthorized access. Having the remote code reprogrammed should be fairly straightforward and can normally be done by the homeowner.
Safety Tips to Ensure Your Home is Secure!
Click To Tweet
Stay Safe
If you have some irreplaceable valuables, a safe is a good idea. You should try to get one that can be securely attached to the building so that it can't just be hauled away by the criminals. If you can hide it from view, even better and all the more likely to keep your valuables safe. Most thieves know that homeowners keep the safe somewhere in the master suite. Be sure to have it bolted to the ground or the wall to prevent them from taking the whole thing. If it is in the garage, it is recommended to bolt it to the foundation. If there is one in the garage, be sure to be discreet so that people passing by do not immediately notice it.
Security Cameras
Security cameras are inexpensive and can easily be installed. Cameras can be attached at the doorbell, eve of the home of a wall.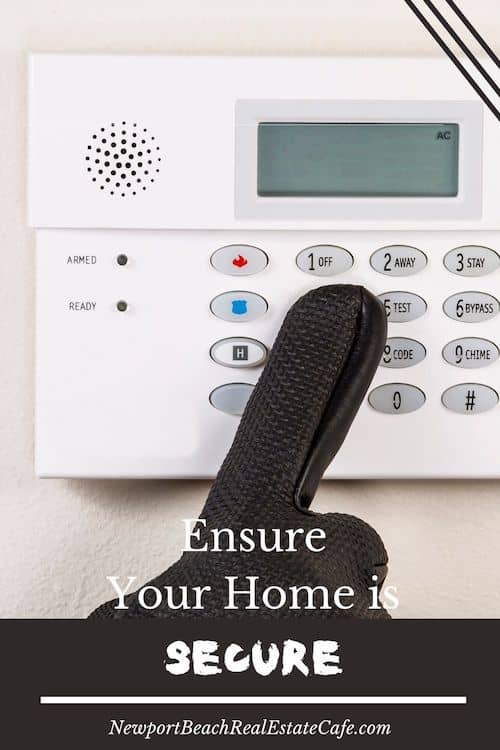 Security cameras connect it to your WiFi network. They often use motion detection to start recording when someone walks by. When installing security cameras, be sure to make sure they are out of reach so they cannot easily be disabled by an unscrupulous person.
There are a few popular wireless systems now available which makes setting up your home security network easy. The Ring and Nest security systems allow you to add cameras and other items to suit your home. These systems and others can be set to alert you, and you can even monitor them remotely on your smartphone.
Cameras and other connected security measures can really provide you with peace of mind when you aren't at home. They will deter would-be burglars or provide some evidence to the police if they don't. Additionally, you can communicate with people through a Ring doorbell or camera. If someone is at the door you can answer as if you are home and communicate directly with that person.
Smart home technology not only offers you a sense of security, but it also adds value to the home.
Get a Dog
Did you know that dogs can hear 4 times the distance of a human with normal hearing? Dogs can hear higher-
pitched sounds than humans. Do you ever wonder what a dog is barking at? Dogs can generally hear something and when they are barking, it is their way of protecting their domicile!
A burglar is not as likely to mess with a home that has dogs who bark when someone comes to the door. Dogs can hear a gate closing outside, and begin barking because they know someone is on the property. An unscrupulous person will not know if your dog is friendly or not. A dog can dissuade someone from entering your home.
Open House
If you are selling your home and the real estate agent convinces you that an open house is the best way to market your property, you may be inviting criminals in. Open houses can be invitations for a crime. Events like this attract a lot of people but, unfortunately, some of them may have criminal intent.
Burglars could use such access to look for valuables, check how best to enter your home, and even unlock or open a window. Better to avoid an open house than take the risk. There are many things that should never be left out at an open house.
Don't leave valuables or packages in plain sight of your vehicle!
Click To Tweet
Other Security Measures
There are many other little things you can do to make burglarizing your home more of a risk for criminals. Things like fitting motion-activated spotlights or having a dog bark when someone approaches your house will deter many criminal acts. You don't even need a real dog, there are motion-triggered speakers which give the impression anyone entering the house will have an angry animal to contend with.
Try to take a step back and put yourself in the shoes of someone who's trying to gain access to your home. Are there any obvious ways to get inside your house? Perhaps there are windows that are hidden from the street, where a burglar could break in without being seen. Taking some time to consider your home's security, can do a great deal to remove the chances you will become a victim of crime. Hopefully, we have given you some ideas to better secure your home.
Other Factors
If you see something, SAY SOMETHING! If you see someone who does not belong cruising your neighborhood, call the Police. The Police are there to protect the residents of the community Don't be consumed with your phone while walking around at the mall, as you are taking the chance someone will take your purse! Pay attention and look around!
It is the holiday season! Be sure to not leave any valuables in plain sight in your vehicle. Thieves watch shoppers go back to their car and leave packages. Then you may come back and their car has been broken into. Especially after that expensive purchase at the Apple Store! Don't leave your phone, sunglasses, laptop or purse where someone can see it. And don't leave your doors to your vehicle unlocked. It is common to see these thieves trying car doors just to see if someone left them open.
Final Thoughts
Protecting your home and family is paramount. Having a security system provides an added layer of the benefit of knowing that your home has been secured. Security cameras offer a sense of security as well. Having the ability to view the exterior or interior of your property provides safety and peace of mind.
Find Other Valuable References for "How To Ensure That Your Home Is Secure". Check out the articles below from top bloggers across the country. Please share on Social Media if you found the articles helpful.
It is common sense to take precautions if you are going to be holding an open house. You really don't know who is coming into your home. Bill Gassett has written an excellent article about How to Avoid Getting Robbed at an Open House. Ways to protect your home include hiring a competent Realtor and utilizing an assistant. Installing security cameras allows a homeowner to monitor the activity at the home.
Having an understanding of the types of home security systems and how they can protect your family. Paul Sian has written a detailed article about How Security Systems Protect Your Home. He discusses how they are installed, monitored and how a security system can save money on home owner's insurance.