Secure Your Home
It is important to secure your home. What is the difference between a robbery and a burglary? A robbery is an action of taking property unlawfully from a person or place by force or threat of force. Frightening! A burglary means illegally entering a property in order to steal property from it.
There are approximately 2.5 million burglaries a year. Police only solve a small percentage of them due to lack of physical evidence or a witness. Wouldn't it be great if there was more evidence that the Police could utilize to charge these criminals? There are definitely ways to protect your home and create evidence with video!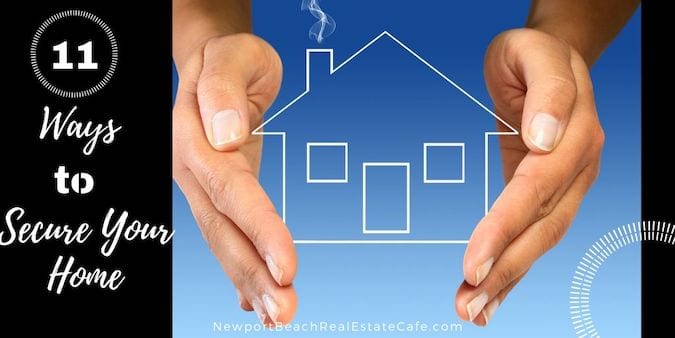 Burglary is a crime of opportunity, and often times they will test certain areas and times of day to find out when they will have the greatest access to a home.
There are preventative measures that you can take to protect yourself from burglary and other crimes.
Lock the Doors
Sometimes the best answer is also the most obvious one. When it comes to keeping burglars out of your house, the most important and basic preventative measure you can take is to lock your doors and windows.
It may sound like a no-brainer, but there are burglaries committed in the United States that were no-force entries. That means, they just opened the door and walked in.
Along the same line, if you have an unoccupied vehicle out in front of your home or anywhere on the street, be sure to lock the doors. Don't leave anything of value within site on the seats or dashboard. If you are shopping at a mall, thieves target shoppers who take their packages back to the car and then go back for more shopping! Who wouldn't want that brand new Gucci purse you just put in the back seat!
Get a Dog
Dog's really are a man's best friend (and a woman's too). Dogs can hear 4 times the distance of a human with normal hearing. Dogs can hear higher-pitched sounds than humans. Do you ever wonder what a dog is barking at? It is generally something they can hear outside and they are protecting their domicile.
A burglar is not as likely to mess with a home which has dogs who bark when someone comes to the door. An unscrupulous person is not going to know if your dog is friendly or not. A dog can dissuade someone from entering your home.
Invest in a Safe
If you have valuables that you feel are irreplaceable, then you may want to install a safe. And it is worth the extra money to purchase one that cannot be easily opened or hauled away by a thief. If you are going to store a safe in your garage, you need to choose one that can be bolted to the ground or too heavy to move. Regardless, it is important to bolt it to the concrete slab. If possible, try to have your safe in a discreet location so that every time you are opening your garage door, the viewing public cannot see it! A safe can be used to store valuables including jewelry, and firearms.
Secure All Entrances
Check all windows and doors. Ensure that all the doors latch and lock. If they do not, then consider replacing the locks or hire a locksmith. Test all the windows of the home to ensure that they lock as well. Keep in mind, these unscrupulous individuals will try to gain access to the master bedroom because that is generally where the "valuables" are kept. Even if the master bedroom is on the second floor, they will figure out a way to gain access.
Keep your garage door closed. It may be more convenient to have it open, but remember anyone walking by will see what is in there. Skateboards, wetsuits, bicycles, gardening equipment, and perhaps that safe which has your valuables stored. They might want to come back and take the entire safe! Don't risk it.
Rekey Your Locks
When you are moving into a new home, the very first thing you should do is rekey the locks! And if you have a home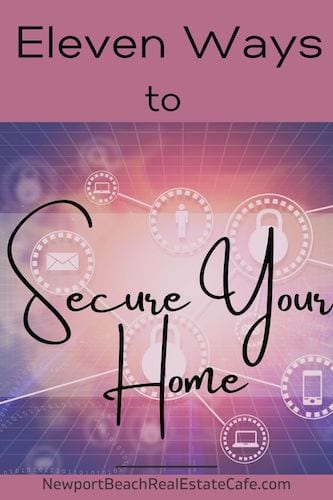 warranty program (a great reason to have a home warranty) some companies offer to rekey services at a discounted rate for the new homeowner.
A locksmith will be able to help a homeowner choose the most appropriate locks for the home. Popular locks include Baldwin, Schlage, and Kwikset. Not all locks are interchangeable (meaning you cannot key a Kwikset key to work in a Schlage lock). When counting the locks on the house, there are entry locks, deadbolts, and more.
Other options include installing a smart lock. Homeowners can invest in a smart lock, which provides the convenience of locking their homes utilizing their smartphones. The smart lock systems give homeowners the ability to secure their homes. The convenience and versatility of smart locks provide homeowners with peace of mind.
11 Ways to Secure Your Property
Click To Tweet
Re-Program Garage Door Remotes
This is something you will want to do right away. If the prior homeowner or tenant had the garage remote code programmed into their vehicle, then they will still have access to your home. On a regular electric garage door, it is fairly easy to reprogram the remotes and keypad. If there is a keypad, you will have no idea how many people have that code and will then have the ability to gain entry into the home.
Another option is to consider a smart garage door opener. A smart garage door opener can be added to your electric garage door. This allows you to monitor and control it from your smartphone and it links to other smart home devices. An example would be so your home lights will turn on when you arrive home.
Install Security Cameras
Wireless cameras are fairly easy to install and not all that expensive. There are very popular systems include Nest and Ring cameras Ring works over wi-fi and has motion detection which begins recording as soon as there is movement. Motion zones can be set up as well to record a specific area that a homeowner may have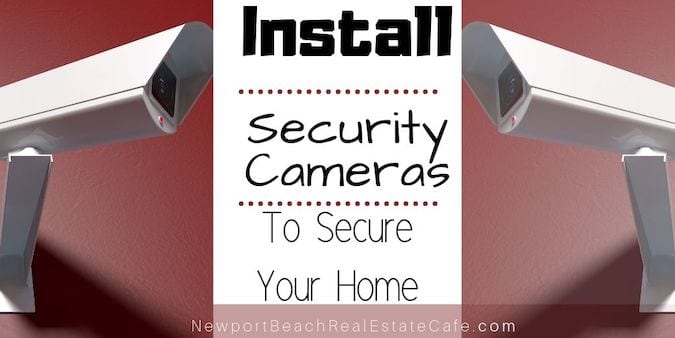 concerns about. One option that I would recommend is to purchase the cameras which are hard-wired to electricity so that you don't have the additional expense of purchasing batteries when they wear out.
Other options that the security cameras have includes a spotlight which goes on at night when the motion is detected. You can adjust how long you want the light to stay on after the motion has been detected. Other features which are amazing include the fact you can communicate with the person outside the camera voice to voice. You can easily talk to someone at your front door through the Ring or Nest app without ever opening up your front door! You can ask them what they want or tell them to leave!
Attend a Citizen Police Academy
Contact your local Police Department and find out if they offer a Citizen Police Academy. It is a program designed to familiarize community residents with the local activities of a Police Department.
The programs vary by department. One common feature of the Citizen Police Academy is the option to participate in a ride-along with a police officer for a shift to see what a day as a police officer is like.
I attended the Newport Beach Citizen Police Academy for 12 weeks. For the local Newport Beach residents, I highly recommend it as it is an incredible program. There is so much information about how criminals gain access to your home, and what you can do to prevent it. Other topics covered in the academy include a ride along with a sworn Police Officer, a tour of Dispatch, DUI enforcement, use of Lidar radar for speeding, a tour of the jail, a shoot – don't shoot scenario, how to respond in an active shooter situation, economic crimes and much more. If you see something, SAY something!
Don't Announce on Social Media When You Are Out of Town
Social media can be a wonderful thing and great way to stay in touch, network, collaborate and share your latest vacation photos. It is also a liability. If you are going to be leaving your home, do not post on social media that you are getting ready to leave, and letting the world know that your home is going to be vacant. Adjust your social media so that only your friends can see your posts, and hopefully, they are really your friends. Professional thieves may take the risk even if there is an alarm of breaking into your home. Don't make it easy for them!
Wait until you are home from your trip to share your glorious photos. They will still have the same impact on Facebook, Instagram, and Twitter. You can even add to your Insta stories after the fact!
Join Community Websites
There are local community websites that you can join for free. A very popular one is Nextdoor dot com. Many residents post their security camera footage of the guy creeping around at 1:30 am trying to open doors on cars. Other people post about how a homeless person was found in her patio sleeping on a couch. People also share information about lost pets too. It is a very good place to stay connected with the other local community members.
I am saying this again, if you see something, SAY something. What I mean is if you see someone who does not look like they belong, or they are behaving erratically or opening your neighbor's gate, call the Police. That is what they are here to do, is to protect the community residents.
Selling Your Home
If you are selling your home, you are opening it up to strangers and some who have other ideas than purchasing a home. Unscrupulous people will come to the open house to see what they can take: money, identity theft from mail, prescription drugs, and jewelry. You want to protect your home if you are going to have an open house.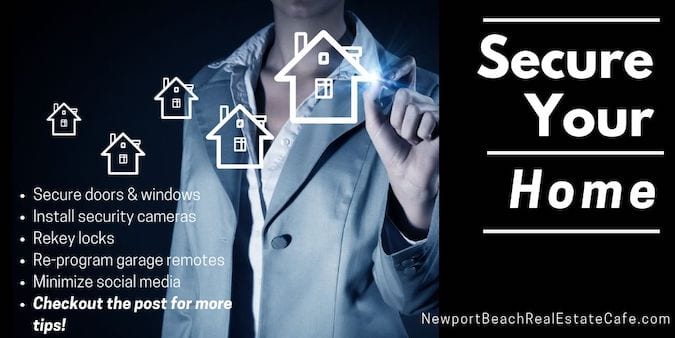 Or they may be coming to your home to understand the layout of the home. They will determine how to get in your home, may unlock a window or door to allow access later. If the homeowner is having an open house, then it is even riskier for the homeowner, as you are creating access to "anyone".
Final Thoughts
Protecting your home is paramount. The basics like locking your doors is the first step, but there are some other ways to protect your home. Security cameras offer a sense of security. Seeing what is going on around your house or who is at your front door before you open it, is highly beneficial.
Find Other Valuable References for "How To Be Sure That Your Home Is Secure" from Real Estate Professionals Across the Country. Check out the articles below, and please share on Social Media if you found the articles helpful.
It is common sense to take precautions if you are going to be holding an open house. You really don't know who is coming into your home. Bill Gassett has written an excellent article about How to Avoid Getting Robbed at an Open House. Ways to protect your home include hiring a competent Realtor and utilizing an assistant. Installing security cameras allows a homeowner to monitor the activity at the home.
Having an understanding of the types of home security systems and how they can protect your family will help a homeowner to decide which type of system they want for their home. Paul Sian has written a detailed article about How Security Systems Protect Your Home. He discusses how they are installed, monitored, and how a security system can save money on home owner's insurance.
Selling a home may not seem like an inherently dangerous process, but the increased property theft, assault, property damage, and identity theft means the threat to your safety is very real. Michelle Gibson has put together an excellent resource Security Measures to Take When Selling. She discusses safety measures to consider and the importance of securing valuables before you let strangers into the home. She also states to be wary of unexpected agents and request to show the property.
About the Author
This real estate article "11 Ways to Secure Your Home" was written by Sharon Paxson at Newport Beach Real Estate. With experience since 2005, we look forward to the opportunity to meet you and work with you.
Sharon has been specializing in residential real estate since 2005 throughout Newport Beach, CA, and the surrounding area. Whether you're looking to buy, sell, or rent she will guide you through the entire real estate transaction. If you are considering buying or selling, feel free to call or text. We welcome the opportunity to work with you!