Marketing Plan
Our comprehensive marketing plan is sure to get your home SOLD for TOP DOLLAR in the SHORTEST AMOUNT OF TIME! While standard real estate marketing plans include entry into the MLS (which does get syndicated to other 3rd party sites), a For Sale sign, a lock box, our marketing plan for your home does not stop there. We are passionate about our marketing and utilize creative and effective ways to market the property to the most relevant audience possible. We are strong proponents of utilizing the internet and social media. Utilizing a top Newport Beach Realtor will ensure your property is marketed to maximize the exposure. We utilize unique and effective social media marketing on a daily basis.
Take a sneak peek at a portion of our real estate marketing plan for all of our Newport Beach listings . . .
PHOTOS:
With over 90% of home buyers beginning their Newport Beach home search online it is imperative to have high quality and high-resolution print and digital photographs which showcase your home.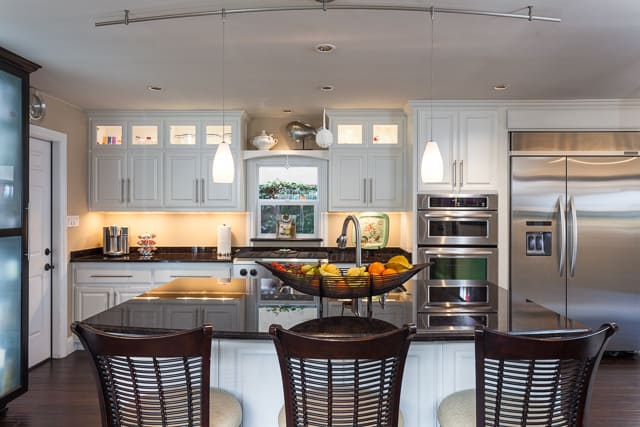 Photography is taken by a professional Photographer, and all shots of the interior and exterior home are staged. There are detailed descriptions of each photo to explain the layout of the property. Additionally, community photography and video are taken to showcase the community in the best possible light and to provide exposure on as many social media sites as possible.
Aerial photography is also utilized to showcase the home and lot as well as the proximity to other locations. Drone or aerial photography is utilized to enhance the listing.
Twilight photography may also be utilized. It is beneficial to have the exterior lights on, and interior lights in the home to have lovely twilight shots that are generally shot at dusk.
VIDEOS:
There are many home buyers who begin their search online and do prefer video as it gives the perspective of the area. We actually take videos and create movies of communities to showcase the community and provide narration to talk about the community features. For more information and to see examples of community videos, view my YouTube channel. Please subscribe to my YouTube channel to see the newest published videos about the community of Newport Beach and surrounding areas.
WEBSITES AND BLOGS:
NewportBeachRealEstateCafe.com ranks in the top percent of all real estate websites not only in Newport Beach but nationally as well. Additionally, this website has made the list of the TOP REAL ESTATE BLOGS TO FOLLOW IN 2013, and the TOP REAL ESTATE BLOGS TO FOLLOW IN 2014. Both years NewportBeachRealEstateCafe.com was number 20 on those sites. Also, this website ranks well in the US and International which is based on search engine optimization and traffic to the site.
Our marketing plan also includes several other websites which do get substantial traffic and are community oriented. The following are just a few that help to support the overall online presence. Most Realtors might have a single website. I have multiple real estate sites to market your home!
ONLINE MARKETING | SOCIAL MEDIA | NEWSLETTER
When you market your home with our Real Estate team, be assured that you will receive dominant internet exposure. Your property will not only be syndicated to numerous real estate sites (as mentioned below) but we also use social media such as Instagram, YouTube, Twitter, Pinterest, Reddit, Tumblr, List.ly, Facebook, Pinterest, and ActiveRain (a real estate platform). A social media strategy provides maximum exposure for your home. Having a strategy in place and utilizing tools to continue to post will demonstrate continued exposure for your home!
One of the MOST important considerations is making sure that your home will get found. We ensure that your property will be found in results from Google searches. Everybody uses Google as a search tool, however, we also optimize for other search engines as well including Yahoo and Bing. Real Estate searches are of course something that many home buyers do when looking for a property (for example searching for homes in specific communities in specific cities_. When you work with us you, you will see results from community pages, and a number of social media sites for your area to ensure your property gets found. All internet marketing that is done is systematic and methodical and the goal is to provide MAXIMUM online exposure in a timely manner to get your home sold!
ActiveRain – is a community of Real Estate professionals of close to 300,000 members, and it is a community to share Real Estate related information, listings, and other information. I am ranked number 1 in Newport Beach on ActiveRain and been active on this Real Estate platform since 2007.
Facebook – Over 2300 likes on our Facebook Real Estate page, and growing. Facebook is a social media site where it is about the interaction between the users.
Instagram Over 2800 followers on Instagram, and member of Instagram groups to maximize post exposure.
LinkedIn – Over 1500 followers and connections on LinkedIn which offers an opportunity to share information with other professionals.
Newport Beach Real Estate Newsletter – All new listings, market reports, area information, and community events are syndicated monthly online to our many subscribers.
Twitter – With over 6500 followers, our Twitter account has been voted Top 99 Realtors to Follow on Twitter in 2012 in the United States. Consistently weekly in top 10 on Mondinion in the US and top 15 internationally Realtors to follow on Twitter.
Custom Property Website – Our listings all have custom websites built to generate the most amount of online exposure. Sign riders are also provided with custom URL unique for property and area. The custom website includes professional photography, property video, community video, and community information.
Pinterest – Over 160K monthly viewers on Pinterest, we utilize Community boards built for individual communities, areas, and listings to maximize online exposure.
Below is a graphic of some of the social media sites that your site will be syndicated and shared on.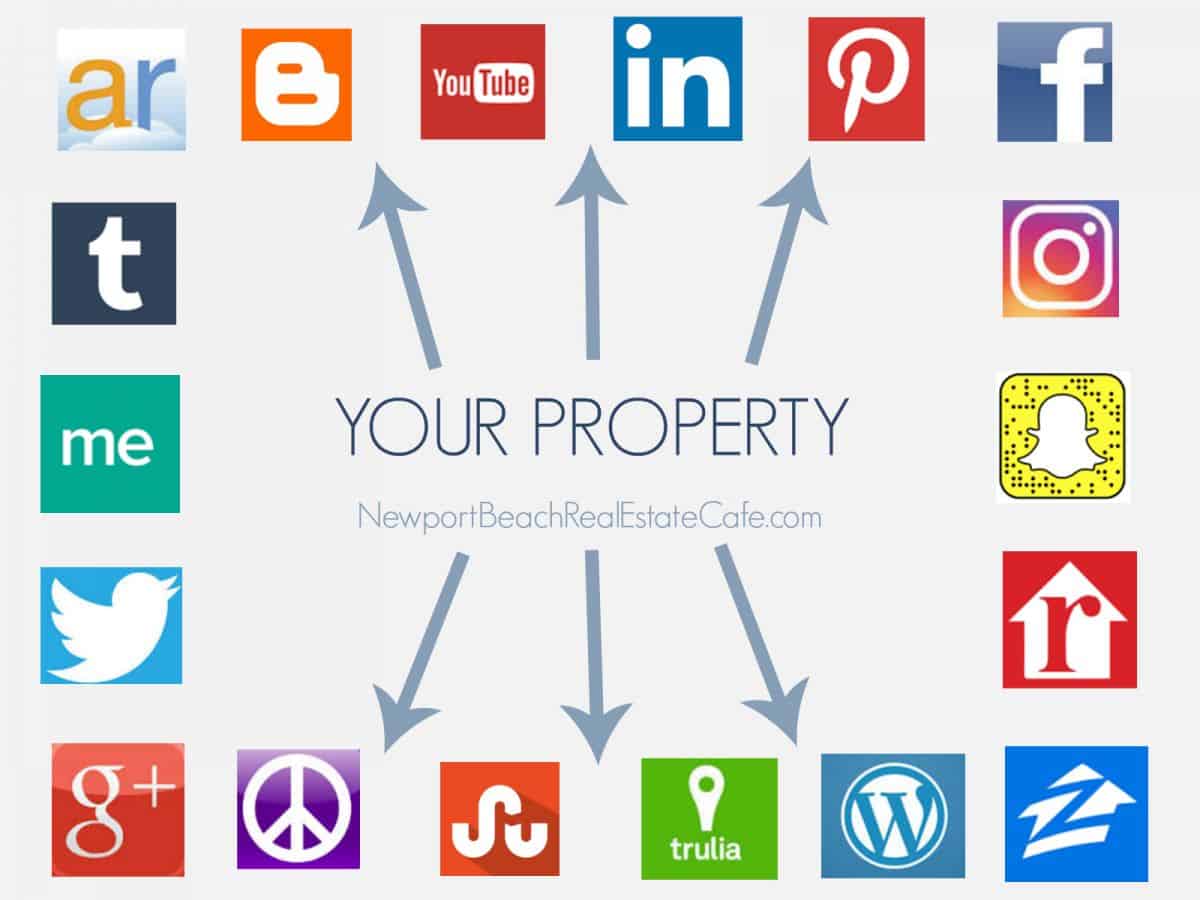 Other nationally recognized real estate sites that are posted on continually is RealtyTimes and RealtyBizNews where I am featured writer.
MOBILE FRIENDLY TOO FOR YOUR HOME
Our sites are mobile responsive. What that means is when home buyers are searching for a home on their smartphone or their tablet, our site is mobile responsive. Prospective home buyers will be able to view your home from their mobile device by visiting one of our many websites.
VALUE OF YOUR HOME
Find out the value of your Newport Beach home today! Fill out our Online Seller Questionnaire below and we will e-mail you the estimated value of your home or for a more accurate value, you can schedule an in-home appointment.