Balboa Island in Newport Beach | Homes for Sale on Balboa Island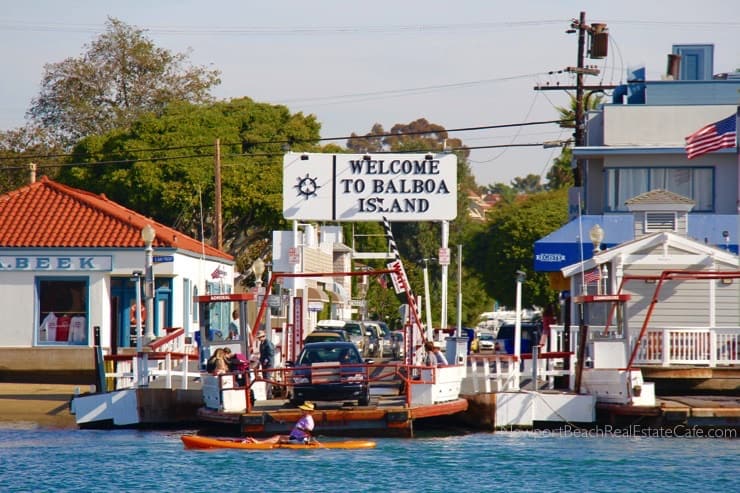 Balboa Island is a man-made set of three islands that are located in Newport Beach. The three islands include – the main island, the little island, and Collins Island. Collins Island has only 8 homes that are located on it and it is a gated area of Balboa Island.
The main island of Balboa Island has approximately 1099 home sites located on it. There is a bridge off Bayside Drive to enter Balboa Island the street is called Marine Avenue. Marine Avenue is very unique and has boutique-style shopping and dining. There are many visitors who enjoy Marine Avenue and the shopping and dining with the beautiful Newport Beach climate.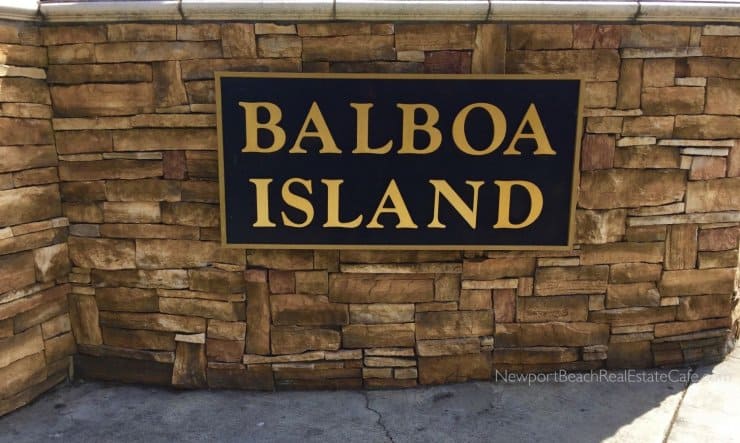 Many of the Balboa Island residents cruise the island in their golf carts. The streets of Balboa Island are named after semi-precious stones such as Jade, Opal, Amethyst, Crystal, Abalone and Onyx. Balboa Island is located off Bayside Drive in Newport Beach.
Another way to arrive on Balboa Island is via the Balboa Island ferry. The ferry holds three automobiles, pedestrians, and bikes, and crosses from the Balboa Peninsula to the island. It is not unusual to see seals, and other sea life along the way! The Balboa Island Ferry was originated in 1909. The Balboa Island ferry is a three-car ferry which transports vehicles, people and their bicycles to and from Balboa Island and the Balboa Peninsula. It is a brief journey, but enjoyable just the same.
Balboa Island has the most stunning views of Newport Harbor. Newport Harbor is quite large and home to many yachts and sailboats. It is amazing to just cruise around and enjoy the weather and most beautiful scenery and homes.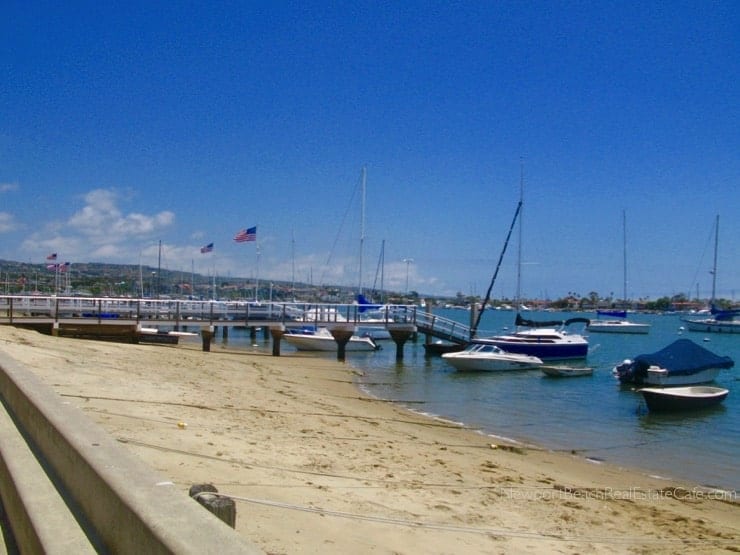 Balboa Island also has a boardwalk that surrounds the islands and if you decide to walk around the main island and the little island, it is approximately a 3-mile walk. What a great walk to start or end the day by walking or jogging around the island. Many of the residents and visitors bring their dogs as well.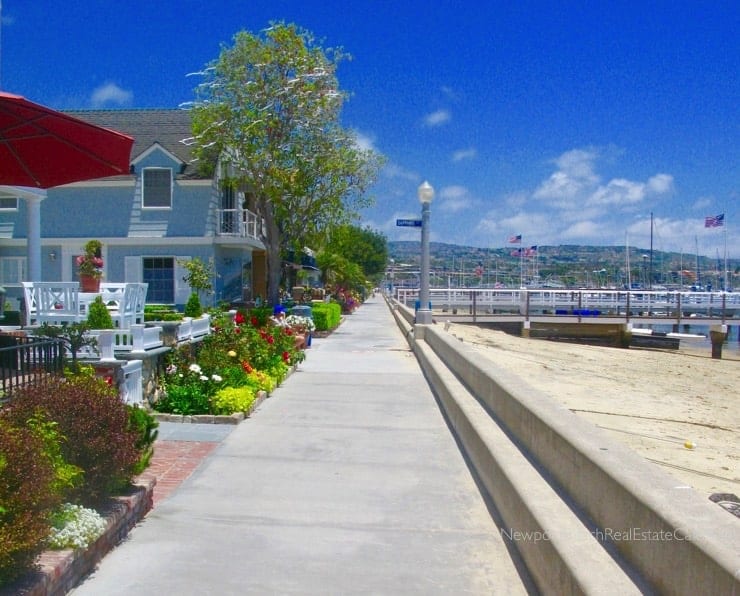 Balboa Island has very beautiful homes, both bay-front and located on the streets that are all named after semi-precious stones. Some of the bay-front homes may include a dock for different sized boats depending upon where the home is located. One of the best ways to enjoy the island is to walk the island on the boardwalk on both the main island and the little island. You will see many people walking, jogging, and walking their dogs.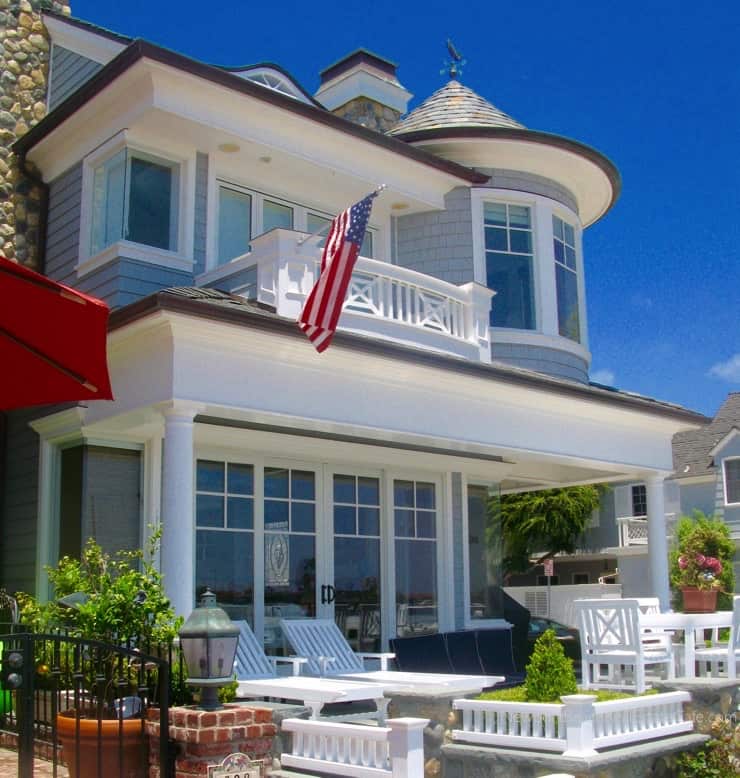 The history of Balboa Island is very interesting. William Collins, who was from Pasadena, California began dredging a channel on the north side of Newport Bay and deposited the sand and silt on tidelands that would eventually become Balboa Island in 1908. As a result of piling up the silt and sand on the tidelands, this was the beginning of Balboa Island. During this same time period, there were lots that were being offered for sale in the amounts of $350.00 to $750.00. Of course, the highest price lots were the ones that were located on the bay and waterfront. However, even though these lots were being advertised, many of the original lots were sold for as little as $25.00.
Balboa Island in Newport Beach was considered a place to go for summer vacations. Many of the Balboa Island homes did not have heaters, so these homes were used during the summer months, and many were often closed up for the winter. Tourists and families came to visit Balboa Island during the summer months and enjoy the climate in Newport Beach.
The growth of Balboa Island was slow initially, however in 1916 Balboa Island officially became part of the City of Newport Beach.
Joe Beek who was also part of the initial development of Balboa Island. In 1919, Joe Beek obtained the first contract for a ferry between Balboa Island and Balboa Peninsula. The first car that was transported on the Balboa Island Ferry was in 1920, and it was for a fee of .10 cents. Joe Beek's ferry boat was called the Joker, and the original capacity was two cars. The ferry is still in existence and there are three 64 foot ferries, that have the capacity to carry three automobiles. Also, many bicyclists and pedestrians can ride for a fee as well. The ferry drivers are very skilled particularly during the summer months when Newport Harbor can be incredibly busy with the Newport Harbor boat traffic. It is a great way to travel from the Peninsula to the Island and enjoy the beauty of Newport Harbor on a brief journey.
Balboa Island was also a place that was frequented by many celebrities. In fact, in the 1920′s and 1930′s, there were many movies that were filmed on Balboa Island. James Cagney officially purchased Collins Island in 1938 and then later sold in 1948.
The Grand Canal is located between the main island and the little island.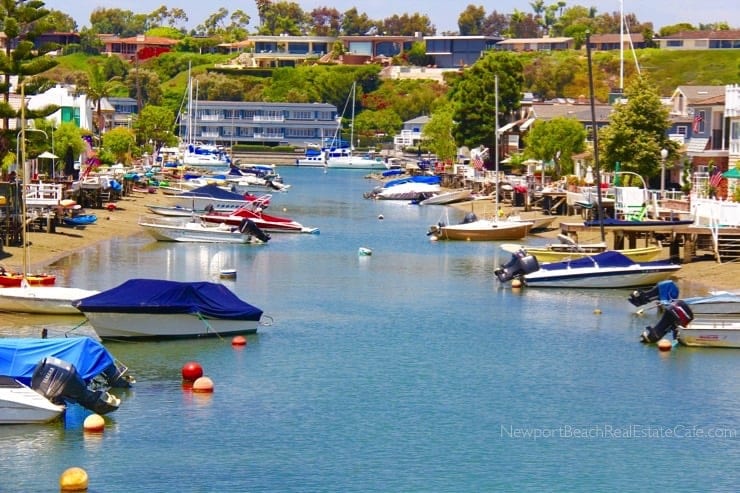 There are some wonderful activities to enjoy on Balboa Island from swimming, kayaking, sailing, boating and fishing.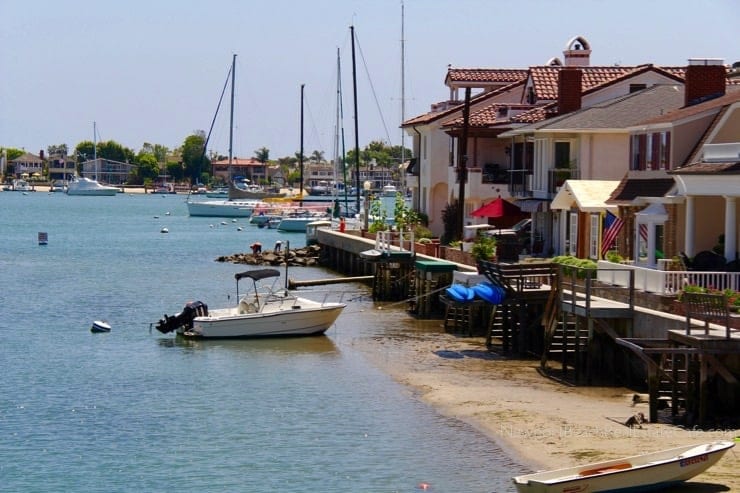 Search the MLS for Balboa Island homes for sale and real estate in Newport Beach.
Other Newport Beach, CA Neighborhoods
For the most-up-to-date information in Newport Beach, we urge you to contact us. We can assist you with all aspects of buying or selling real property in this and other neighborhoods and communities in Newport Beach. Also ask to be placed on an instant notification system when any new Newport Beach MLS listings come on the market or price reductions in the Newport Beach area are posted.
We can assist buyers in all forms of Newport Beach relocation needs including new construction houses, condos, for sale by owner homes, residential lots, lofts, and new homes in various subdivisions across the Newport Beach area. If you are interested in foreclosure homes including pre-foreclosures, short sales, REO properties, bank owned properties and other types of foreclosure properties, then we can assist you. If you're searching for Newport Beach, CA foreclosures, then we invite you to view the listings in this or any of the Newport Beach popular communities on our site. And if you're searching for condos for sale in the Newport Beach, feel free to browse our updated listings of Newport Beach condos for sale on our site.
Information on this page is based on information on real estate for sale in the Newport Beach area per the CRMLS and is deemed reliable but, not guaranteed