An open house is when the home is open for anyone to view the home. It is the beginning of the year and you are considering selling your home! Many sellers think that part of the selling process includes having open houses to market the property, and this is a decision that should be carefully considered. Your real estate agent should have an in-depth marketing plan which includes how they plan to market the property. One item that should be carefully considered is if the agent has a stellar online presence to market the property which is actually preferable to open houses!
Keep in mind when having an open house, you are inviting strangers into your home. They may include the nosy next door neighbors, unqualified buyers, and potential thieves coming to determine where all the entrances and exits are located. At the conclusion of an open house, it is imperative that the real estate agent go back through the home and secure all windows and doors. Some doors have hardware that a realtor may not be knowledgeable in how it operates, and this needs to be addressed before an open house so the home is properly secured!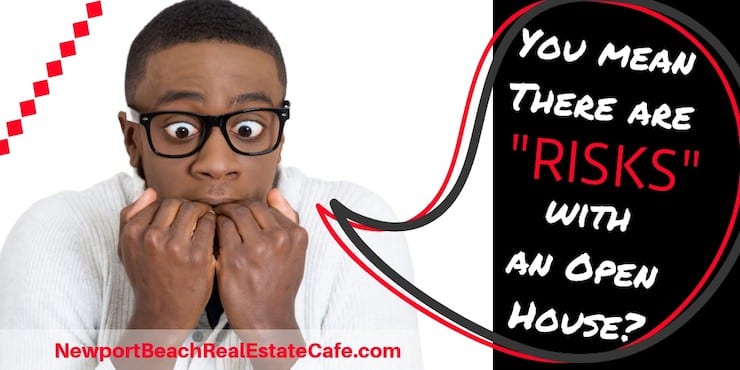 Should the seller decide to have open houses as part of the marketing plan, then there are some important considerations to take into account to avoid the risk to the seller.
Keep in mind open houses thieves can come in small groups and one person may distract the real estate agent while the others clean house!
Pets and Their Stuff
Having pets present in the home during an open house is an absolute no-no. First of all the pets may not enjoy having all these strange people coming into their domain which can impact their behavior. Secondly, don't put the responsibility of your pets on your real estate agent. Even though you love your dog or cat, keep in mind how it might impact someone else walking through the home. I have literally had a buyer walk out of property because there was a loose cat. Keep in mind you want your home to be inviting to all, so they feel comfortable in the home and can spend time and imagine living there!
Selling a house with animals can be challenging! If there are dog crates, cat carriers, water bowls, litter box, remove all of this for an open house as it may be unappealing to a buyer. There are many buyers who have allergies to dogs and cats and having pet accessories such as a water and feeding bowls just announces to a buyer that pets have resided in the home. Put them away and clean up after the pets!
If you have a bird, and you are unsure of the behavior, then post a sign on cage not to touch to avoid any unintended bites! Large exotic birds can inflict damage! And be sure to clean up the birdcage so it is neat, and under a birdcage. Birds can be messy! You want your home to have an excellent first impression, including all showings and open houses!
As inconvenient as it might be, take your pets out and ensure the home is all cleaned up of any presence of pets!
Remove all pets from the property before any showings and an open house!
Click To Tweet
Jewelry
Any jewelry should be removed and safely secured! It is very easy to pick up a piece of jewelry and put in a pocket never to be seen again!
Make sure that all jewelry is put away, you do not want to invite theft. Think about it, jewelry is small and can easily be concealed if someone decides to walk out the door with it! Even if jewelry is stored in a small jewelry box, be sure to store it if it is valuable to you.
Lap Top Computers, Cell Phones, and Tablets
This is important! Leaving around ANY laptops, cell phones or tablets is an invitation to disaster. Be sure to safely store these items. Consider even cell phone chargers that you leave in the property as they are expensive to replace, and again easy to pick up and put in a pocket!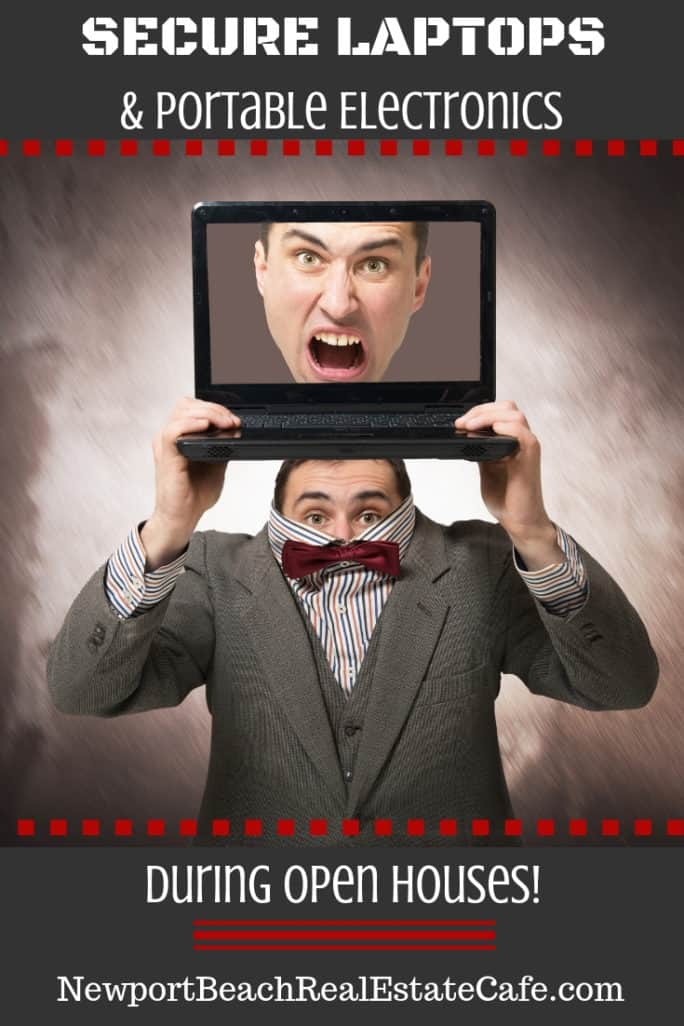 Tablets or iPads which can easily be picked up should be stored and out of site. These kinds of thefts can be expensive to the homeowner.
Safety is paramount! Consider having security cameras installed to monitor the exterior of the home as well as stick up cameras for the interior. However, if you are utilizing security cameras, ALL PARTIES need to be aware that they are being filmed. This can easily be accomplished by posting a sign that all parties are being monitored by surveillance at the entrance, and the real estate agent may also notify the people entering the home.
Remotes
Do you have any garage remotes which open the garage? Do you have direct access from your garage into your home? Then you need to be AWARE that thieves may go into a garage during an open house and take a garage remote inside a car! This can give anyone direct access to your home when you are NOT home! That is a key to your house!
Be sure to put remotes away where someone does not have access to a remote which may end up being a key to your house!
Prescription Drugs
Remove all prescription drugs from the most popular places to store them in the property. One of the first places that someone may look for them is medicine cabinets! Don't store under the bathroom sink, drawers or in kitchen cabinets. Unless you are having an open house with someone in each room, it is difficult for one real estate agent to monitor the entire house at the same time. Prescription drugs and even over the counter medication is something that thieves may be looking for.
Pack up medications and remove from the property before an open house. Don't invite problems by leaving medication accessible.
Firearms and Gun Safes
Remove any weapons or firearms from the property. Taking the risk of leaving a firearm hidden in a drawer is an invitation for disaster. Don't leave weapons and ammunition out.
Many homeowners have large safes somewhere in the home. In general, safes that store jewelry and important documents are generally in a master bedroom or bathroom, and thieves know that. Unless it is concealed, it is recommended that you remove it from the property. People who are attending open houses are allowing access to someone who may just want to case the property and find out the location of a safe.
If there is a large safe in the garage, remove it. Put it in storage. Unless the safe is bolted down, remove from the property. If it is not removed, you are taking the risk that a potential thief snaps a photo of it, and knows there is a safe and may come back later to attempt to take the entire safe!
Artwork
Do you have expensive artwork hanging on the walls or displayed in cabinets? Even if it is not expensive but meaningful to you, then remove it. It is inexpensive enough to purchase artwork from places such as Home Goods to hang on the walls and fill up a blank wall. It is unlikely that a thief will walk out with a large painting, however, they might want to come back for it.
At the same time, remove personal photographs! I have held Broker Previews myself when Realtors are walking through looking at the photos of the owners.
Personal Items with Identifiable Information
Leaving around items which have your name and address on them such as mail or other documents may open up a seller to identify theft. Remove anything that has your name and address on it. Yes, diplomas too! You want the home to be as neutral as possible with no personal effects.
Political Signs
With our politically charged climate that exists right now, it is best not to reveal any political affiliation what so ever. Whether it be local candidates or national candidates, it can influence how a buyer views the property! It is best to take down any political signs, and don't even store them in the garage where they can be seen!
Final Thoughts
Preparing a home to sell can be a daunting task, but there are unscrupulous types in all areas to target open houses. Leaving out any of the above can be an invitation to theft. And you want to make sure your home is secured after all showings and open houses! Common items stolen are jewelry, watches, and prescription drugs. Removing any of these items reduces your risk.
Find Other Valuable Resources for "10 Items that Should Never Be Left Out at an Open House" from Real Estate Professionals Across the Country. Please check out the articles below, and please share across Social Media if you liked the articles.
Items Not to be Left Out During Open House via Bill Gassett, Maximum Real Estate Exposure
Is it Time to Sell Your Home via Jamohl DeWald, Portland, Oregon Real Estate
Do Open Houses Make Sense When Selling via Paul Sian, Cincinnati and Northern Kentucky Real Estate
Home Selling Checklist via Michelle Gibson, Wellington Florida Real Estate
Do I Need to Have an Open House to Sell my Home via Kevin Vitali, Essex, and Northern Middlesex Counties, MA Real Estate
Pros and Cons of Open Houses via Kyle Hiscock, Rochester Real Estate
About the Author
The above real estate article "10 Items that Should Never Be Left Out at an Open House" was written by Sharon Paxson of Newport Beach Real Estate. With experience since 2005 representing sellers, buyers, and landlords with their real estate transactions, we welcome the opportunity to share our knowledge and expertise and guide you through the home buying or selling process.
We service the following Orange County CA areas: Corona del Mar, Huntington Beach, Laguna Beach, Newport Beach, Newport Coast, Orange, Santa Ana, Sunset Beach, Tustin and more! If you are considering selling your home, we welcome the opportunity to work with you and list your home with a top Newport Beach CA Realtor.