An estate sale is a good way to sell items after the loss of a loved one. When you have just gone through the trauma of losing a family member, you could be left to deal with the estate. An estate sale can be used to liquidate the property left behind by a deceased relative.
If you or the other heirs don't want to keep the property owned by the deceased relative, an estate sale could be the answer. It can also help if there is a dispute between the heirs over who gets what, or if a court has ordered the liquidation of disputed assets. Also, once the items have been sold or donated, it is a good idea to sell the house.
Whatever your exact reason for this type of sale, we look at the best tips to make it's a success.
Have a Plan
Before you begin sorting through the property, you can make things easier by planning. You might be tempted to just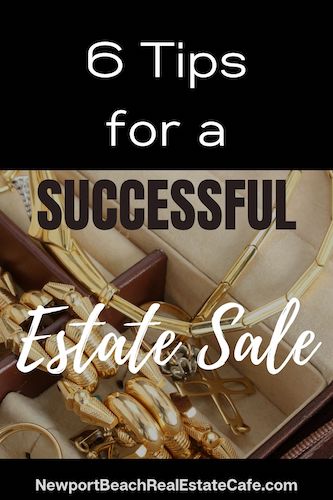 jump right in and begin sorting, but you might want to prioritize finding important documents and items like family photographs.
It is a good idea to go from room to room to find items that have value and will likely sell. There are some items you can sell on your own through many online sites such as Offer up. Look for items and you can establish value by looking on eBay to see what the items have been sold for. As you go through the house, be sure to include the garage. There can be power tools that have value. It is also a good way to reorganize the garage in preparation for sale of the home.
Once you have located the important items that you don't want to sell, you can go through the rest. You might want expert advice on what is valuable and worth putting in the sale, and what isn't.
Having a plan in place for an estate sale will also help to declutter the home. Once the house is empty, you may want to prepare it for sale. Adding a coat of paint and fresh carpet can make a big difference. There are tips for selling a vacant home to ensure you get the maximum profit.
Make sure to get moving boxes in advance to know what items you are either selling, donating, or giving away.
Don't Let Your Own Judgment Cloud the Real Value
If you have a particular attachment to certain items, it is very easy to value them more than their real worth. Just like when you are selling a home, setting the price too high could make it very difficult to find a buyer. Particular items may have sentimental value or bring back a memory for you.
If you're trying to sell your relative's house an the property is overpriced, it's likely to remain on the market for a very long time. An overpriced home will likely accumulate too many days on market. This could lead to dropping the price and ending up selling it for less than you would have got if you had priced it correctly from the start.
So that you don't overvalue a home or possessions for an estate sale, you should seek professional advice.
If you are planning on selling the items yourself, be sure to be objective with what the items will sell for. Keep in mind, a buyer is not going to have the same emotional attachment as you do!
Using an Appraiser
It can be difficult to assess how much things are worth unless you are an expert already. Bringing in an appraiser will help you find the worth of the items so that you don't undervalue something or completely miss a hidden treasure.
Your relative might have amassed a collection of items that are more valuable than you you would have thought. A professional assessor can go through the house with you to help your understanding of what these items can be sold for. An independent professional can also help in any potential disputes between heirs.
Are You Going to Get Professional Sales Help?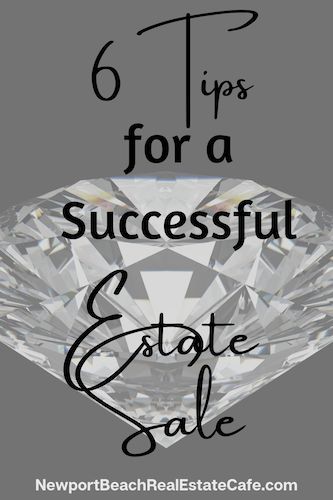 When you have set aside the valuable items, you'll need to choose between selling those things yourself or using a professional. Choosing to use a professional estate sale company means that they could take as much as 40% of the proceeds for their fees, however.
Before you choose which company you are going to use, you should make sure they will be reliable. Check with the Better Business Bureau and read online reviews to inform your choice.
If you decide to sell the items yourself, you have many options. Choose between:
* Having a yard sale
* Hiring an auctioneer to have your own auction
* Sell on eBay, Craigslist, or OfferUp
* Take the items to a consignment store, though they could take up to 50% of the sales price
* Donate to charity, and get a receipt for a tax deduction
Know the Tax Laws
If there are only a few items to sell, the IRS probably won't be interested. But large estate sales could be different, so you'll need to make sure you understand and what the tax implications are.
Dealing with Debts
If the deceased person had debts, those owed could be first in line to benefit from any earnings from an estate sale. You might not be directly responsible for the debts if you are not the spouse or co-signer, but the debts will need to be cleared before you or any other heirs divide up the money.
6 tips for a successful estate sale. When you have just gone through the trauma of losing a family member, you could be left to deal with the estate. An estate sale can be used to liquidate the property left behind by a relative.
Click To Tweet
You should have a clear understanding of what the rules are and how they affect your situation. If the situation is complicated, or the deceased had many debts, it is advisable to hire an attorney to keep you on the right side of the law.
When a relative passes it is always difficult, and dealing with their estate can be tough. If you follow our tips, you could avoid a mistake that might lead to the loss of valuable possessions, either sentimental or monetary.
Final Thoughts
An estate sale is an excellent way to deal with a relative's possessions. The funds that are earned from the sale can be distributed amount the remaining heirs. Some of the profit should be utilized to keep the house going (paying the mortgage, home owner's insurance, and home owner association fees) prior to selling it. Also the funds earned can also be utilized to prepare the home to sell.
About the Author
Top Newport Beach Realtor Sharon Paxson has written the real estate article "The 6 Best Tips For a Successful Estate Sale". With experience since 2005 representing sellers, buyers, and landlords with their real estate transactions, we welcome the opportunity to share our knowledge and expertise and guide you through the home buying or selling process.