A seller overprices their home when trying to get the highest amount of money for it. When you are considering selling, it is essential to try to remain objective with the selling process. For many homeowners, their homes have sentimental value and they are emotionally attached. Perhaps this is where they raised their families and now the homeowner is downsizing!
Unfortunately, when a homeowner is emotionally attached, it is difficult to remain objective about the entire sales process including the pricing of the home. Overpricing a home can result in disastrous effects including too many days on the market and ultimately a lower sales price! The following are some reasons and objections that a seller may present in order to justify their inflated list price!
I Don't Need to Sell Right Now
If you do not need to sell your house at the time that you are going to be listing it, then you may consider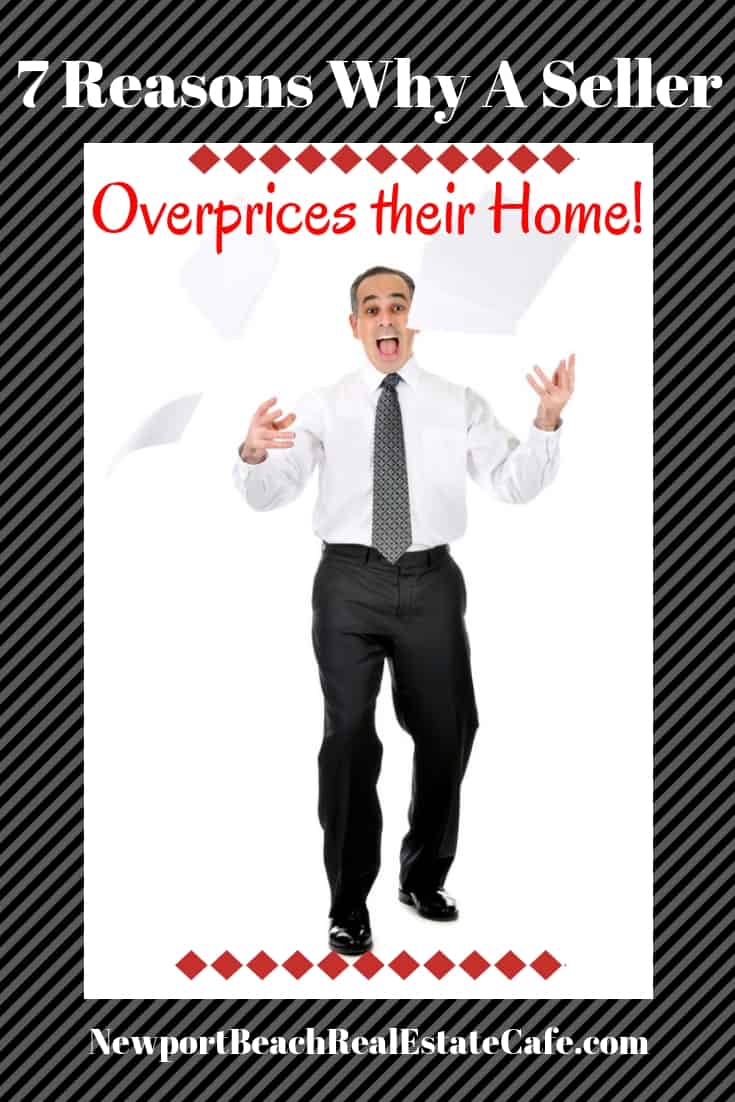 waiting for another time to sell it. Utilizing this to justify an unrealistic price will probably not work! If a home languishes on the market accumulating too many days on the market it can become a stale listing. You want your home to be in great condition in order to make a good first impression!
The longer a home is on the market will send a message to the real estate community and homebuyers that the seller may not be reasonable to work with or there might be something wrong with the home because it is still for sale!
If the real estate market is changing, and you list your home to sell and the market is declining, then you may be above the market. Having a home sit on the market too long handicaps the house as buyers will wonder why it has not sold!
If you really don't need to sell right now, then don't list it! Don't waste your own time preparing the home to sell and get it show-ready, and waste an agent's time preparing it to sell in order to "test" the market! When a seller overprices a home, it may sit on the market.
A Neighbor's Home Sold For This Much More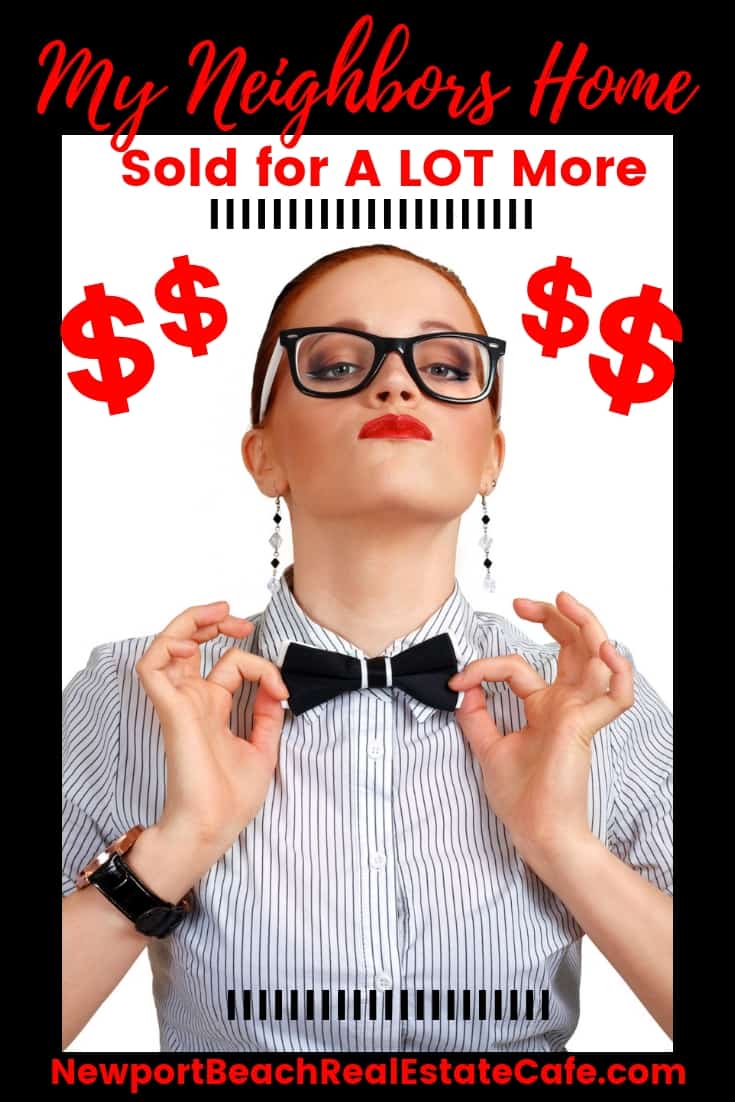 You may have seen a home in the neighborhood that you live in sell, and your Realtor is telling you that your home does not have the same value. But yet, you think your home is superior because of the upgrades you have done to the house. There are many considerations when establishing value, and they can include the size of the home, condition of the home, location (does it back up to a busy street), what school district are they in (I literally have seen homes across the street from each other in two different school districts).
You may find that the home that is so similar to yours has new windows, new roof, updated kitchen, and stainless appliances. And your home is in original condition, but it is "clean". Those upgrades will add value, and not only will a Realtor consider those upgrades, but an appraiser will also!
I Can Always Come Down in Price
When a home is an overpriced listing right from the beginning, you may be sending a message to home buyers that you are not a realistic seller. Additionally, thinking it is a good idea to "come down" in price may also be a problem. If a home is priced right, there are multiple showings right away, and ultimately an offer! Also, making tiny price reductions is sending a message that you are holding on to every dollar and not all that motivated to sell. No one wants to leave money on the table. Sellers want to receive the highest and best offer, and buyers want to get a "deal" and not overpay for a property.
In today's market, buyers are savvy and they know that the home will have to appraise for the contracted sales price.
Internet Estimates
Everyone looks at internet estimates of their home including Zillow. Relying on internet estimates of your home to be accurate will not yield a realistic value. If this is one of your objections and rationale for your high listing price, then you maybe want to re-think that. Internet estimates do not take into account the condition of the home, and if there are upgrades as well. There are certain criteria that a Realtor is going to consider when making a recommendation on the list price of the home. The list price should be fairly close to the sale price. It is a strategy to help the seller obtain the highest amount of money for their listing!
Another Agent Said it was Worth More!
If you are talking to multiple agents, perhaps they are presenting you with comparable homes so that you can review the features including the size, location, when they sold and more! Actual data is helpful in determining list price. If another agent is stating that your home is worth significantly more, then they may be just trying to get the listing and lock you into a listing agreement. Even if another agent says it is worth more, as a seller, you should consider the features and comps objectively! I tell sellers to "think like a buyer". Buyers are out there searching for a home which fits their needs.
Need to Yield a Certain Amount of Cash
When selling if you are counting on receiving a certain amount of cash or net proceeds from the sale, that may influence how you price the home. Have your Realtor prepare a net sheet for you so you can consider all the costs of selling a home and actually view how much you will be netting from the sale. In addition to the real estate commission, there are other costs including escrow fees, title fees, if there is a home warranty, and HOA documents.
Also, are you selling in order to buy? That is another consideration and you may be looking to receive X amount from the home sale to purchase your dream home. However, consider what the market is doing, if it is declining, it is not great to be a seller, but you will also be able to be purchasing your next home at the current market value which may have also declined!
Need Negotiating Room
You want to price a certain percentage over the list price for the "negotiating" room. By considering the actual data of recently sold homes with comparable features, and pricing it at the market will result in a quicker sale! Homes that are overpriced stay on the market too long and result in a lower sales price!
And if you are selling a vacant home, keep in mind the longer the home sits on the market, the additional month of carrying costs need to be considered. If a home costs $5000 to pay for the mortgage, insurance, and property taxes, and it sits there for 3 months waiting for a buyer to pay an inflated price, then that is an additional $15,000 that a seller has to pay!
Dealing with Sellers Who Insist On Overpricing!
When a seller overprices a home, it can result in no showings, few showings, and even low ball offers! Try to take the emotions out of the equation in order to achieve the highest and best offer. Remember, no one wants to leave money on the table when negotiating for a home to purchase!
Consider the actual data including looking at the recent sales of properties sold that have similar features. This is what an appraiser is going to consider, and remember the home will have to appraise at the contracted purchase price. Another consideration is looking at the net sheet in order to view the actual proceeds. Remember to be as objective as possible with the home selling process!
Keep in mind your plan if the home does not sell! How long are you going to keep it on the market when it is overpriced? If selling is not in the equation, then you may consider leasing the home, but that can have some ramifications as well. If in the future you need to sell the home and there is a tenant in place, that can present its own set of challenges.
Final Thoughts
Every seller wants to gets the highest amount for their home and in their eyes, it is special to them because they made memories in the home! However, pricing it in alignment with the market will result in a quicker sale and avoid the consequence of being a stale or overpriced listing! Also, you will be minimizing the risk that you may be perceived as an unrealistic seller!
Find Other Valuable Resources for "Seven Reasons Why a Seller Overprices Their Home" from Real Estate Professionals Across the Country. Please check out the articles below, and please share across Social Media if you liked the articles.
Real Estate Pricing Mistakes Sellers Need to Avoid via Kyle Hiscock, Rochester Real Estate
Reasons Why a Seller Overprices Their Home via Bill Gassett, Maximum Real Estate Exposure
Disastrous Effects of Overpricing via Kevin Vitali, Merrimack Valley Real Estate
First Price Should be the Best Price When Selling via Petra Norris, Lakeland, FL Real Estate
8 Costly Mistakes Sellers Make via Michelle Gibson, Wellington, FL Real Estate
About the Author
The above real estate article "Seven Reasons Why a Seller Overprices Their Home" was written by Sharon Paxson of Newport Beach Real Estate. With combined experience since 2005 with selling or buying, we would love to share our knowledge and expertise and guide you through the home buying or selling process.
We service the following Orange County CA areas: Corona del Mar, Huntington Beach, Laguna Beach, Newport Beach, Newport Coast, Orange, Santa Ana, Sunset Beach, Tustin and more! If you are considering selling your home, we welcome the opportunity to work with you and list your home with a top Newport Beach CA Realtor.