Homeowners Association Rules
Many homes are located in a community that has homeowners association rules if the home is located in an HOA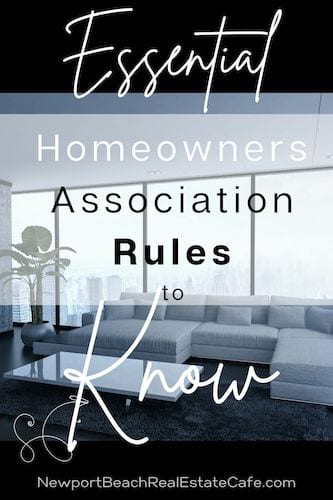 community. When searching for a home, you want to find the most desirable community to reside in. When you are looking to buy a home, you might come across a property you like that is part of a homeowners association.
There are pros and cons of living in a community that has an HOA. And if you haven't lived in this type of development before, you might have some concerns about such an arrangement or not know how they really work.
Homeowners associations or HOAs are organizations created to maintain and improve the community. To make this possible, homeowners association rules are created and enforced by the organization. These rules could restrict the changes you make to your house, and how you live your life, so you need to understand if living in an HOA community is really something that is right for you.
We take a look at eight of the most common homeowners association rules, that you need to know about.
Exterior Changes
You can expect most HOAs to have rules that restrict you in changes you make to your home. They are looking to maintain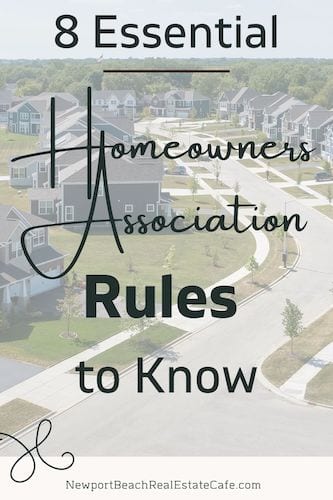 the similarities between properties in the community, and their rules can be quite strict to achieve this. Some of the improvements that you do make will boost home value.
If you want to change the color of your home, for example, you may need to gain written approval from the HOA. Even for simple things like putting up a shed or changing your mailbox, you could find yourself running into problems with the association. When making exterior changes on the property, you want to avoid mistakes that can impact the value of the home.
There may also be rules about temporary things stored in your yard. It could mean you need to put away bikes and other sports equipment when they are not in use, to comply with the homeowners association rules. Sometimes, HOAs even have rules about flags on the outside of homes.
Check how strict the ordinances are if this could affect you. Any improvements that you make to the home will need to be disclosed when you sell the home in the future.
Landscaping
Any plans you have to change the landscaping on your property could be prevented by HOA rules. While they will want to make sure that your yard is kept neat and tidy, the restrictions could be more precise than you might imagine. They could have rules regarding the type of plants you're allowed to grow or the changes you can make in your own front yard. Front yard landscaping will improve the overall curb appeal of your home.
If you are buying new construction, then the HOA may also have the right to govern what plants you plant in your backyard. They can be restrictive and require that a plan be submitted and approved prior to completing the landscaping.
8 Essential Homeowners Association Rules to Boost Your Knowledge
Click To Tweet
Making Noise
Many counties already have restrictions on noise, but the rules about the sound you make within an HOA can be more limiting. There might be homeowners association rules concerning when you can make more noise, and periods when noise isn't permitted. While this can seem overly restrictive, it could be a real benefit if your home shares a party wall with a neighbor.
Pets
Most HOA's will have homeowner association rules about the number of pets you can have and often times the size of the
pets as well. If you own a dog or a few dogs, you need to find out what rules the HOA has for pets. It could be the case that they don't allow specific breeds of dog, or they have a limit on the number of dogs you can own. There can also be rules concerning where you walk your dog and when a leash needs to be used.
Though whatever pet you own, you will need to check in advance if this important member of your household is allowed to live in your potential new home.
Vehicles
If you own a few different cars or an RV or boat, you need to learn about the homeowners association rules regarding vehicles. They could limit the number of vehicles you park on or outside of your property. If you are allocated parking in a lot, how many spaces can you use, and what are the rules regarding guests?
Taking Out the Trash
There are homeowners association rules about dealing with waste that is likely to be in the HOA agreement you have to sign when buying your property. They will want to make sure you take your trash out at the right time, so your trash cans aren't sitting by the curb for longer than they need to. And if there are community dumpsters, there could be rules about what you can dispose of in them.
Festive Holiday Decorations
If you are someone who likes to light up the outside of your home during the holiday season, you could have to change your plans. There could be homeowner association rules regarding the size of decorations you put up, along with the timeframe that you can begin your decorating and when you need to remove them.
Renting Your House
If you are hoping to rent out your property at some point, you might not be able to do it under the homeowners association rules. Sometimes, associations have a limit to the number of properties within the development that can be rented, if it is allowed at all. There may also be restrictions by the city in the length of time that you can rent your house.
This is often based on the insurance the association is using and means only a certain ratio of homes can be rentals. This could mean that you will need to wait for another rental spot to become available before you can find a tenant. Whether you can rent the home or not will help you to determine if you decide to purchase the home.
HOA Dues
There are costs of homeownership. When residing in a home that has an HOA, there are dues that go along with it. The HOA dues cover the common area costs of the homeowners association and the homeowners association rules. If it is a condo community, then the association may pay for the exterior maintenance as well as the insurance.
Before you buy, you need to find out exactly what the dues cover, how much the dues is, and the financial stability of the HOA. Other factors you need to find out about the HOA dues is if there is more than one dues that is assessed as there can be a master community HOA as well as community HOA. Some dues are assessed monthly, quarterly and there are some that are assessed annually.
About the Author
The above real estate article "8 Essential Homeowners Association Rules to Boost Your Knowledge" was written by Sharon Paxson of Newport Beach Real Estate. Sharon is a residential Realtor® with experience representing buyers, sellers, and landlords with their real estate transactions since 2005. We welcome the opportunity to share our expertise and guide you through the home buying or selling process.
We service the following Orange County CA areas: Corona del Mar, Huntington Beach, Laguna Beach, Newport Beach, Newport Coast, and more! If you are considering selling your home, we welcome the opportunity to work with you and list your home with a top Newport Beach CA Realtor.