Searching for your next home can sometimes be a daunting task. You are perhaps making the largest purchase of your life, and you want to make sure you make the right choice.
Buying a House
Buying a house is all about finding a property with the features that fit your requirements. But different features have a different level of importance to homebuyers, so you need to be clear on what is most important to you. Some of these features will be must-haves, and others might be more negotiable, but understanding your requirements will make it easier to find the home of your dreams.
Let's look at the top 8 features you need to consider when buying a house.
The Interior Size
You should have a good idea about the size of home you need before you begin your search. If you have a large family you are going to need more space, but you still need the budget to afford to buy the home. It is a good idea to calculate the square footage.
You can rely on tax records for the information, but you can bring in an architect or building designer to measure the home as part of your due diligence and a contingency of the home purchase.
Is your family likely to grow or do you need guest bedrooms? A larger home will likely mean more bedrooms, but more ownership costs as well. Larger homes are going to have higher utility bills due to the amount of physical space that needs to be heated or cooled.
The Exterior
The outside space is also something you need to think about before you begin your search. What sort of yard do you want? Do you want low-maintenance or space to get creative? Having a backyard where you can enjoy indoor/outdoor living may be something that is desired. A yard that has an outdoor oasis will be appealing to those who enjoy the outdoors.
You also need to make sure the exterior of the home is in good condition. Problems with the roof, walls, or foundations are frequently an expensive fix, so ensuring these parts of the home are going to last you for many years is advisable. Buying a house that is a fixer-upper may have its challenges as there may be more deferred maintenance which can be costly.
Bedrooms
The number of bedrooms and the layout could be a very important consideration when buying a house. If you need bedrooms for kids, the location of them could be an issue. You might not want them to be a long way from the primary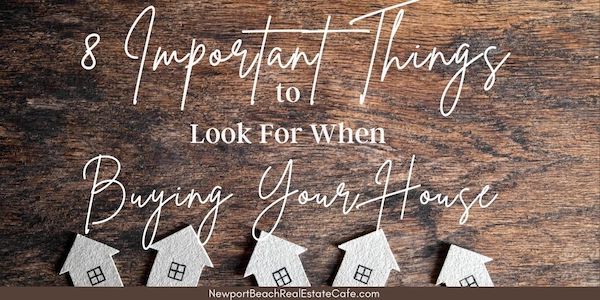 bedroom, or if the kids are older the opposite could be true.
The size of the bedrooms and what they offer could be something to consider as well. How much closet space do they have, and how good are the views from the windows? Keep in mind the age of the windows if you are buying a house that is older. That may be a replacement cost to consider when buying a house.
Bathrooms
There could be many problems with bathrooms that you'll want to check for. Do the toilets flush well, do the faucets leak, can you see any signs of water damage? You should also be on the lookout for any mold to minimize the chance of problems after you have moved in. If there are issues with mold or water leaks, it is likely that you will find this information out at a home inspection.
The Living Room
You will probably be spending a lot of time in the living room, so it needs to meet your expectations. Do the layout and style suit your taste, and how will your furniture fit in? Are there electrical wall sockets where you need them? Is the floor covering suitable for how you plan to use the room? Many homes are now designed with great rooms.
The Basement and Attic
Another factor to consider when buying a house is the basement and attic. With less-used rooms like the basement or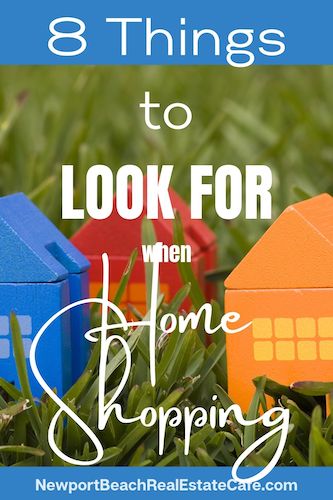 attic, you should be on the lookout for water damage that could mean problems in the future.
Be aware of mold or musty smells in the basement, and a radon test might be required as that part of the home is more likely to be affected. If the basement is finished as an extra living space, is there enough lighting and ventilation, and how easy would it be to get out in the event of an emergency.
Have a look in the attic for any signs of damage to the structure of the roof and indications of pests. If you see animal droppings, a rodent infestation could create a lot of damage to the home. How good is the insulation or does more need to be installed?
Additionally, looking in the attic may reveal if there is a leak in the roof. Your home inspection may reveal a roof leak, and then it is a good idea to have a roof inspection. The seller should disclose the material facts that they know about the property to the buyer.
Garage Space
If you have multiple cars or intend to use your garage space for some other reason, does the home have a large enough garage? The driveway and available parking is also a consideration if street parking is limited. It is beneficial if the garage has been organized with cabinets and organizers to hang tools and keep items off the ground.
Buying a House | 8 Beneficial Things to Look for when Home Shopping
Click To Tweet
Heating and Cooling
The HVAC system is a part of the home that is going to be costly if and when it fails. Unless you have a lot of experience with HVAC systems, you might be better off with expert advice. The HVAC and cooling is an important factor when buying a house.
What heating and cooling systems are present and do they meet the requirements of you and the home? If, for example, the air-conditioning doesn't cool the home well enough, an upgrade isn't going to be cheap.
Final Thoughts
When going through the home buying process, the buyer may have real estate questions to ask the seller. It is a good idea to perform all your due diligence before removing the contingencies. If the buyer is obtaining a loan, there will also be financing and appraisal contingencies. The loan contingency is generally removed later than the other contingencies. Be sure to discuss all these options with your Real Estate agent when going through the home buying process.
About the Author
One of the top Newport Beach Realtors Sharon Paxson has written the real estate article "Buying a House | 8 Things to Look for when Home Shopping". With experience since 2005 representing sellers, buyers, and landlords with their real estate transactions, we welcome the opportunity to share our knowledge and expertise and guide you through the home buying or selling process.