Selling a vacant house can have its drawbacks. Home sellers often will ask the question of whether or not they should sell a vacant house. There may be many reasons it is vacant, including it may have been an investment property and the tenants moved out or the sellers have already identified another home and have subsequently moved. Selling a vacant home has many considerations, and one of the biggest concerns is vandalism. You will find suggestions and tips for selling a vacant home below.
Keep Utilities On
One of the biggest considerations with a vacant house is to keep the utilities on, especially the electricity. If it has been turned off, and there are showing around 5 pm and it is pitch dark, the home is not going to show very well. Most agents have a flashlight on their phone but that is not the ideal way to present a home to a potential buyer. Even if the home is completely vacant, having the lights on will illuminate the home. Replace any burned-out light bulbs.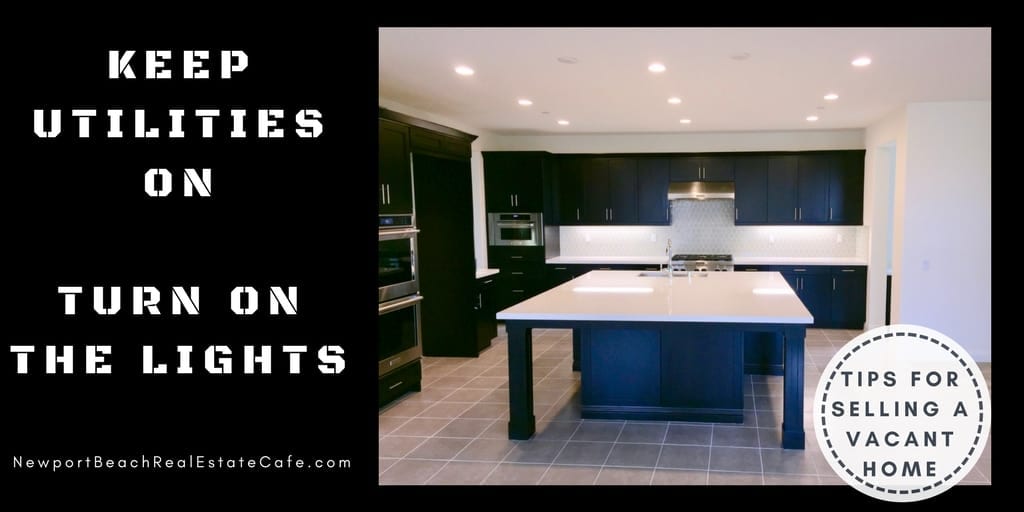 Keep interior lights on a timer in the home and turn them on at night. Keep the front porch light on also. If you reside in a part of the country where the temperatures are frigid, then you will want to keep the heat at a low temperature, not only to prevent water pipes from freezing but to allow potential buyers to be comfortable in the home. Also, if the gas is turned off in the house, in California, the Gas Company needs to come out and turn it back on and light all the pilot lights. This can also be done by a licensed plumber.
Replace smoke detector batteries, the last thing a buyer wants to hear is obnoxious smoke detectors going off the entire time they are in the home. I recently had a listing that was vacant and it had vaulted ceilings and ALL of the batteries needed changing.
With regards to keeping water on, that is a conversation between the seller and the Realtor. There was a listing that had a water leak, which subsequently created a mold issue. This all had to be resolved before the property was later sold. If the property is in a planned unit development or a condo community and the exterior landscaping is maintained by the association, you may consider shutting the water off. Of course, it would have to be turned back on for a home inspection.
And any issues such as a water leak or mold issue need to be disclosed by the seller to the buyer.
Address Defects in the Home as they Stand Out
Buyers may have a difficult time with a vacant home because every single defect including a crack in a wall or ceiling is going to be a glaring defect! Then a buyer may focus on a crack or otherwise minimal issue and think the home may need too much work. Painting the walls an appropriate color will be beneficial to present the home in the best light.
If the home is vacant, then it is recommended to have fresh paint, and floors clean. If a home is vacant, yard overgrown, or dirty, then a buyer might smell blood in the water, and think that it is a distressed sale. Buyers (or their agents) always ask where the seller moved, and why they moved. This can result in a lower price on the home if they think the seller is in a distressed situation and has to sell.
Maintain Exterior of Home
One of the biggest factors is curb appeal, so maintaining the front yard and entry is key. And if the yard is maintained without plants, dead plants, and weeds overgrowing, the home will appear to be unkept. Potential buyers may then think there is desperation to sell the home because it is not effectively being maintained.
If a homeowner is currently utilizing a landscaper or gardener, then they should continue to utilize them to maintain the yard. And it is another person coming to a vacant home on a regular basis.
If there is a pool there is a tremendous liability at a vacant home. It is imperative to have a locked gate and a weekly maintenance service.
Most insurance companies have a vacant home policy that needs to be carried on the house. It is important to verify there is a vacant home policy including liability insurance which provides coverage if a homeowner is found legally responsible for an accident on the vacant premises. Vacant home policies can be expensive.
Vacant Homes Have Less Emotional Appeal
Homes that are unfurnished and vacant lack emotional appeal and connection. An empty house can feel very lonely,
Buyers can struggle with how they think their furnishings will work in the house and if their furniture fits. Often times a vacant room can appear smaller than it actually is.
Vacant homes may be more challenging to compare to the other comparable homes in the area.
Vacant Homes Can Attract Crime
If you are selling a vacant home, be sure to notify your neighbors and local law enforcement. Local law enforcement will do additional drive-by's if they know there is a vacant home. In Newport Beach, CA, a homeowner can request a "vacation drive-by's" when a homeowner is out of town.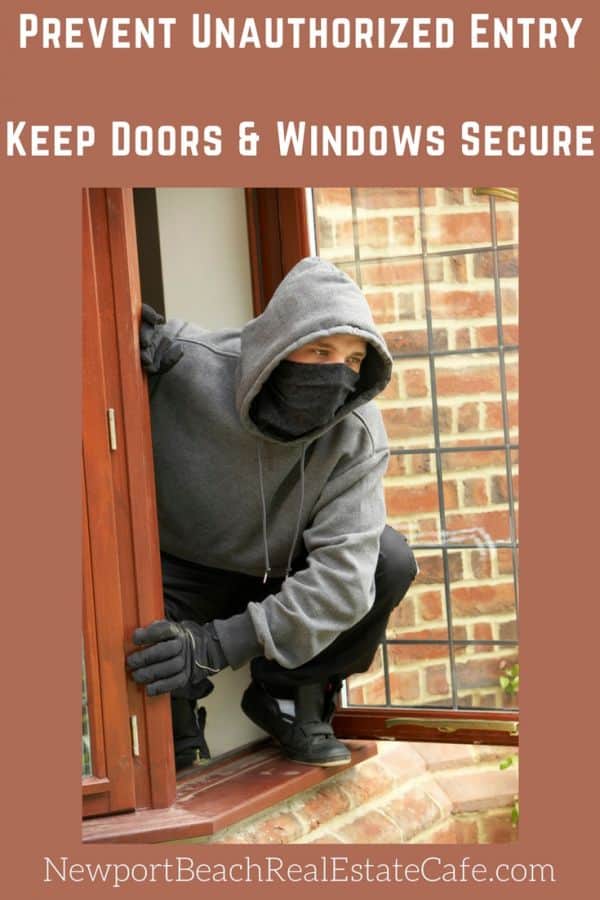 There is an increased risk of vandalism or break-ins with a vacant home. Keeping your front porch lights on, and having an interior light on timers will help to mitigate that.
Consider getting a security system with cameras, as oftentimes vandals will avoid these homes.
Another fact is that if an agent is holding open houses at a vacant home, there are people who will target open houses to find out the layout, know where the entrances are to gain access. Keep in mind with a vacant home house, it will be obvious to someone attending that the home is vacant. Most people look in closets!
There is also the risk of squatting, if a "thug" trespasses or gain access to the home, and refuses to leave.
Consider Staging the Vacant House
Staging can add a lot, there are furnishing and accessories perfectly placed and it is objective and has minimal clutter. There are many benefits of staging a home to sell.
The disadvantage of staging may be the cost incurred, however, the advantages outweigh the disadvantages in my opinion. Keep in mind the real estate photography because the very first place a buyer will see your home is online and the photos should be inviting so that a buyer will want to come and view the vacant house. It can be difficult to take photographs of a vacant home because oftentimes they are just empty rooms without any pictures on the wall or any furnishings. A buyer may have a more difficult time imagining themselves living in the home, and trying to figure if their furnishings will fit or not.
The two most important rooms to stage are the living/family room and the master bedroom. Other accessories can be added to the kitchen and bathrooms to create an inviting feel.
Closing Thoughts
There are times the only way a home can be sold is if it is a vacant house, and perhaps the seller does not have the resources for staging or upgrading. Keeping the utilities on, ensuring that is properly covered by a vacant home policy from the Insurance company, fresh paint, and having it clean will make a difference.
Ideally, if a home is vacant having some staging is recommended so that a buyer has an emotional connection to the home. Additionally, staging will enhance the photography which is the first place that buyers will see the home online.
If I can answer any questions about boosting selling a vacant home, feel free to contact a top Newport Beach CA Realtor.
Other Helpful Real Estate Agent Resources
10 Tips for Selling Your Vacant House via Kyle Hiscock, Rochester Real Estate Blog
Selling a Vacant Home versus Occupied via Bill Gassett, Maximum Exposure Real Estate
Why Empty Homes can be Harder to Sell via Xavier DeBuck, Luxury Homes Johannesburg
Are You Wasting Money Preparing Your Home to Sell? via Michelle Gibson, Wellington Home Team
Thinking of selling your home? I have a passion for Real Estate and welcome the opportunity to share my marketing expertise and knowledge! Please contact me!
About the Author
The above real estate article "6 Essential Tips for Selling a Vacant House" was written by Sharon Paxson with Newport Beach Real Estate. With over 17 years of combined experience in selling or buying we would love to share our knowledge and expertise and guide you through the home buying or selling process.
We service the following Orange County CA areas: Corona del Mar, Huntington Beach, Laguna Beach, Newport Beach, Newport Coast, Orange, Santa Ana, Sunset Beach, Tustin, and more!