Most first-time homebuyers have enough to contend with without thinking much about home insurance. But even for more experienced buyers, there can be misunderstandings, though the idea of insuring your property may seem straightforward. Home insurance is one of the necessary costs of homeownership.
We look at the 10 most important things you have to know about when choosing home insurance.
What Home Insurance Covers
Homeowners insurance protects you from losing out when damage happens to your property. It can include your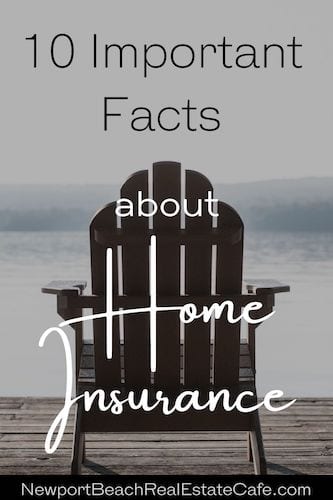 possessions inside the home as well as the structure itself, and will pay for living expenses should you have to move out for repairs to be completed.
The insurance policy will also cover you against injuries that occur on the property, paying medical expenses. The policy will also protect you against theft of your possessions.
Though if you do find that you need to make a claim on your insurance policy for any of these types of losses, you can expect to have to pay a deductible. This is an out-of-pocket expense that will vary depending on your insurance provider.
Typically, you can expect lower monthly premiums in exchange for higher deductibles. And while this is great, when you make a claim you will have to pay out a lot. Home insurance does not cover everything, for example, if you have jewelry, you may need to add additional coverage.
10 Important Things to Understand About Home Insurance
Click To Tweet
homeo
Home Insurance Liability
There are limits on the amount of money that can be claimed through insurance policies. These are known as the limit of liability and could be set at around $100,000 for many homeowners insurance policies. You can increase this limit if you need higher cover, but you can expect your insurance premiums to rise in line with this.
The terms of the insurance policy will set out how much money is available for certain situations. This is typically divided up by percentages of the total limit available and will pay for things like repairs, replacement of items, and living expenses.
Protection Limits
It is normal for insurance policies not to protect you against anything that is thought of as an act of God or an act of war. So, if your home is damaged by extreme weather, you may find that your insurance won't payout.
However, even basic insurance policies will typically protect homeowners from hurricanes or tornadoes. If you live somewhere where there is a greater risk of natural disasters, special coverage can be purchased on top of your standard homeowners' insurance. If you live in a waterfront home, then you may be required to have flood insurance. If you live in an area where earthquakes are prevalent, then you can add earthquake insurance to your policy.
What Things aren't Covered by Insurance?
Along with events known as acts of God, there are other things that are typically not covered. If your home loses power, and damage is caused as a consequence, you are not covered. If damage happens because of something you have failed to do, the insurance company isn't going to payout.
Infestations of pests or mold growth aren't generally covered by homeowners insurance either. Sinkholes or landslides are considered acts of God, so they won't pay. Therefore, it is important to maintain your home and ensure there are no pests residing in your home or any water leaks that can lead to mold growth.
Nuclear hazards and radiation leaks aren't protected against. And if the government decides to go to war and your home is damaged, the insurance won't pay. Though if this were to happen, paying for home repairs might be the least of your worries.
With some of these potential problems, you might be able to buy extra coverage if they are a risk to your home.
Mortgage Requirements
Typically, lenders need to know that you have enough insurance when agreeing to lend to you. And if you don't already have sufficient insurance, they will provide it.
It will form part of your monthly payments to your lender, with part of your premium being set aside in escrow to pay the insurance. This ensures that your home insurance coverage doesn't stop because you missed any payments.
Is Mortgage Insurance the Same Thing?
Home insurance is not the same thing as private mortgage insurance. PMI is a type of policy that only protects the lender against the borrower failing to pay. This is normally required if you do not have a 20% down payment on the home that you purchasing.
Is a Home Warranty Different from Home Insurance?
A home warranty will cover the cost of repairs or replacing appliances and other systems within your home. It isn't the same as insurance and will pay for things that break in the home. Home warranties also aren't required by lenders. Typically, when a buyer purchases a home, they will ask the seller to provide a home warranty. A warranty will help to pay for repairs in the home.
Coverage Levels
There are different levels of protection available from home insurance providers. There are five levels with HO-1 being the lowest and HO-5 being the most comprehensive.
The most commonly found level of insurance is HO-3 and gives you protection from most forms of damage aside from earthquakes or floods. The top-level of coverage, HO-5, might not even be available to you if you want it. Typically, it is only reserved for homeowners that have an extremely low risk of making claims. If you live in a condo, the condo community may provide insurance for the structure. In this type of scenario, then you would need to obtain HO-6 or walls in insurance. Condominium communities also do have homeowners associations that provide the rules and regulations of the community.
What are Home Insurance Credits?
An insurance credit is something that will reduce your premiums. It could be something that makes the property less of a risk to the insurance company, like a security system or fire alarm that will secure your home. If the homeowner falls into a lower risk category, like a retiree or a non-smoker, this can count as a credit as well.
How to Save on Home Insurance
While you will want your insurance to offer you enough protection so that you don't lose out when something goes wrong, you don't want to spend more than you need to either. There are a few things you can do to reduce premiums.
It is all too easy to have more insurance protection than you need. You should have enough to cover the cost of rebuilding the home, but if you have more coverage than that, you are paying higher premiums than you need to.
You can make some changes to your home, like increasing the home security or cameras which should give you credits on your insurance. Depending on where you living in the country, adding storm shutters will also provide your credit on your home insurance.
If you are willing to increase the deductible, your premium could reduce by 10 or 20%. This is great until you need to make a claim, however. You could benefit from a discount on your insurance if you use a provider you already have other policies with. If you check with your auto insurance company, you might find a discount available for homeowners insurance.
Final Thoughts
When owning a home, you must have home insurance. Be sure to understand what the insurance covers when speaking to your insurance agent. Most insurance companies will allow you to bundle the insurance with auto or if you have multiple automobiles, and you may get a discount on the insurance.
About the Author
Top Newport Beach CA Real Estate Agent Sharon Paxson with Newport Beach Real Estate has written the article "10 Important Things to Understand About Home Insurance". With experience since 2005 representing clients with their real estate transactions including home buying, home selling, and working with lease clients. We welcome the opportunity to share our knowledge and expertise and guide you through the home selling or buying process.