There are extravagant ways to create a luxury lifestyle in your home. There are also ways to add luxurious items to your home and be cost-effective at the same time. These eight tips will help your home be transformed into a luxury lifestyle. You want to enjoy living a luxury lifestyle when living in your home and there are steps to make your home luxurious on a budget.
Declutter, Declutter and Declutter More
Having too much stuff and clutter is definitely not in alignment with your luxury lifestyle. Having clutter means you have more to keep clean. Clutter also creates anxiety. You want to declutter your home! And if you are collecting items and you are sure your children are going to want one day, think again. Your children will have their own style and will likely not want a collection of stuff that is out of date. And they don't want your stuff!!
It's one thing to have a handsomely styled mantel or bookshelf, it is another to have stuff shoved everywhere. Clutter can look chaotic in your home. It will not give you a sense of zen or a luxury lifestyle in your home. Having less clutter will create a calmer environment and will improve home value.
If you are not sure where to start, start by setting small goals. Perhaps take one shelf in a bookshelf, take off all the items. Thoroughly clean then, and add back the things that have sentimental value. If you are not sure where to get rid of the unnecessary items, you can either sell them on sites such as eBay or Poshmark. You can find free moving boxes and box up the items to donate the items to a local charity. This is one of the first and more important tips when creating your luxury lifestyle. There are money-saving home improvement tips to allow you to create your lifestyle on a budget.
8 Fundamental Ways to Complete Your Luxury Lifestyle
Click To Tweet
Add a Fresh Coat of Paint
A fresh coat of paint will definitely add to your luxury lifestyle. It is not that expensive to paint if you are going to paint yourself. The key is selecting the right color that is going to make your home look fresh. Picking a white can be challenging as there are so many hues of white. You can get samples from any paint store, and be sure to paint them on the walls to see what looks best during different times of day and night.
Decide whether you are painting the ceiling and trim in the home. If the baseboard is damaged, consider replacing it and adding a fresh coat of paint. Your home will end up looking brand new! And you will definitely be emitting the luxury lifestyle.
Add Throw Pillows of Varying Texture
Perhaps you have a couch that is kind of blah and could use some jazzing up. One of the least expensive ways to create a luxury lifestyle in your home is by adding throw pillows. A great place to go is to HomeGoods and pick up pillows that have a varied texture. It is fairly inexpensive to add pillows as they cost approximately $30 each. You can create dimension and texture on your blah couch. Add some color at the same time to create a new feel in the home!
Add Fresh Flowers
You don't need to empty your wallet by purchasing a mega flower arrangement to create your luxury lifestyle. A simple bouquet of flowers from a local grocery store can be all you need to create a level of sophistication. An excellent to purchase fresh flowers is Trader Joe's. They generally carry beautiful bouquets that you can mix and match. And while you are creating luxury, you can also improve your flower arranging skills.
It is all about how you arrange the flowers in a unique vase. Separate the bouquet by the individual stem type and you can create multiple small arrangements to be utilized in the home.
Consider adding flowers on the dining room table, a buffet, and even the guest bathroom. Fresh flowers are beautiful to look at and adding them will create sophistication and luxury.
Upgrade Your Kitchen Hardware
Perhaps your kitchen is in good condition, but the knobs and pulls are dated. It is very inexpensive to update those and will give your kitchen the update it needs! You don't need to do a complete kitchen remodel as long as it is in good condition. A very popular trend right now is adding black pulls and knobs to white kitchen cabinets.
If your kitchen needs to have the cabinets painted, that is a good investment. There are design hacks to update your kitchen. You can order your pulls and knobs from Amazon, and if they are not right, you can easily return them. Be sure to measure the exact size and you can search for the pulls with the accurate size.
Paint the Mirrors in Your Home
Do you have mirrors over a sofa or couch in your home? Or in the landing of a stairwell that is out of date? Breathe new life into those mirrors by painting them. You can select a color that accents your home. If you don't have a mirror, then you might find one at a thrift store or a garage sale that can easily be painted.
If you live near the waterfront, you may find that any metal frames are beginning to rust. There is a bit more prep with painting a metal frame, as it needs to be sanded, and then painted with Rust-Oleum Metal Primer and that will stop rust and prevents future corrosion.
Add a second coat of another Rust-Oleum paint of the color of your choice! I personally use the Rustoleum paint as it does help with rust. An updated mirror will add to your luxury lifestyle and mirrors do add light to a home. Mirrors reflect the view so if you have a beautiful view, why not see it from more than one location.
Style Each Area of Your Home
After you have painted your home, decluttered, it is time to style each individual area. Once you have reduced the number of decorative accessories to a list of favorites, then determine where they can be showcased individually. Arrange them in an eye-catching style. Beautiful decorative items such as a crystal vase can be displayed in a manner where it stands out and is not surrounded by clutter. There are a few simple tips to style each individual area including family photos and artwork to hang on the wall.
Address the Outdoors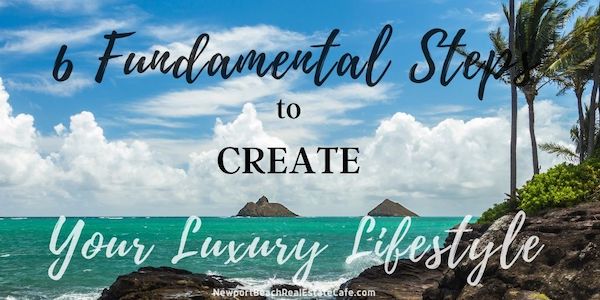 Be sure to keep your flower beds kept weed-free. A tip is to soak the ground first, and then weed. It is easier to pull out the weeds. Consider adding colorful annuals to your flower beds. This will create a good first impression of your home when you come home and when visitors come to visit.
If you have a small garden area, there are stunning design tips for small gardens. Adding unique plants such as Staghorn fern or Rabbit's foot fern can add texture and interest.
Final Thoughts
Having a freshly painted home that is well organized will create a sense of accomplishment, and allow you to enjoy your home again. Having it organized and clean will create a positive environment that will promote productivity.
About the Author
The article "8 Fundamental Ways to Complete Your Luxury Lifestyle" was written by Sharon Paxson, one of the top Newport Beach Real Estate agents. With experience since 2005, representing buyers, sellers, and landlords, we welcome the opportunity to share our expertise with you and guide you through your real estate transaction.