Writing Multiple Offers
There doesn't seem to be any let-up in the current housing market situation. Buyers are finding it very difficult to have their offer accepted without someone else coming along with a better offer. Buyers are writing multiple offers on multiple properties at the same time. This comes with inherent risks!
This sellers' market can be frustrating for buyers, who might repeatedly find a home that is right for them, only to have it snatched away by another buyer. This has led to more buyers writing multiple offers so that they get one of them. Whether you are buying a starter home or if you are buying a second home, it can be challenging to get your offer accepted.
While this might not seem like a problem, it really can be. Buyers that do this are potentially risking quite a lot. Let's look at the top 5 risks when making offers on multiple homes.
Losing Your Deposit
The biggest risk you face when writing multiple offers is losing money and a lot of it. When you make an offer, you'll
be expected to back it up with an earnest money deposit, and this could be between 2% and 3% of the offer price. In this competitive market, your agent will likely advise you to put down 3% as it shows you are a serious buyer. This is one of the terms to get your offer accepted in a multiple offer situation.
Since the situation is more difficult for buyers, a greater deposit will be required. This might mean putting approximately 3% of the purchase price on the home. Depending on the price, if the home is $1,000,000 you may be putting down $30,000. While that might be fine when making one offer, if you are doing the same for several other properties, that's suddenly a lot of money to find.
If you were putting offers on 3 homes that were roughly the same value of $1,000,000, that's over $90,000 you would need to deposit into escrow. This is also money that you could lose, and money that could have been more beneficially used by putting it towards a single property.
Not Being Taken Seriously
Local real estate agents often know each other, and if you are writing multiple offers, the news will get around. Agents have to communicate with each other all the time and so if you have made offers on more than one home, there is a good chance it will be discovered by the seller's agents.
Sellers obviously don't want someone making an offer on their property if they aren't serious. This will lead to more of your offers getting rejected, and possibly even all of them. It is unethical not to disclose to a seller that you are making offers on multiple properties at the same time!
Keep in mind that the real estate community is a small community and it is likely that sellers may find out about a buyer trying to just "get in the game"!
It Might Not be Legal
While it is legal in most places, there could be certain rules you need to follow to stay on the right side of the law.
With multiple offers and deposits out there, you will have signed legally binding contracts. And if you have more than one buyer accept these offers, you'll want to get out of at least one of them. If you don't, you will lose a lot of money.
While there may be ways for you to legally escape your contractual obligations, there is always the possibility that it won't work out.
5 Risks of Writing Multiple Offers at the Same Time
Click To Tweet
It Isn't Ethical
While you might think that writing offers on a few homes might not have any downsides for anyone else, it could be a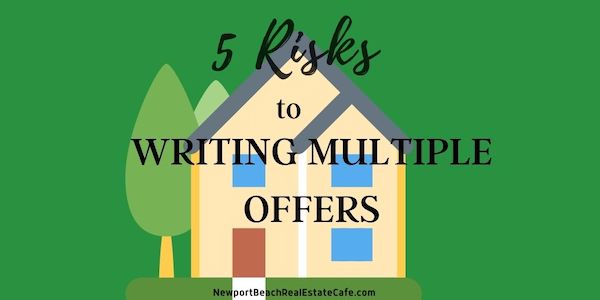 problem for the seller.
With your offer, the seller will feel confident to take their home off the market. But then, if you withdraw your offer, you could leave the seller in a very difficult position.
Perhaps the seller needs the money from the sale to pay urgent medical bills. And when you withdraw they have to begin the process of finding a buyer again, delaying their home sale further. This could mean that you are putting someone's life at risk because you don't want to wait.
Rushing into Making Offers
In your desire to purchase a home, you could become less selective and bid for properties that aren't completely what you are looking for. This could mean you end up buying a home that you don't really like. It might mean that you begin your search for your next home much sooner than you otherwise would.
If you wait and are more patient, you might find a better home that is more suitable for your needs. When making an offer on a home for sale, be sure to write your highest and best offer and have your buyer's agent communicate that to the listing agent.
What is the Alternative?
Instead of using multiple offers to increase your chances of getting a home, tell your buyer's agent that you need an answer from the seller today. And if you don't hear back, you'll be putting an offer on another property tomorrow.
This simple tactic does away with the waiting game that allows the seller to hold out for better offers. Other terms to make your offer more appealing to a seller is to consider adding an escalation clause. This will allow the offer to go up over other offers with specific terms set by the buyer!
Final Thoughts
It is in your best interest to disclose to the seller if you plan on writing multiple offers on multiple homes at the same time. It is likely that your offer will not get accepted due to this practice. Find the home you are looking for in a neighborhood that you desire, and write a good offer with excellent terms. Be sure you are pre-qualified for a mortgage or approved by your lender. Offer a shorter escrow period as well.
About the Author
The article "5 Risks of Writing Multiple Offers at the Same Time" was written by Sharon Paxson, one of the top Newport Beach Real Estate agents. With experience since 2005, representing buyers, sellers, and landlords, we welcome the opportunity to share our expertise with you and guide you through your real estate transaction.