Waterfront property is very desirable. Living by the water is very attractive to most people, and a dream of many, but it is a dream that could turn into a nightmare. Waterfront property has some different issues to consider compared to most properties.
If you are considering waterfront for your next home, there are questions that you should learn the answers to first so that you can avoid the pitfalls.
We look into what makes a bayfront property different, and the things you need to know before you take the plunge.
Getting a Loan for a Waterfront Property
Since property by the water is more sought-after, it is more expensive and that means you need a larger mortgage. This could mean that you need a better credit score to get approved by a lender. Having a better score will reduce the interest on the loan making a substantial difference to the amount you have to pay each month.
You will also need a downpayment and funds for closing costs. If you do not have a large downpayment, there are options to utilize your 401K as a downpayment.
Another factor in obtaining a loan is obtaining an appraisal on the waterfront property. The loan will be subject to the appraisal on the property and ensure it comes in at the purchase price.
What is Included?
While you might be shown a waterfront property and assume the water's edge is included, it might not be the case. If the home has access to a beach, it might not be as private as it appears.
Before you continue too far with the purchase of the home, you need to be sure that everything is included that you expect. This could mean a survey is required if the details of the lot aren't certain.
Are Both the Land and the Property Good Enough?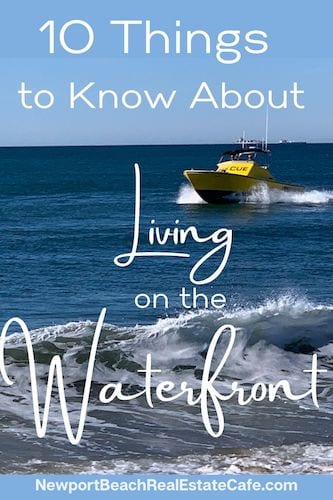 When you are buying a home on the water, you may have to make some compromises to be able to afford the location. Generally speaking, waterfront homes are price than homes that are not located on the water. This could mean that you love the location, but the home needs a lot of home renovation. There are home renovations with a good return on investment. A home construction loan could help you buy the property and have the money to fully renovate.
Perhaps you like the property, but the waterside isn't everything it could be. A muddy or overgrown waterfront is an easier fix, but you will still need the money available to make the necessary improvements. There are tips to add value to your home when you are performing any remodeling. When purchasing any home, it is always a good idea to have reserves after buying the home.
Another problem with the location could be the neighborhood. You might only be able to stretch your finances for a waterfront property that is not in the best neighborhood. If this is the case, you might be better at rethinking your options.
What are the Homeowners Association Rules?
Often waterfront properties are part of a homeowners association, and they will have rules that you will have to follow. While this can help keep the neighborhood well maintained and property prices strong, it doesn't always work quite that well. Some HOA rules may include architectural approval of any exterior home improvements that you make on the home.
Some homeowners associations are badly run or have overbearing rules that make can make living in the community unpleasant. To avoid finding yourself in a home in that type of community, talk to the association, or even attend an association meeting.
Ask the Neighbors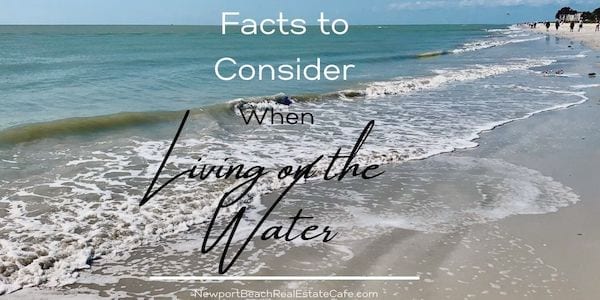 Talking to your potential future neighbors can tell you a lot about the waterfront location and if it is a great community. They might reveal how well the homeowners association is run, along with how the water is used, and what it is like to live in the area.
They might tell you about people using jet skis or having loud parties on boats on the water. Whatever the case, it is better to find out what it will be like living at a waterfront property before you purchase the home.
How Well Does the Home Withstand the Conditions?
Some waterfront homes are located in areas that can be subject to harsher conditions that will more easily damage a house. Older homes won't have been constructed to the current building code, so owning an older property could mean considerable maintenance costs. It is important to keep up on the maintenance on a waterfront home.
A home inspection is advised with any home purchase, but it is particularly important when you are buying a property on the waterfront.
What are the Maintainance Costs Likely to be?
Since you are more frequently going to have to do repairs on waterfront homes, you should try to get some idea of the recurring maintenance costs. Things attached to the home, siding materials, roofs, and paint, will need to be renewed more frequently because of the moist conditions and stronger winds.
If you are living near the ocean, the salt air can be corrosive so maintenance is necessary. The salt air can be very hard on some materials such as wood, and it may need to be refinished more often. Salt air is also hard on certain metals and screens may need to replaced more often due to the corrosive nature of the salt air.
What is the Cost of Insurance?
Insurance is another expense that might be higher than ordinary homes. Since homes in these areas could be more at risk of damage through floods, hurricanes, or other natural disasters, the insurance premiums are likely to be higher. If your home is located on the water, you may be required to have flood insurance as well.
What Can You do on the Water?
If the home that you are interested in is by a lake or the ocean, what will you be able to do? Can you fish in the lake? How deep is the water? Is the lake alright to swim in? Are mosquitoes a problem?
Standup paddleboarding is very popular now, and many people like to paddleboard in both lakes, the harbor, and the ocean.
What amenities are offered around the lake, and is that something you might want to make use of? You also need to consider what the lake will be like in other seasons. If you have only visited during the summer, things might be quite different in the winter.
10 Important Facts to Consider When Living on the Waterfront
Click To Tweet
Will Living by the Water Suit Your Lifestyle?
Living on the waterfront might seem like a great idea, but will you be happy there for the long term? The excitement of the prospect of living by the water can make you ignore the realities of what you want in your life. The homes may be closer together especially at the beach. You may have less privacy. If your home is on the water, then boaters, paddleboarders or anyone else using the water can look into your home!
You might plan on going fishing every day or go out on a boat every weekend, but you could tire of these activities. And then you could find yourself living in a home that is more expensive to maintain, where you aren't really benefiting from the location.
Final Thoughts
There are more things to consider when you are looking to purchase a home by the water. There are also likely to be more costs involved with living in this type of location, and these homes are more expensive to buy in the first place.
For these reasons, you need to factor in the costs more carefully than you would with a normal home. If you find that you can afford the extra expense, and we haven't put you off with the potential problems too much, buying a bayfront property can be a great lifestyle change.
About the Author
The above real estate article "10 Important Things to Know About Waterfront Property" was written by Sharon Paxson of Newport Beach Real Estate. With experience since 2005 representing sellers, buyers, and landlords with their real estate transactions, we welcome the opportunity to share our knowledge and expertise and guide you through the home buying or selling process.
We service the following Orange County CA areas: Corona del Mar, Huntington Beach, Laguna Beach, Newport Beach, Newport Coast, Orange, Sunset Beach, Tustin, and more! If you are considering selling your home, we welcome the opportunity to work with you and list your home with a top Newport Beach CA Realtor.