Renovating your kitchen is an excellent return on your investment to improve the home's value. There are many things to do to create and modern look and create an updated kitchen. Home remodeling can be a daunting and overwhelming task, however, a kitchen remodel is something that will add to the value of your home.
Outdated Kitchen
If your kitchen is outdated, and you do not have a huge budget to completely gut the kitchen and start from scratch. There are some things that you can do that are more economical to remodel your kitchen so it doesn't appear to be tired! A kitchen renovation project is a good investment in your home and one that will improve the home value whether the home is your own residence or your investment property.
Benefits of Renovating Your Kitchen
Any home renovation is beneficial to your home. Renovations such as an updated kitchen are the features buyers are looking for when purchasing a home.
Renovating Your Kitchen | 7 Essential Design Hacks
Click To Tweet
Modernize Your Countertops
Add new countertops to enhance the appeal when renovating your kitchen. Outdated kitchens may have inconvenient tile-and-grout or inexpensive vinyl for the counter space and those finishes will definitely date the kitchen. You will need to consider your budget when deciding upon what material you are going to use for your new countertops. You may have a kitchen island, and you might consider a contrasting kitchen countertop for the island.
Granite
Pros: Generally speaking, granite is a highly desirable countertop to utilize in your kitchen. It is a natural stone and does come in a variety of colors and patterns. It is scratch-resistant, heat resistant, and if the color is darker, you generally will not see the seams.
Cons: Granite is porous by nature, so it can absorb color if it is a lighter color. Granite can be sealed to protect it, however, it generally is very durable and will last for years to come.
Quartz
Pros: Quartz countertop will mimic the look of natural stone, and it is much more durable. Quartz is a combination of quartz dust that is bound together with resin. Quartz can tolerate hot pots, abrasive sponges, and even stains such as red wine. It comes in a variety of colors and patterns that do look like Carrera marble of different slabs of granite.
Cons: Marble is very expensive. It is also very heavy!
Marble
Pros: Marble countertops are just stunning. Marble is a natural material and it can be found all over the world. Marble countertops that are well maintained actually will improve the overall home's value. A marble countertop is a finish or material that is commonly seen in a beautiful kitchen.
Cons: Marble will definitely have a higher price than other finishes that are options for kitchen counters. It is also very heavy! Marble is also very porous and does stain easily. It is common to see the engineered stone to simulate the look of marble.
Backsplash
Updating the backsplash at the same time that you replace the countertops will add to the overall appeal when renovating your kitchen. Using a contrasting color such as glass tile for your custom backsplash. You can also utilize the same material as your countertops, but that can be overwhelming. You can create an accent strip within the backsplash.
Choose your colors wisely and consult with professional designers if you are not sure. When making home improvements in your home, it is important to not be too trendy, as in the future when you decide to sell the home, you want to have a larger buyer pool.
Kitchen Cabinets
You may want to replace your existing cabinets with new cabinets when renovating your kitchen. If you have wood cabinets, and the paint is peeling, consider repainting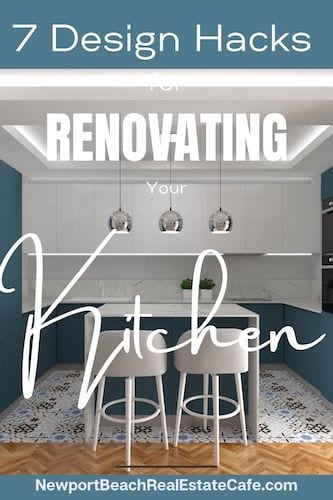 the cabinets. They do not even need to be replaced, but a fresh coat of paint on cabinets makes a huge difference. Also, if the pulls and knobs are tarnished and not in good condition, they are easy enough to replace.
If you are utilizing the same cabinet doors, then make sure the pulls are the same measurement so the holes are in the same location. You can replace knobs and pulls from locations such as Lowes, and specialty hardware stores if you want something more custom. These are tips to create a new life in your existing cabinets.
Replacing the cabinet doors is also an option, but can be more costly. But you may be able to select a shaker-style cabinet door that is in style. Before spending the money on replacements, ensure that the original cabinets are in good condition when you are renovating your kitchen.
Many homeowners have thermofoil cabinets where a layer of melamine is layered onto the wood cabinet door. Unfortunately, the melamine is not heat resistant. So if you make toast or coffee, the steam and heat can cause the melamine to peel. A good option is to add new thermofoil to the doors. The companies will color match and you do not have to replace each door. This is a great way and relatively inexpensive option to update your kitchen.
Hopefully, your kitchen cabinets have sufficient storage space. If you have a wine rack that is not being utilized, that can easily be turned into another cabinet to add to the storage. The new cabinets will help to create the kitchen of your dreams.
Kitchen Appliances
Your old appliances may not be energy efficient. New appliances are going to save money in energy costs. You want to shop for energy-efficient appliances when renovating your kitchen. Replacing appliances can be costly depending upon the manufacturer of the appliances. New appliances, especially a refrigerator will save money on your utility bills.
Energy Star certified appliances help homeowners save money on the operating costs of the appliances by reducing energy usage. Not only do they save money in electric and natural gas costs, but these appliances also save on water usage. Not only is it cost-effective for a homeowner, but these newer appliances are also helping the planet.
Keep in mind if you have an older refrigerator in your garage, can be very costly. In most areas, the electric company will pick it up at no charge and will ultimately save you money.
New appliances are very aesthetically pleasing as well. You may want to select a six-burner stove versus a four-burner. There are many options to consider when considering updating your kitchen.
Final Thoughts
Kitchens are considered the heart of the home, so whether or not you are going to be selling your home or keeping it, a renovating your kitchen will improve home value. A remodeled kitchen will also improve the resale value of the home as well. Buyers do not have to worry about the cost of the home renovation project. Kitchens and bathroom remodels are generally the most expensive remodels in a home.
About the Author
The above article "Renovating Your Kitchen | 10 Design Hacks" was written by Sharon Paxson, one of the best Newport Beach CA Real Estate agents. With experience since 2005, representing buyers, sellers, and landlords, we welcome the opportunity to share our expertise with you and your real estate transaction.