There is a lot to do and many expenses to pay for when moving to a new home. Whether you are planning on renting or buying a home, there is much you need to do to plan your move. You will want to find free moving boxes ideally to save you money on the move. One task that is easy to overlook is getting the moving boxes you are going to need.
You may have some extra boxes around the home, but you will always need more. We'll take a look at your options to find the moving boxes you need.
Don't Move the Stuff You Don't Need
When you are moving, you don't want to move household goods that you don't need. Begin the moving process by decluttering your home and getting rid of unnecessary items. There are ways to get rid of items including selling the items. There are many apps that sell clothing such as Poshmark and Offerup. Other items can be donated, and there is information about free donation pickup in Orange County, CA.
Where Are You Moving?
If you are moving to a condo community or a single-family home, you may not need as much stuff as you currently have. If you are downsizing your home, you will definitely want to get rid of the clutter before you begin packing it up. The last thing you want to do is move the stuff only to get rid of it once you arrive in your new location.
Finding Free Moving Boxes
To help with the cost of your move, getting free boxes is a good idea. It is also better for the environment to utilize recycled boxes and reduces your carbon footprint. There are some websites you can visit as well as places in your community to find free boxes.
U-Haul
U-Haul, as well as being the best-known moving truck rental company, also operates a Box Exchange service on their website. It lets people that have recently moved give away the boxes they no longer need. Go to their Customer Connect site and enter your location to see what is available.
If there aren't any available, you can make a post to say you want boxes and have people contact you. It is worth checking other sites as well if nothing is available locally. It also benefits the environment by keeping moving boxes and supplies out of landfills.
Craigslist
People often give away old moving boxes on Craigslist. Check their free section to see if any boxes are being offered near you. This is a great way to obtain free boxes and by utilizing these boxes, you are helping the environment. You will have many options to find boxes! Generally speaking, you will have better luck finding boxes at the beginning of the week after everyone has completed their move from the prior weekend.
If you don't find any, you can post your requirement for moving boxes here if you don't find any offers from other users.
Freecycle
Freecycle is a nonprofit organization of people who are giving away and acquiring stuff for free in their own cities and neighborhoods. Freecycle is about reuse and keeping stuff out of the landfills. You can create a free account and search in your town or neighborhood. If your town is not listed, neighboring cities are listed and you will be able to find items you may need in your new place! People are offering free items including furniture, plants, kitchen appliances, and much more!
Similar to Craigslist, you may find free moving boxes here as well. Sign up with Freecycle and create a post if you can't find any nearby.
Liquor Stores
These boxes are ideal for moving because they are generally very sturdy. These are great for packing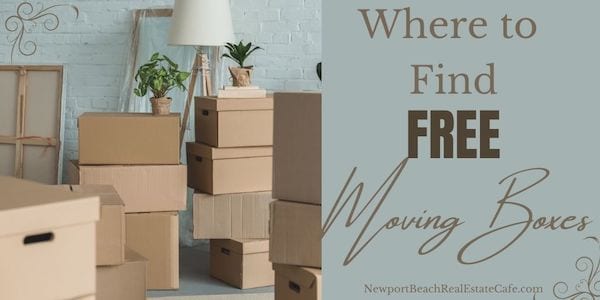 glassware as they usually have separators in each box. Stores will vary when they get their shipments, be sure to consult with them to ask them to put some aside for you. Most liquor stores utilize the boxes for their customers with their purchases, and ideally, they will have extra boxes to part with.
Book Stores
Be sure to visit your local book stores such as Barnes and Noble to ask if they have free moving boxes they could give you for your move. Ask about when they get their delivery of books and ask the management if they would spare some for you. These boxes are also very sturdy because books are heavy.
Office Depot or Staples
Check with your local Office Depot and Staples to inquire when they get their shipments. Once you know when the deliveries arrive, check with the management and ask if you can take some of the extra boxes for your impending move.
The boxes that have lids are great for moving. These are the boxes that are for printer and copier paper. Those boxes are also heavy duty. A visit to Office Depot or Staples might be your one-stop shop for moving and storage boxes!
Retail Stores
When you are visiting these local stores, be sure to arrive at a time when it is not too busy. I Other stores to check with to find free boxes include the following:
Costco
CVS
Dollar Store
Home Depot
Local grocery stores
Lowes
Petco
Petsmart
Target
UPS Store
Walgreens
Walmart
WinCo
Friends and Neighbors
When you speak to friends or neighbors to tell them about your move, it is a good opportunity to ask if they might have some moving boxes going spare. Almost everyone orders from Amazon! You can ask your neighbors to save some boxes for you! You could post on the internet your friends about your need for boxes. Be sure to ask your neighbors if they have a dog (especially a big dog) and order from Chewy. People with big dogs order big bags of dog food = bigger boxes! Most people are shopping online and oftentimes you can ask them for their boxes after their dog food delivery!
Buying Moving Boxes
If you do not have enough time to search for free boxes, you may have to resort to purchasing boxes. Buying boxes can be the answer. Even if you find free boxes, you will still need other moving supplies including tape, moving blankets, bubble wrap for your fragile items, and more! You will find some excellent places to purchase your boxes and moving supplies.
U-Haul
As well as helping you find free boxes, U-Haul also sells moving boxes. They provide a range of boxes to make sure your items are kept as secure as possible when in transit. They can be purchased online or picked up from a U-Haul location.
Home Depot
The Home Depot sells boxes in many sizes, giving you information about what your local store has stocked. If you can collect the boxes you need locally, it will reduce the expense of having them delivered. You will need other packing supplies such as tape and markers to identify the contents of the boxes.
Where to find free moving boxes locally?
Click To Tweet
Amazon
Boxes are just another thing you can find to buy on Amazon's site. There is a very good array of sizes available on the site, and of course, you can get free delivery if you are a Prime member. You also have the advantage of being able to check out customer feedback before your purchase.
Walmart
You can purchase your boxes from one of the over 5,000 retail locations Walmart operates. They do have free shipping on some of the boxes sold as well. Be sure to shop around and see who has the best prices for the moving boxes.
Lowe's
The home improvement chain offers a good selection of boxes. You can order online or collect them from your local store. Be sure to stock up on essentials moving supplies such as boxes, tape, moving blankets, and hand trucks. Lowes does carry a range of sizes of boxes. They do offer free shipping if the order is over a certain amount. Be sure to check online the cost of shipping.
Letgo
Letgo is a mobile application that allows its users to purchase items and sell locally. Letgo can be utilized to bargain shop or to literally let go of things that are collecting dust in your home. LetGo is a site where people sell things they no longer need. Cardboard boxes are for sale, and you might even find some for free in your local area.
Be Organized
When moving to a new neighborhood, it is very important to be organized. And be sure to get all family members involved with the moving process. There are some top tips for moving with children that are helpful to keep all parties involved. By being organized and having everyone involved it reduces anxiety for all parties. Remember to prepare for moving with pets as well. You want to keep their food, bowls, and supplies out.
Final Thoughts
As you are planning your move, the more prepared you are, the better. There are some excellent tips on how to remain stress-free when moving. Whether you purchase or are able to find enough suitable cardboard boxes for your move, this is something you need to start early, so you have the time to pack. Wherever you choose to get your boxes, don't forget the packing materials such a bubble wrap to stop your fragile possessions from being broken, even if they are in a strong cardboard box.
About the Author
Top Newport Beach CA Realtor Sharon Paxson has written the article "Where to Find Free Moving Boxes Locally". With experience since 2005, we welcome the opportunity to assist you with your real estate transaction. We service all of coastal Orange County CA.