If you are remodeling your home and plan to update your kitchen, that will provide you with a good return on investment. The kitchen is the heart of the home and in my opinion is the most important room in the home. That along with the master bedroom and bathroom. The kitchen is where the family congregates and spends time together and enjoys meals together.
Presenting the kitchen in the best possible light is recommended. However, the costs of making updates should be considered if the seller will yield the return on investment. Ensuring that the home is presented in the best possible condition will help to obtain a higher sales price. Buyers will be able to imagine themselves there and will appreciate an inviting kitchen.
Clean and DeClutter
One of the first and most important steps to take when looking at the kitchen is to perform a deep clean. Clean the exterior of cabinets, countertops (underside of countertops too – no one wants to touch anything "sticky"), clean and wipe outside and inside of drawers and cabinets. Be thorough, take out all items in drawers and be sure that they have been cleaned completely.
Along the same line is to declutter. It is best not to store the mail, items left at the front door, grocery bags and more on the countertops. Organize and put things away, and unwanted items can always be donated! Utilize organizers in drawers for utensils as a potential buyer will open drawers and cabinets.
Update Kitchen Cabinets
Kitchen cabinets can make or break a kitchen. Painting cabinets that were the original cabinets from a home built in the 1960's might not cut it. If hinges are painted over, and if the cabinet doors are not closing properly, it might be worth an investment of updating the cabinets or at least the cabinet doors. Often times, home builders will utilize laminate or melamine cabinets in the kitchens. If that is the material in a kitchen it should not be painted over.
There are companies that will re-face the laminate cabinet doors and they are very specific with color selection as the color can fade with time. This can create a brand new look for a reasonable investment and restore the kitchen cabinet doors to look as if they are new. The melamine in the kitchen is subject to moisture, so if the kitchen has that type of cabinet, then caution is recommended as they are subject to peeling from heat. If there is a coffee maker or toaster under the cabinets, that can cause peeling.
Painting or refinishing the kitchen cabinets is another option to prepare the home for sale. Both of these objects can be costly depending upon how much preparation is required.
If a seller is trying to get top dollar for their home, updating the cabinets will help. If it is too cost-prohibitive, then the home should be priced accordingly.
Paint the Walls and Baseboard
Fresh paint always looks nice and there are some trending colors for 2018. Some of those include shades of gray, chalky blue, pale taupe, and more. Of course, white is always safe and looks clean! And if a homeowner is looking for something a little more trendy, paint an accent wall a contrasting color.
Be sure to paint any crown molding and baseboard. If the baseboard is made of MDF (medium density fiberboard), sometimes it can absorb moisture and need to be replaced. It is very commonly used as baseboards but can get worn out looking if there is moisture in the area. Replacing it and painting will create a fresh look. Many of these suggestions can be applied to other rooms in the house when staging it to sell.
Of all the recommendations in this post, painting is a reasonable investment and creates a fresh look in the kitchen!
Kitchen Countertops
Granite has been popular for years, however, it is now being replaced with quartz countertops. Quartz is not porous and does not require the regular the application of a non-porous sealant. Granite is porous and does require maintenance with utilizing sealant. Quartz has a wide variety of colors and is manufactured, however, it looks very natural. Other countertops include marble which is gorgeous but is also porous.
Concrete counters are also popular and create an industrial type look. Concrete may require sealing as well to preserve the look. Popular backsplash designs include glass tile which can accent the countertops.
If the budget is an issue, and the countertops are ceramic tile, be sure to clean them and ensure the grout lines are all cleaned as well. Grout lines that are chipped or dirty will date a kitchen.
Kitchen Sink
Kitchen sinks have come a long way and there are many choices when updating a kitchen. Some of the materials in a kitchen sink are made include stainless steel, porcelain, fireclay, cast iron, natural stone, quartz, copper and more.
Styles can include a farmhouse sink, double basin sink, triple basin sink (which appears industrial), and under-mount sinks. And then updating the faucet as well will ensure it has a new look. High arc faucets are popular now, and many of the faucets can be purchased from local stores such as Home Depot or Lowes.
Kitchen Appliances
If a homeowner is planning on selling in a short period of time, then replacing appliances is not recommended unless they are not operational. Evaluate what is in the kitchen and what needs to be updated if at all.
However, if a homeowner is going to be staying in the home for a while then there are many options and styles. Stainless steel still appears to be very popular with its sleek lines. When selecting appliances, ideally they are all from the same manufacturer such as Kitchenaid or Viking. Utilizing high-end appliances is not recommended for a remodel to sell as the seller will not get a good return on investment in a short period of time.
Another recommendation to consider is addressing the electrical outlets in the kitchen as this does come up with home inspections. GFI outlets are recommended in areas where there is moisture, and if a kitchen does not have them or if they are not operable, it is recommended to have them tested and if they don't work, then replace them!
Lighting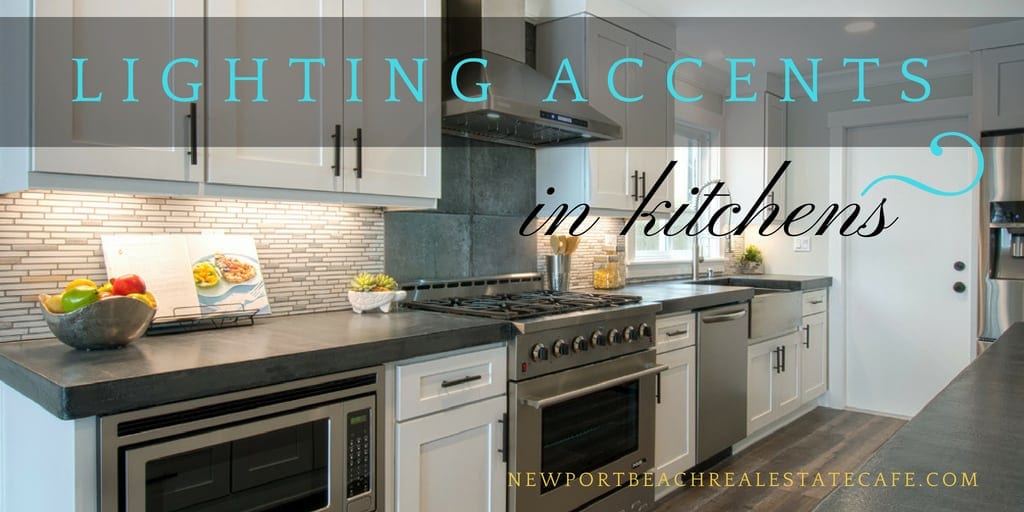 Lighting in a kitchen can create a very warm environment. Whether canned lighting is used, it can be accented with other types of lighting. An elegant look would be chandelier style pendant lights over an island. Special feature lighting which highlights a feature in the kitchen. Above-cabinet lighting complements the clean lines of space and kitchen cabinetry. Under cabinet lighting accent the backsplash and ensure there are no dark spaces.
Staging the Kitchen
Utilize decorative kitchen towels, attractive soap dispensers, and colorful seat cushions for bar stools. Adding a decorative plant and perhaps a bowl of colorful fruit. One other item which is attractive is a diffuser, and diffuse a neutral essential oil such as lemon. Other than that, less is more especially in a kitchen. Ideally, the kitchen showcases itself with gorgeous countertops and beautiful cabinetry.
Final Thoughts
Remodeling a kitchen can yield value in the home, most buyers appreciate having a well thought out kitchen. If the plan is to move in a short period of time, then consider what items in the kitchen need to be updated and/or replaced. Fresh paint always makes any area look clean and refreshed.
Find Other Valuable Resources for "8 Essential Tips to Update Your Kitchen" from Real Estate Professionals Across the Country. Please check out the articles below, and please share across Social Media if you liked the articles.
Why a Homeowner Should Get Permits via Paul Sian, Cincinnati and North Kentucky Real Estate
Ugly Home Staging via Michelle Gibson, Wellington Home Team
Tips for Creating Your Dream Kitchen via Anita Clark, Selling Warner Robbins
Top Kitchen Remodeling Trends via Petra Norris, Lakeland FL Real Estate
Preparing Your Kitchen for a Home Sale via Kevin Vitali, Massachusetts Real Estate Agent
Improvements to Boost Value via Bill Gassett, Maximum Real Estate Exposure
About the Author
The above real estate article "8 Essential Tips to Update Your Kitchen" was written by Sharon Paxson of Newport Beach Real Estate. With combined experience since 2005 with representing sellers, buyers, landlords, and tenants, we welcome the opportunity to share our knowledge and expertise and guide you through your real estate transaction.
We service the following Orange County CA areas: Corona del Mar, Huntington Beach, Laguna Beach, Newport Beach, Newport Coast, Orange, Santa Ana, Sunset Beach, Tustin and more! If you are considering selling your home, we welcome the opportunity to work with you and list your home with a top Newport Beach CA Realtor.