Create your ultimate outdoor kitchen to enjoy the outdoors. When the heat of the summer months encourages people to spend more time outside, an outdoor kitchen is a real asset. You can take advantage of the hot days and warm evenings to entertain friends and family or just to relax in your own backyard. Create an outdoor oasis in your backyard and enjoy the warm weather during the summer months.
No matter what your budget, there are many things you can do to make the most of the summer and the outdoor living space you have. You can have a functional kitchen outdoors that is also very beautiful.
Create Your Amazing Outdoor Kitchen | 6 Essential Steps
Click To Tweet
Buying a Grill
One of the most important things for creating an ultimate outdoor kitchen is to upgrade your grill. An average grill can cost from around $300, with prices going over $1,000 for a really serious setup. Be sure to maintain the grill so it lasts for a long time. Keep in mind if you live on the water, then the grill might not last as long due to the elements including salt air.
There are some decisions you have to make before you purchase a gas grill. You can also decide if you want a propane gas grill or natural
gas. It is ideal if it is plumbed for natural gas lines, but that is not always possible. There are a few different types of grills to choose between, including gas, charcoal, pellet, and even electric. These all offer their advantages and disadvantages, but you should also consider what features you really need in your grill.
Grills also come with side burners which are ideal for marinating your meat while cooking it on the grill. The entire cooking area can be outdoors. If you decide to have a completely built-in barbeque, then you may want to include outdoor cooking appliances including a refrigerator, sink, and even an ice maker. Ice machines are a wonderful addition and allow you to make drinks for your guests without having to go back to the indoor kitchen.
Another popular trend is adding an outdoor pizza oven. There are both portable pizza ovens that are amazing to use. They have super-high heat and can cook pizza in one minute. Pizza ovens are great at searing steaks, roasting vegetables, and more.
A good idea is to consider having some outdoor storage space as well to store your outdoor cooking items. Stainless steel cabinets are popular for outdoor use. Also, you will want to have some countertop space and outdoor kitchen islands for the prep zone. You will want to ensure that you utilize durable material for your outdoor kitchen. This will create a full outdoor kitchen. A custom outdoor kitchen is a good return on your investment.
Better Outdoor Dining
Even with the best outdoor grill, if you and your guests have to eat while standing or sitting on a patio chair, it might detract from the experience. Spending some money on a good outdoor dining table set is a good investment. The outdoor kitchen will help to create a perfect outdoor kitchen.
If you buy quality furniture, it can last for many years if you take care of it. Outdoor furniture can create a lovely seating area in your backyard. In addition to the seating area, you can add a dining area with a table and chairs.
You need to consider what you are going to do with the furniture over the colder months. If you have space, it can be stored in your garage, or you can rent a storage unit over the winter.
Choosing Additions
On top of the basics that you need for an outdoor kitchen, there are many extras you can add to enhance the experience. While these things aren't necessarily essential, if you have the budget they are nice things to have. This includes buying a grill with a built-in smoker, a wine fridge, or an ice machine.
If you have the budget and space in your backyard, adding some extra counter space and a prep sink can make cooking outdoors easier. For most of these things, however, you will need to extend the utilities into your yard, adding extra expense. There are tips to accessorize your outdoor space.
Create Your Amazing Outdoor Kitchen | 6 Essential Steps
Click To Tweet
Adding Some Inside Comforts to Your Yard
A great way to make your outside space more usable is to consider adding things that will allow people to stay outside for longer.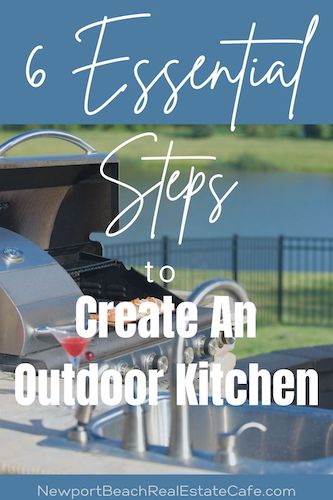 Adding patio heaters and lighting will allow your outside kitchen to be used for later into the evening and for more days throughout the year. An outdoor fire or fire pit can let you entertain for longer too.
Add some shade with a retractable canopy or gazebo to avoid the sun of the hot summer days. If you already have a porch or awning, set the seating close to the house to make use of the shade.
And if you aren't going to disturb your neighbors too much, perhaps a TV or audio setup will increase your use of the space. This type of setup can get expensive, and there are cheaper ways of doing a similar thing. A simple Bluetooth speaker or even a radio might be good enough, a projector and a large sheet is another option to bring the entertainment outside.
Consider adding warm blankets in the event the temperature goes down as the evening cools down.
Choosing the Style of Your Outdoor Kitchen
When you are creating an outside kitchen, you can create a space that fits your needs and style. You can copy the style of the house and kitchen or go for something completely different if you want. If you like a particular design feature in your kitchen, you can use that for your ultimate outdoor kitchen too.
Though you can't really go wrong with your design choices, it can be better to choose designs and colors that don't limit you, in case you want to make changes in the future.
Enjoying the Space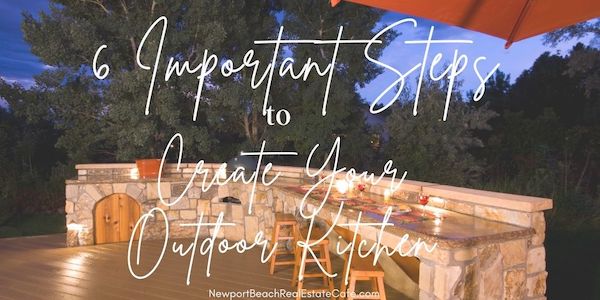 The most important thing about planning your outdoor kitchen is to make sure it is a space you are going to enjoy spending time in. Whether it's somewhere to relax or entertain friends, you need to make sure to include features you'll be excited to use. If you have a small outdoor space, you can still create an amazing garden in a small space.
Include some luxuries if your budget allows it, but even if it doesn't, there are some things you can do to make the space more appealing. While this could mean a wine fridge or hooking up a TV, an outdoor space can easily be enhanced with more modest features too. Some simple battery-powered LED lights can make your outdoor kitchen usable for longer into the evening without spending much.
Final Thoughts
With planning, you can create the outdoor kitchen of your dreams. Be sure to check with local building codes to determine what permits are required prior to building your outdoor kitchen. You may need a general contractor to oversee the scope of the project, especially if there is plumbing involved. There are also kitchen designers that you can hire. In essence, even though it is outdoors, you are creating a dream kitchen outdoors. An outdoor kitchen is a great addition to your home!
About the Author
The article "Create Your Amazing Outdoor Kitchen | 6 Essential Steps" was written by Sharon Paxson, one of the best Newport Beach Real Estate agents. With experience since 2005, representing buyers, sellers, and landlords, we welcome the opportunity to share our expertise with you and guide you through your real estate transaction.