Viewing Real Estate
Viewing real estate for sale comes with its challenges. There are many more restrictions in place in certain locations
in the country. In California, there are many reasons why you need a buyer's agent during the Pandemic. One of the rules in place is signing a declaration that you are not ill, have a temperature, or been around anyone who is ill. Additionally, other requirements include having a sign posted on the entry of the home about the rules. Everyone is required to hand sanitize prior to entering the home, wear a mask and not touch anything on the property.
Some listings require you to wear booties, gloves, and all require that all parties wear a mask properly. There are also limitations on the number of people in the property at any time, and the length of the showing may only be 15 minutes maximum.
Because of the competitive market with homes being sold over asking price, waiving appraisal contingencies, and other contingencies to sweeten the deal. Many of the homes selling now are in multiple offer situations with as many as 39 offers on a home. A buyer needs to thoroughly understand the impact of what they are doing when removing contingencies when making an offer on the home.
Not Providing a Pre-Approval or Proof of Funds
There are steps a seller is going to take when selling their home during the COVID pandemic. Those steps include having a buyer's agent obtain proof that you are qualified to buy or rent the property. If you are a buyer or a tenant,
before gaining permission when viewing real estate, do not be surprised when your agent asks you for either a pre-approval and/or proof of funds. Some are very off-put when having to provide this information just to "view" a home. Potential tenants may ask, what are proof of funds?
The definition of proof of funds is to demonstrate the ability to pay for the home. Usually with either a copy of a bank account and paycheck stubs. Be prepared to provide this information, and keep in mind, these showing instructions are in the MLS (multiple listing service). Sellers do not want to open up their home to anyone without having knowledge that the people viewing real estate are actually qualified!
Don't be offended when your agent asks, as it is now the norm. Most listings are not going to grant permission to show the home without this information.
Not Being on Time for Your Showing
After being pre-approved for a mortgage, the next step will be viewing real estate in the home buying process. Because many of the showings are limited to 15-minute increments, it is imperative to be on time. If you show up even 5 minutes late, the appointment behind you may go in, and then you have lost your ability to view the home.
In this market, it is a good idea to be early, and when it is your time to go into the property with your agent, you will have those valuable minutes to decide whether or not this property is a good fit for you and your family. There may or may not time to measure rooms. Keep in mind that this can be done during your contingency period when you are reviewing the seller's disclosures about the property.
Other tasks to complete during the contingency period are to have your home inspection completed, negotiate any requests for repairs, and complete any other inspection which may be indicated. It is not uncommon for a home inspection to trigger other inspections such as a roof inspection, pool inspection, and sewer line inspection.
Be sure to be on time or even arrive before your showing time when you have a scheduled appointment when viewing real estate.
Not Following the Rules When Inside the Property
There are rules to follow when viewing real estate. Keep in mind, you want to wear your mask at all times, and not have more than an agent and two people in the home at any one time. Be respectful of the seller's home and their possessions.
Smile! You are on camera! You have to assume that there are cameras on the exterior of the home and also on the interior in almost every home. Homeowners are using security systems to keep their homes secure and are using devices such as Ring or Nest.
Remember, these security cameras not only have visual imagery, but they also have audio. So, a seller can go back and listen to the conversation you are having in the home. If you have made any negative comments, this may be offensive to the seller. Avoid making comments about the home or the decor.
Leave the kids at home: Keep in mind that in certain areas, there may be limits to the number of people that can enter a property. Currently, in California, it is one agent and two people. It is a good idea to leave the children at home so that you can focus on the home and not worry about what they are getting into.
Leave your pets at home: Even if you have a small pet that can be carried about in the property, do not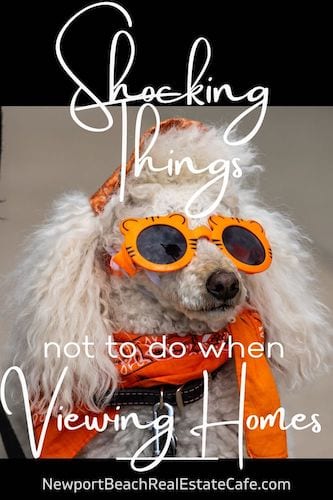 bring your pet or their pet accessories to the home. If the seller has allergies, the dander could cause them to be allergic.
Don't lounge on the furniture: Of course, it might be tempting to sit on the furniture to imagine what it is like to live in the home, but don't sit on the furniture. Don't sit on the couch with your feet on the coffee, remember this can all be seen from the interior cameras in the home. And if you think this is going to help you when you submit an offer, the seller will likely be offended.
The last thing a buyer should do when taking a tour of a home is to make themselves comfortable and take a seat on any furniture. Avoid touching furnishings. It may be tempting to open cabinets or drawers to see how they operate. Again this type of thing can be done during the contingency period.
Don't sit in the bathtub: If the home has had a bathroom remodel, and one of the features is an unusual tub, you may want to see how you fit. Even though, do not sit in the bathtub. Remember those sellers are going to come back and use their home, and they should not have to clean up after potentials are viewing real estate.
Don't ask to use the facilities: Especially with the Pandemic, you need to come to your showings prepared. Use the facilities at your own home when viewing real estate prior to any scheduled appointments that you may have. Even if the home is vacant, oftentimes vacant homes for sale have the water turned off.
Don't swim in the pool: Even though it is a super hot day and the backyard is an outdoor oasis, and you have your kids in tow (not a good idea now during the Pandemic), do not go swimming in the seller's pool. Yes, there is an instance when this happened. Do not utilize their pool or spa and don't allow your children to use the pool.
Final Thoughts
You might think this is all common sense, but there are those who push the boundaries. Be sure to be respectful of your real estate agent's time and preparation for your showings viewing real estate. Be respectful of the seller's home even if it is not for you. Not every home is going to be for any particular buyer, so if the home doesn't suit you, just move along to the next one. Remember that most showings are very limited, so you want to have a laser focus in the house, viewing the property and what is important to you as a buyer.
About the Author
The above real estate article "Viewing Real Estate | 11 Shocking Things Not to Do" was written by Sharon Paxson of Newport Beach Real Estate. With experience since 2005 representing sellers, buyers, and landlords with their real estate transactions, we welcome the opportunity to share our knowledge and expertise and guide you through the home buying or selling process.
We service the following Orange County CA areas: Corona del Mar, Huntington Beach, Laguna Beach, Newport Beach, Newport Coast, Orange, Sunset Beach, Tustin, and more! If you are considering selling your home, we welcome the opportunity to work with you and list your home with a top Newport Beach CA Realtor.