Create an outdoor oasis in your backyard. Spring is here and if you are considering selling, an important area of the home to consider is the backyard or outdoor space. Indoor-outdoor entertaining is a consideration for many homeowners and for many who are searching for a home for sale.
Regardless of the style of home or condo, if there is an outdoor space, this area should be addressed and updated to turn it into an outdoor oasis. Even if a seller is not selling, these are excellent tips to update the outdoor space in order to enjoy the outdoor space with family and friends.
Oftentimes smaller homes that are located in planned unit developments may have smaller fenced backyards or decks, and even these areas can be enhanced so that a homeowner or a prospective buyer will appreciate all of the space the property has to offer. Staging a home can allow a buyer to imagine themselves living in a home, and the outdoor area should be included, especially if this is an important consideration for a buyer.
The climate in many areas is very desirable and ensuring that the outdoor space is inviting adds another benefit or feature to the property. There are many who enjoy cooking outdoors and entertaining, the following are tips to create an outdoor oasis.
Paint the Exterior
If a homeowner is getting ready to sell, then it is important to evaluate the entire property to determine the best direction to spend the money which has been budgeted for home improvement projects. These projects can be taken one at a time (unless it is urgent such as a water leak), and fix up the home as the budget allows.
Painting the exterior of the home will always look great and will make a big difference all around including the backyard! Don't forget the trim and eaves as well. Touch up doors and ensure door hardware and handles are in good shape and don't show signs of wear.
Power Wash
One of the first items to consider is to clean the area thoroughly. Even consider cleaning the outside of a home, including lighting fixtures and replaces light bulbs and fixtures as needed. If there is a patio or a deck, have it thoroughly power washed, or that can be a DIY project on a weekend. Powerwashers can be rented from home improvement stores. Or they are fairly inexpensive to purchase and have on hand to keep the area clean, clean clean. If the home has moss which has grown in grout lines due to excessive moisture, a power washer will help to remove all of that and allow the area to remain clean. There are electric power washers and there are gas operated power washers.
If the property has a deck or balcony that should also be power washed. Homes that are located near the water or are oceanfront, may need to have this maintenance more often as often times as salt air is very corrosive. Power washing can remove dirt and grime and create a nice fresh appearance, and slow down corrosion.
It is important to keep the windows clean when looking out on an outdoor area.
Landscape
Landscaping for the entire home should be taken into consideration, but especially the backyard and outdoor space. Ensure that lawn is mowed and flower beds are neatly planted and it has been weeded. Keeping the yard neat and tidy, and having bushes and plants trimmed helps to present a maintained appearance.
Ambient Lighting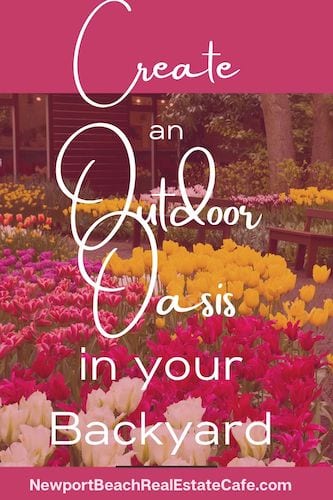 Utilizing lighting can create a dramatic and enhanced effect in a backyard. Lighting can be another DIY project on a weekend utilizing low voltage lighting, and this can be purchased from home improvement stores such as Home Depot, Lowes or online.
Utilizing ambient lighting creates general illumination and creates a comfortable level of light. Ambient lighting can be achieved utilizing outdoor wall lights. Other types of lighting include task lighting which would illuminate pathways, architectural features, and accent lighting can be utilized to illuminate specific items including the architecture of a home, specific plantings or other features.
Illuminating an outdoor space will add depth of the area at night. If you are selling be sure to take exterior photos which highlight the exterior landscaping and the ambient lighting and be sure those photos are included in any marketing of the home.
Add Colorful Planters
Adding curb appeal to the front yard is important as it is the first thing a buyer will see when they enter the property, or view properties online. Adding backyard appeal is enhancing the outdoor space that exists at the property. Adding colorful planters and hanging plants with beautiful flowering plants will accent a patio. And strategically placed flower pots in a patio will add to the ambiance. Local nurseries will have annual or seasonal plants which can be utilized to add color.
Create an Outdoor Oasis in Your Backyard
Click To Tweet
Patio Furnishings
Adding patio furnishings can add to the ambiance of the outdoor area, and whether or not a homeowner wants a dining area to enjoy meals outdoors, or a conversation area with an outdoor couch and loveseat is up to the owner. Either way is desirable and can be personal preference. It is important to make sure that the patio furnishings have been maintained with the cushions clean and in good repair.
Cushions can be stored during winter or rainy months in storage benches or deck boxes. These can be very attractive and are made out of resin, yet they can look like wicker. Covering patio furniture during winter months will help to prolong the life of the furnishings.
Firepit or Fireplace
If the backyard oasis is going to have a conversation area, then a nice added feature would be a firepit or outdoor fireplace. Of course there are ways to build them, however, firepits can be purchased from home improvement stores and do add to the ambiance of the outdoor area and generally run on propane. Firepits and outdoor heaters allow it to be comfortable for friends and family to comfortably remain outdoors as the temperature drops.
Pool/Spa
A pool can be a wonderful investment if the homeowner is going to be utilizing it on a regular basis. Otherwise, a pool can be an investment that just does not get utilized. Often times a homeowner will utilize a spa and not a pool. These are important considerations as pools can be a large capital investment and often times a homeowner may not get a return on their investment.
Pools can also have liability. Ensuring that is properly fenced is the homeowner's responsibility at all times. Making sure there is a locked gate to prevent unauthorized access is essential.
If the homeowner does have a pool and it truly is an asset to the home, making sure it is maintained and will make it sparkle and inviting to buyers. Get a reliable pool service to maintain the pool and spa. Do not utilize the pool if it is green, and obviously not been maintained!
Water Feature
Nothing is more appealing than the sound of a water feature or fountain, and they can visually add so much to an area. Consider a water feature and placing it in an ideal location will contribute to the outdoor ambiance. There are many beautiful ones that can be obtained either online, or local nurseries will have them as well. It is important to utilize it on a regular basis and keep it in working order. Ensure that there is always water in it and keep it in operable condition.
Outdoor Cooking Area
There are many who enjoy cooking outdoors and depending on the homeowner there are many options for creating an outdoor cooking area. Barbecue islands can be built or purchased. Having an outdoor cooking area may include a barbecue, outdoor refrigerator, sink, ice maker and more. There are many options and it is not necessary to go completely over the top, but having a nice area to cook and serve food outside contributes to the indoor-outdoor entertaining.
Final Thoughts
Having a beautiful backyard will ensure the home is inviting in all areas of the home. An inviting backyard will make a home more appealing and there are many buyers who want to utilize the outdoor space, especially when the weather is nice! Many homeowners enjoy cooking outdoors, so having an outdoor cooking area will enhance the area.
Find Other Valuable Resources for "10 Tips to Create an Outdoor Oasis in a Backyard" from Real Estate Professionals Across the Country. Please check out the articles below, and please share across Social Media if you liked the articles.
Tips to Spruce up the Exterior of your Home via Anita Clark, Selling Warner Robbins
Ways to Make Your Home More Appealing to Buyers via Bill Gassett, Maximum Real Estate Exposure
Tough Pills to Swallow When Selling a Home via Lynn Pineda, Imagine Your House
Elbow Grease is a Great Way to Curb Appeal via Karen Highland, Frederick Real Estate Online
Home Selling Blogs from 2017 via Kyle Hiscock, Rochester Real Estate Blog
8 Ways to Enhance Curb Appeal via Michelle Gibson, Wellington Home Team
Gardening Home Staging via Eileen Anderson, Farmington Valley Realtor
About the Author
The above real estate article "10 Tips to Create an Outdoor Oasis in a Backyard" was written by Sharon Paxson of Newport Beach Real Estate. With combined experience since 2005 with representing sellers, buyers, landlords, and tenants, we welcome the opportunity to share our knowledge and expertise and guide you through your real estate transaction.
We service the following Orange County CA areas: Corona del Mar, Huntington Beach, Laguna Beach, Newport Beach, Newport Coast, Orange, Santa Ana, Sunset Beach, Tustin and more! If you are considering selling your home, we welcome the opportunity to work with you and list your home with a top Newport Beach CA Realtor.