Add Value to Your Home
Add value to your home by doing simple upgrades around the home. If you are planning on selling your home, but you are concerned it won't reach its true value, there are some things you can do. Be sure to address any deferred maintenance and address the repairs of your home. We have some beneficial tips you can follow, to boost home value to your home that will make sure you get the right price.
Improving Your Kitchen
The kitchen is often considered the most important room of the house, and any improvements you can make here will certainly pay off and add value to the home. If you have the budget to replace old appliances, this will really help to add value. But simply repainting the cabinets, or adding modern tiles, can make a significant difference to the value of your home. Consider updating the countertops in the kitchen and this will be a significant upgrade in the kitchen. Quartz is a favorite among countertops and it comes in many different styles. The countertop material is generally at the top of any kitchen designer's list as it is not only beautiful, it is also very durable. Adding a beautiful backsplash to enhance the overall beauty of the kitchen and will also add value to the home and have a good return on investment.
Bathroom Remodeling
The bathrooms of your home are another area where you can make significant improvements that buyers will notice and add value. You should try to give a new and fresh look to your bathrooms. You might be able to achieve this by fitting new tiles, improving the lighting, or renovating or replacing the bathtub and shower enclosure. Updating your bathrooms will definitely add value to the home. Changing out and adding new countertops are probably the best thing you can do to upgrade a bathroom. Consider changing out the huge mirror and replace with framed mirrors over the sinks. Updating the cabinets or even painting the cabinet doors will help to improve the look and feel of the bathroom. Consider adding updated pulls on the cabinets and drawers. Consider adding updating lighting in the bathroom, and this is another way to add value to your home.
Upgrading Your Floors
Another beneficial tip is upgrading your flooring. Flooring makes up a large and very obvious part of every room. If yours doesn't look very good or is out of date, it is a good place to make improvements that will add value.
If your flooring is showing wear and tear, potential buyers are going to notice. Redo the floor to improve its appeal and match the style of the rest of the home.
Interior Painting
A fresh coat of paint can rejuvenate your living spaces. You can cut your costs by doing this yourself, or hire the services of a professional if your budget allows. It can be tempting to go for very bold color choices, but more neutral tones tend to appeal to more potential buyers.
Garage Conversions
With a lot of people not using their garages for their intended purpose, converting the space into a liveable room makes a lot of sense. If your driveway is safe enough and large enough to park your vehicles, perhaps you might consider converting your garage space into rooms.
You may find that this type of project is very easy to do, but you should check what sort of planning permission you require before you choose this option. Many communities have limited parking available for cars, so this may not be an option if there is no driveway or street parking. There are city requirements with parking.
Extending Your Basement
If you want to add more space to your home, increasing the size of your basement could be a good option. While most basements are cramped and dark places, if you can create a more spacious and well-lit area, it will add value.
Like the garage conversions, you may need to get approval to increase the size of your basement. You will also need to be careful to make the right choices that will appeal to potential buyers, or risk facing wasting the investment in your improvement.
Loft Conversions
If your home could benefit from more room, a loft conversion can add an extra bedroom and ensuite. While it could seem like an easy option, the costs involved could be higher than you imagine, with possible structural reinforcements required.
Changing the Floor Plan
A lot of older homes have layouts that aren't popular or convenient for modern living. Removing walls that divide kitchens, dining rooms, and living areas can make your home more in line with what buyers are looking for.
Renovating Interior Doors
If your doors are looking out-of-date, replace them. New updated doors will definitely add value to your home. You will most likely need to hire a contractor to hang the new doors for your home. If the doors are looking worn or tired, you could just repaint them to improve the look of your home. Pressure washing doors are another option. Consider updating the hardware and door handles on the doors will definitely update the look and feel of the home.
Improving Curb Appeal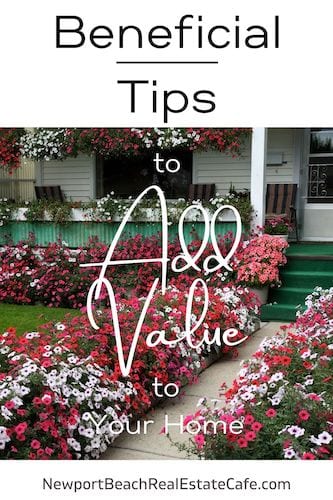 Spending some money to improve the landscaping of your yard, will create the right impression when potential buyers first visit your home. There are some excellent tips for creating a better landscape. Adding new plants, trees, shrubs, and making sure the area is well cared for, will help to create the right impression. Update your flower beds and make sure they are weeded. Add seasonal color plants to the flower beds such as marigolds and ageratum. The yellow and blue compliment each other and stand out. If you have a lawn, be sure to make sure it is in good condition and regularly mowed. If the front of your home is appealing, it will definitely have excellent curb appeal.
Be sure to address the entryway as well. Be sure to clean out the front porch and update the lighting fixture if needed. You can paint the front door a beautiful contrasting color to accent the home. Many are utilizing an aqua color as a contrast to a white house. You want the home to be inviting and have a beautiful curb appeal. Put out a nice welcome mat by the front door to create an inviting feel. Accessorize all the outdoor space to create a nice and welcoming feel to the home.
Final Thoughts
When you are looking for beneficial tips to add value to your home, all things aren't equal. Certain parts of your home will produce a greater return on investment than others. And while some of our tips will cost a lot, there should be something here for homeowners of every budget to increase the value of their property. Create a good first impression by using these tips to add value to your home.
If you are unsure of what improvements are right for your location, you can always ask your experienced real estate agent what buyers are currently looking for.
About the Author
Top Newport Beach CA Realtor Sharon Paxson has written the article " Add Value To Your Home | 10 Beneficial Tips".
She has been specializing in residential real estate since 2005 throughout the Newport Beach CA area and the surrounding area. Whether you're looking to buy, sell, or rent she will guide you through the entire real estate transaction. If you're ready to put Sharon's knowledge and expertise to work for you call or e-mail her today.
Areas of service include Corona del Mar, Newport Beach, Newport Coast, Huntington Beach, and the surrounding Orange County area.