Home Buying
Buying a single family home or condo for the first time is very exciting, and there are some important steps which must be taken into consideration when beginning the home buying process. One of these very important steps is to get a home inspection. This will help you to determine if the house is a money pit or not!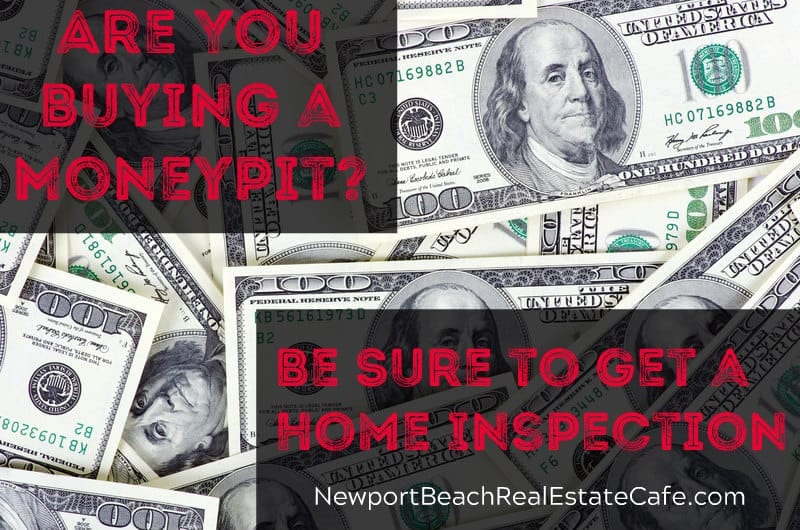 What is a Home Inspection?
The general home inspection is based on the observations made on the date of the inspection, and not a prediction of future conditions. The general home inspection will not reveal every issue that exists or ever could exist, but only those material defects observed on the date of the inspection.
A general home inspection is a non-invasive, visual examination of the accessible areas of a residential property, which is designed to identify defects within specific systems and components. A home inspection is done usually in association with the sale of a property. A home inspection is buyer responsibility as they are completing their due diligence. Home inspections are recommended by Realtors and it is generally a contingency of the purchase agreement.
A home inspection can range in price for several hundred dollars depending upon the size and amenities of the home. If the buyer is purchasing a condo, then a home inspection is also recommended. The home inspection results may trigger other inspections such as mold inspection, sewer line inspection, structural inspection or others. Having knowledge about the property and the systems will help a buyer decide if they want to proceed with the purchase of a property.
The items that a home inspector will inspect include the following: lot, exterior, roof, attic, balcony, garage, electrical, heating and cooling (HVAC), water heater, plumbing, smoke and carbon, monoxide detectors, fireplaces, kitchen, laundry room, bathrooms, bedrooms entry, living area, dining room and hallways.
Other items a home inspector may call out include a loose toilet seel, carpet in the bathroom, inoperable doors or latches, garage doors, missing screens and more! I have sold homes that do have elevators and a general home inspector may not inspect those, but there are companies who do inspect elevators. It is a good idea to utilize the manufacturer of the elevator to ensure it is operable. A home inspector will let you know if they see deferred maintenance and outstanding items which need to be repaired.
Below are a couple of examples of comments that might be included in a home inspection.
______
"Notched ceiling joists for added electrical noted, unable to determine if permitted."
"Exposed wiring below the main electric panel (damaged conduit) noted as a safety hazard."
______
Even if you are purchasing NEW construction, it is imperative to have a Home Inspection.
Generally speaking, safety items are the items which should be addressed. If there is an electrical hazard then that should be addressed by a licensed electrician. If there are obvious structural concerns such as huge cracks in the walls, or foundation, that is also cause for concern.
A pest control inspection should also be completed to find out if there are wood destroying pests – termites that are damaging the home. This is separate from the home inspection.
Are you buying a money-pit? Be sure to have a home inspection!
Click To Tweet
Request for Repairs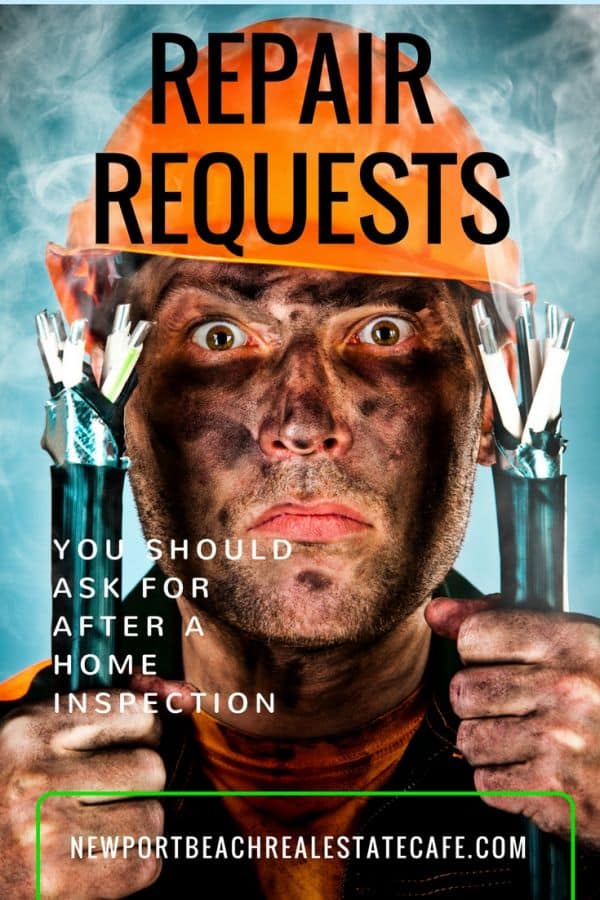 After the home inspection is complete, it is time to proceed with a request for repairs, This is also done during the due diligence period and a buyer will be able to determine the seller's response and willingness to work with the buyer.
The buyer can ask the seller to complete the pest control items such as wood destroying pests to be repaired, and this IS recommended! As a buyer, it is important to have that addressed to ensure that the home is pest free. Also, pest control companies do offer warranties on their pest control, and it is important to obtain the warranty for future.
What Should be Repaired?
Leaks or plumbing issues are hugely important as they can cause damage to the property. Electrical items should also be addressed to ensure there is not a safety issue.
Regarding the home inspection items, there are a few ways to approach it with the Seller.
The Buyer can request that the Seller credit Buyer a certain amount for certain repairs. The benefit to this is that the Seller can have the work completed by their own repair people. Keep in mind that credits need to be disclosed to Buyer's lender.
Another approach is that the Buyer may request that Seller reduce the purchase price of the home for the repairs.
-OR- the buyer can request that the Seller repair certain items that arose on the home inspection report. Safety items such as electrical should be addressed. Additionally, the buyer can require that the repairs be completed by Licensed Contractors. And asking for a receipt of the work that is completed is beneficial to ensure it was done properly.
The Seller may or may not to agree to any of the buyer requests. If the repairs are significant, then a buyer may decide not to proceed with the purchase of the property.
Keep in mind it is a negotiation. A Seller may agree to credit the Buyer $500 or $1,000 for the repairs, and nothing more. Or the Seller may not agree to ANY of the requests. It is important to be realistic on a Request for Repair, as the Seller can easily get offended. I have had an experience where the buyer asked for EVERY ITEM on the Home Inspection report, and needless to say, the Seller was not in agreement.
Final Thoughts
A home inspection is a very important step in the home buying process. A buyer should always consult with their Realtor and ask for a home inspection. Even if a buyer is trying to save money in the home buying process, a home inspection is money well spent, as a buyer will have knowledge about the general systems and condition of the home. Remember that the home inspection may uncover material defects in the home, and it is important to be objective when purchasing a home. A buyer doesn't want to purchase a money pit!
Find Other Valuable Resources for "Are You Buying a Money Pit? Get a Home Inspection!" from Real Estate Professionals Across the Country. Please check out the articles below, and please share across Social Media if you enjoyed the articles.
Top 8 Issues Found in Home Inspections via Paul Sian Cincinnati and Northern Kentucky Real Estate
Home Repair Requests a Buyer Should Not Make via Bill Gassett, Maximum Exposure Real Estate
Do Home Buyers Have to get a Home Inspection? via Michelle Gibson, Wellington Home Team
Top Reasons to Have a Home Inspection via Kyle Hiscock, Rochester Real Estate Blog
About the Author
The above real estate article "Are You Buying a Money Pit? Get a Home Inspection!" was written by Sharon Paxson of Newport Beach Real Estate. With experience since 2005 representing sellers, buyers, and landlords with their real estate transactions, we welcome the opportunity to share our knowledge and expertise and guide you through the home buying or selling process.
We service the following Orange County CA areas: Corona del Mar, Huntington Beach, Laguna Beach, Newport Beach, Newport Coast, Orange, Santa Ana, Sunset Beach, Tustin and more! If you are considering selling your home, we welcome the opportunity to work with you and list your home with a top Newport Beach CA Realtor.