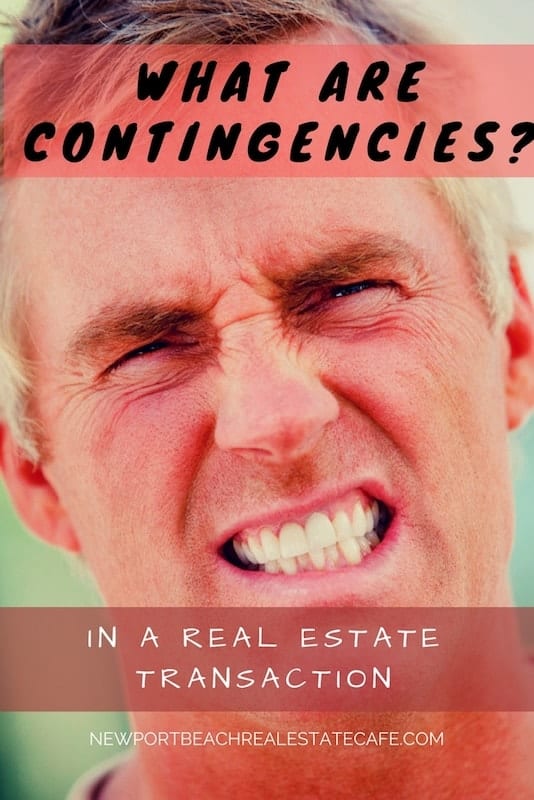 Buying a home is an exciting time and there are many questions that a buyer will have during the home buying process. A buyer does not want to make home buying mistakes during the purchase process and it is imperative to consider contingencies.
What is a Contingency?
A contingency in a purchase means that the sale shall be contingent upon certain criteria that have to be met prior to the close of escrow. A contingency is an escape clause that can be utilized with a purchase agreement.
The most common contingencies include a loan contingency, appraisal contingency, and an inspection contingency. However, there can be others including the sale of the buyer's home which can complicate the transaction. A seller needs to evaluate all terms of a purchase agreement. It is not always just about the price, it is the terms, including the earnest money deposit, length of escrow, down payment, loan, and more. A seller is taking a risk that they can "tie" up their house while waiting for a buyer to perform and complete their due diligence to remove these contingencies.
Loan Contingency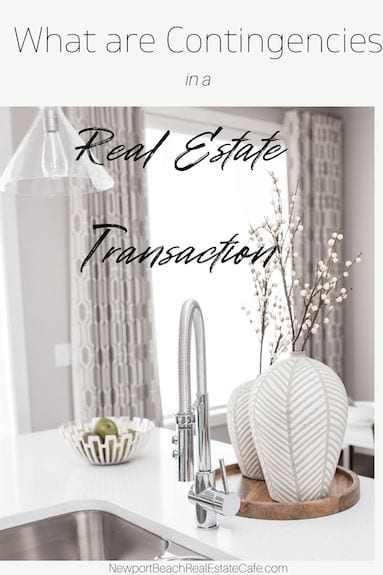 A buyer may have a loan contingency which means that the buyer must obtain mortgage financing in order to purchase the home. It is the buyer's responsibility to act in good faith and diligently provide all information to their lender so the lender can get the buyer approved for the loan.
There are time limits for contingencies including a loan contingency. That is the reason it is imperative that a buyer should meet with a lender well in advance of making a purchase offer. The time periods for a loan contingency are negotiable, however, the time frames are generally anywhere from 17 to 21 days from acceptance of an offer. Keep in mind that these are "days" after acceptance. A buyer needs to understand the difference between days and business days and this needs to be discussed with the buyer's Realtor.
Appraisal Contingency
An appraisal contingency is required if a home buyer is obtaining financing for the home. However, even if a home buyer is paying all cash, the purchase can be subject to an appraisal contingency. An appraiser will come out to the property (this is a buyer expense) and appraise the value of the home. An appraiser will look at recent home sales data, and compare it to recent sales of similar homes in the same neighborhood.
If a home is overpriced and the appraisal does not come in at value (purchase price), then there are a few ways to deal with this problem. The buyer can ask the seller to lower the price to the appraised value, the buyer can bring in cash to cover the shortfall, or the buyer can cancel the contract.
Inspection Contingency
Having a physical home inspection is imperative regardless of age and condition of a home. Even if the home is new construction, it is recommended that an objective 3rd party home inspector inspect the home. A new home may come with a warranty which can cover defects.
A home inspection will uncover items that can be safety items which should be repaired prior to the close of escrow. There can be electrical hazards or plumbing issues. If there has been excessive leaking, then a buyer may want to consider having a mold inspection. A home inspection can trigger other inspections including a roof inspection and more.
Contingency of Purchase or Sale of Buyer's Property
A buyer may make an offer on a home with a contingency of purchase or sale of their property. This can be a risky state for a seller to be in. If a home buyer is making an offer on a home with a contingency to sell their home, then it is recommended that the buyer's home is listed for sale and ideally in escrow.
Theoretically, a seller could be tying up their home with a home buyer, and not receiving additional showings because now the home shows under contract in the MLS. Buyers will do this because the buyer needs the funds to purchase a future home. The buyer should provide a copy of the closing statement to the seller of the home they are selling so they can verify the proceeds they will net from the sale of their home.
It can be done, and I have had experience with transactions such as this, but communication is key so that all parties are aware of the steps and process.
Verification of Down Payment and Closing Costs
In the purchase agreement, there is a clause that states the buyer will provide proof that they have the funds to deposit the earnest money deposit, and if a buyer is obtaining a loan, a lender will provide a pre-approval letter. In the contract, it also states that this needs to be provided within a certain number of days or business days. In my opinion, it is best to submit this along with an offer, it shows the strength that the buyer has the financial means to proceed with the transaction.
Review of Home Owner Association Documents
The buyer has the right to review all documents associated with the purchase of the home including the home owner's association documents. The buyer needs to review the financial strength of the home owner's association and review the by-laws. If there are CC&R's, then these documents should also be reviewed. It is common for condo communities to have both HOA and CC&R documents.
If the buyer plans to alter the home in any manner, the HOA documents will reveal if there is an architectural committee which has to approve the plans. Some communities have them and some do not.
Along this same line, if the buyer plans to remodel or alter the home, an investigation should be done with past permits on the property, and ensure that any proposed construction will be approved from the city or county.
Review of All Disclosures
The seller will provide disclosures to the home buyer within a specified period of time in the contract. The buyer has the right to review all these disclosures so they understand what they are buying. For example, if a seller did work or modifications without permits, this needs to be disclosed to the buyer.
An agent will do their own visual disclosure of what they see in the home and provide that to the seller and to the buyer as well.
Buyers should complete their due diligence during the home buying process!
Click To Tweet
Verifying Insurability
As part of the home buying process, it is required that the home buyer contact an insurance company to obtain a quote for the home owner's insurance. This is required if the buyer is obtaining financing. It is recommended for all home buyers. And it is necessary to determine if the home is in a flood area and if the buyer will need flood insurance or other such as earthquake insurance. This will depend upon the area of the country that the home is located.
Removal of Contingencies
Contingencies are after the home buyer has done all their due diligence and the contingencies are removed after they have investigated everything about the house including a home inspection, appraisal, disclosures reviewed and verifying insurability. The home buyer will remove those contingencies in a contingency removal form which is executed by the buyer. By removing contingencies, the home buyer is now committed to purchasing a home. If at this point the buyer does not proceed with the purchase, their earnest money deposit becomes at risk and the seller may not release it back to the buyer.
Not all contingencies have to be removed at the same time. For example, a buyer can remove the insurability contingency if this information has been obtained from their insurance company. By removing contingencies this shows an act of good faith to the seller. Be sure to consult with your Realtor about this process, because every transaction has different terms and conditions.
Final Thoughts
Buying a home is an exciting time, but treat it as if it is a business transaction. There are steps to take to protect the buyers and having contingencies in place allows a buyer to perform their due diligence and gain knowledge about the property. Be sure to wait for an appraisal, home inspection, and review all documents prior to removing contingencies.
Find Other Valuable Resources for "What are Contingencies with Real Estate Purchase?" from Real Estate Professionals Across the Country. Please check out the articles below, and please share across Social Media if you enjoyed the articles.
How to Write a Perfect Offer via Petra Norris, Lakeland Florida Realtor
Common Contingencies in a Transaction via Jeff Nelson, Live Gulf Shores
How Do Home Sale Contingencies Work via Bill Gassett, Maximum Exposure Real Estate
Common Contingencies when Purchasing a Home via Michelle Gibson, Wellington Home Team
Home Buying Contingencies to Consider with Purchase Offer via Kyle Hiscock, Rochester Real Estate Blog
Understanding Real Estate Contingencies via Kevin Vitalli, Real Estate in Essex and Northern Middlesex Counties, Massachusetts
About the Author
The above real estate article "What are Contingencies with a Real Estate Purchase?" was written by Sharon Paxson of Newport Beach Real Estate. With experience since 2005 representing sellers, buyers, and landlords with their real estate transactions, we welcome the opportunity to share our knowledge and expertise and guide you through the home buying or selling process.
We service the following Orange County CA areas: Corona del Mar, Huntington Beach, Laguna Beach, Newport Beach, Newport Coast, Orange, Santa Ana, Sunset Beach, Tustin and more! If you are considering selling your home, we welcome the opportunity to work with you and list your home with a top Newport Beach CA Realtor.