Vacant property can have its challenges. Owning a vacant property, whether it is just for a short amount of time or longer, is a risk. There is always the danger that someone will gain entry to the home and damage or steal things from the interior.
But there are things you can do to protect the vacant property from any type of vandalism. We offer you some essential steps to secure your home and to make sure your vacant property doesn't fall victim.
Making Regular Checks
If you can visit the vacant property once or even twice a day, you should be able to spot any indication that something is wrong. Also, it will make the home appear to be lived in and put off vandals. Though you can only do this if you are living near the property.
If you are able to make regular visits to your vacant property, then take the time to water the yard and maintain the curb appeal and let people know that someone is present at the vacant property. If your house has overgrown weeds and a dead front lawn, this is an obvious sign that no one is residing at the property.
Very often, a criminal intent on vandalizing your property will try windows and doors before they fully gain entry. If you find anything that suggests someone has tried to a break-in, perhaps someone has tampered with a window or lock, it could be a sign of trouble to come.
Basic Precautions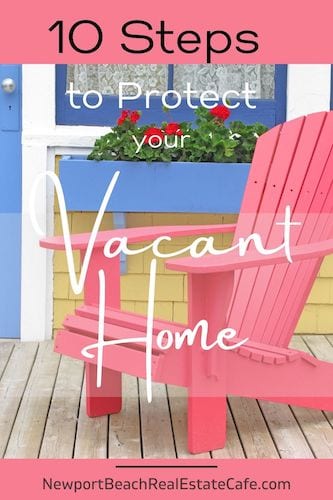 To reduce the chance of your property being targeted, make sure you aren't making it easy for the criminals. Check that the windows and doors can't easily be forced open, and repair any broken locks. Also, make sure the home doesn't look abandoned, so keep it tidy.
Buy timers for lights in the home, and even if it is completely vacant, then leave a couple of lamps and have a timer set for them to be turned on in the evening. Be sure to keep the blinds closed to prevent anyone from peeking into the vacant property to find out that no one is living in it. There is an increased risk of vandalism or break-ins with vacant property. Be sure to keep the front porch lights on, and having an interior light on timers will help to mitigate that.
Another tip is to contact your local Police Department and ask if they offer vacation drive-bys. Most departments have volunteers that will drive by the home to check it out for you and make sure there is no suspicious activity.
Vacant Property | 10 Essential Steps to Protect Your Home
Click To Tweet
Help From Neighbors
If you don't live close to the vacant property, perhaps your neighbor might help by keeping an eye on the home. Though this isn't a perfect solution, it is better than nothing. Neighbors won't want to see the home vandalized as it makes the area worse to live in, so they do have some vested interest in making sure your property is protected. Most neighbors will agree to keep an eye on the property for you. The last thing a neighbor wants is for your property to be victimized because they will also worry that their own home will be victimized.
Make the Home Appear Lived In
Vandals aren't going to take an interest in a home that has someone living in it. To make your vacant property not seem vacant there are a few things you can do. You can move in some furniture where it is most likely to be seen if the home is empty. The use of lights on timers and motorized blinds can give the appearance that someone is there.
Add outdoor furnishings to accessorize your outdoor space to give the home the appearance of being lived in. You could add a bench or a couple of Adirondack chairs to provide the appearance that someone lives at the vacant home. Adirondack chairs come in a variety of materials and you can find them at places such as Amazon or Overstock dot com. Put a couple of outdoor pillows on them to add appeal.
Property Management Companies
Another option to take care of your vacant home is to consider utilizing a property management company. If you aren't able to physically check the property regularly yourself, a property management company could be your best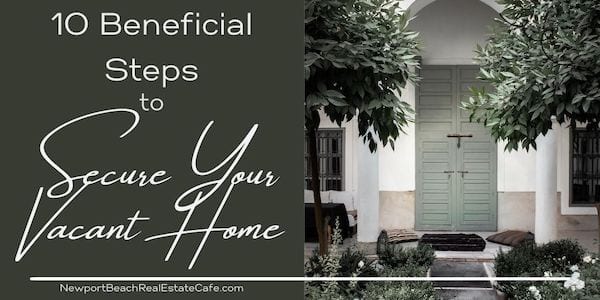 answer. Although the services of a management company are not inexpensive, however, but you can cut costs by avoiding some of their extra services, like maintaining the property. Though for just checking the property, the cost of services like this might not be ideal. If no one is able to check the property for you, this might be the necessary solution.
Using a Security Company
Employing the services of a security company could seem like a good option. They offer around-the-clock protection with surveillance cameras, extra lighting, alarms, and sensors.
This is anything but an inexpensive option, however, and is likely to only be worth the cost, if your property is of high value. The security company is likely to want you to commit to a long-term contract as well, and this might not be what you are looking for.
Install Security Cameras
There are some amazing options at very reasonable options now. You can utilize Ring or Nest cameras that are easily installed. These security cameras can help to keep your home secure. The Ring cameras have a couple of options. You can purchase the battery-operated ones. The only downside of those is that you have to replace the battery when it goes out. It is ideal to hardwire them for electricity.
Keep in mind, you need to keep the power on for these to be operable as well as the internet. Some reasonably advanced security systems and components, as well as additional locks, are available that can be easily installed without much experience.
These types of cameras are smart home technology and will help to improve the overall value of your home.
Choosing a Customized Security System
There are a few different choices of networked security systems that work with Amazon Alexa, Google Assistant, Nest, and Apple HomeKit. Companies like SimpliSafe, Ring, Alder, and Adobe, offer wireless systems that can be added to as required. These companies offer another way to keep your home secure.
These security systems are straightforward to set up, offering an easy way to monitor security from your phone. They are easily monitored from an app on your smartphone. You can set up motion alerts for it to notify you in the event someone enters a particular zone.
Professional Security Systems
If you don't trust yourself with a screwdriver, you can always enlist the services of a professional security installation company. The cost will obviously be higher, but they will save you from possible headaches when setting up such a system.
Choosing a professional company can also mean they monitor your system 24/7, and will be on alert when an alarm goes off or someone appears on camera.
Selling Your Vacant Home
Homes that are unfurnished and vacant lack any type of emotional appeal and connection. An empty house may feel very lonely. There are some top home fixes that need to be made before listing the home for sale. Be sure to keep the utilities on and to keep it clean. If you are showing a vacant home, buyers may have a difficult time imagining themselves living in it.
Consider staging the vacant home to let buyers know how specific rooms are being utilized. Staging a home adds appeal and feels lived in. Additionally, the furnishings in the home will be beneficial for professional photography. Photographing a vacant home is challenging as it is difficult for a buyer to understand the different rooms.
Due to the pandemic, there are some areas that are not allowing open houses at all, such as California. However, if you are selling a home where open houses are allowed, then there are things that should never be left out at an open house.