Avoid moving mistakes by planning ahead with your move. Buying and moving into your new home can be an exciting experience. But with so much to do and planning ahead, it is all too easy to make moving mistakes that could cost you a lot of both time and money. Be sure to plan your move with smart moving tips to make your move stress-free.
We look at the things you should be on the lookout for so that you don't fall prey to exhausting moving mistakes.
Not Hiring the Best Movers
Should you consider is if you decide you want help from professional movers, you need to choose the moving company carefully. If you make a mistake with this choice, it will be extremely costly. There are some great sites online to compare moving companies and obtain quotes prior to moving day.
Check what other customers have to say about the movers before you get a quote from them. Online estimates aren't going to be too accurate, you need a more precise assessment from a representative of the company when comparing moving companies. With a handful of quotes, you can compare them to find the best one.
Doing Things in a Hurry
One of the most exhausting moving mistakes you can make is by leaving everything to the last minute. There are likely to be more things to do than you expect, so begin as early as you can. Planning ahead and being organized will help to alleviate stress during the moving process.
Don't Forget to Change Your Address
When you are moving to a new city, it is imperative to make sure you notify businesses about your change of address. You could miss paying important bills or not be informed of something important, but it is a simple mistake to avoid. You will want to change your address as soon as you move to a new city to avoid the stress of missing important mail.
You can change your address with most companies easily online, make a list and go through it before your move. You can have your mail forwarded for free from the USPS, and this can be arranged online as well.
Forgetting to Measure
You want to ensure that you have sufficient room in your new home for all of your furnishings. Make sure you have room and create a floorplan and measure the rooms of your new home. You need to have measurements of your new rooms so that you will be able to work out if everything will fit. There are tips for calculating square footage in your home and measuring the rooms, hallways, and all living space will provide you with that number.
If you don't have the physical space for an accessory or piece of furniture you can donate it to charity, often your donation will be tax-deductible as well.
Not Decluttering
If you have fewer possessions to move, you will save yourself a lot of time and money. You will also have fewer possessions to pack up and take with you to your new location. Take the time to clear out cupboards and drawers of the things you don't really need anymore. Take a look at your linen closets and if you have old sheets and towels, donate to animal shelters as they can utilize them for the animals. Avoid moving mistakes by packing up the items you really no longer need or want, only to have to get rid of them at your new location.
You will want to start packing after you have decluttered so you are not moving unnecessary items. There are some great places where you can find free boxes to help you start packing and save money at the same time.
Thinking You Can do Everything
It is easy to assume that you can handle your whole move, particularly if it is only a short distance. However, this can be an overwhelming moving mistake. You may find there is more work than you imagined. When you are moving with children it is important to include them in the plan to help them to adjust to the move.
Moving your possessions yourself can save you money over hiring professional movers, but it isn't an easy job. Though you may have friends to help you with your furniture, people can let you down at the last moment. Moving furniture is difficult and people can get injured, or items are broken, and it can seem like a false economy if something goes wrong. The last thing you want to do is get injured during the move!
10 Exhausting Moving Mistakes to Avoid
Click To Tweet
Avoiding Saving on Your Move
Moving is expensive enough, but there are some things you can do to cut costs. One area where money can be saved is with moving materials. You can get free moving boxes online from other people in your area that have recently moved.
You can check sites like Craigslist or local community sites where you could collect boxes and other moving supplies for free. U-Haul also offers an exchange service called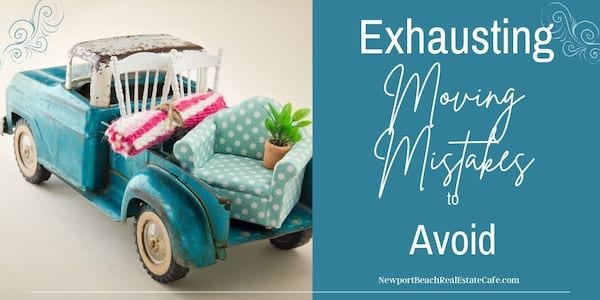 Customer Connect to help people get free boxes. Boxes can also be found at local stores, ask the manager if they have any available. Procuring free boxes is a win as it will help save you moving and prevent you from having other moving mistakes.
If you start to look for boxes early enough, you should have all the items you need well before moving day.
Not Protecting Your Valuables
Protect your expensive furnishings and accessories to prevent moving mistakes. There are some items you may just want to move yourself to ensure they are protected. If you are moving, you need to make sure items are packed well enough. You should also have insurance that covers the full value.
Not Preparing to Move with Pets
If you have pets, it may be ideal to have them stay with a family member until you have completed the move. Otherwise, you will need to make sure they are cared for on moving day and during the journey. Plan ahead and be sure to take extra food and bottled water with you on your move with your pets. And if you are moving to another city or a different location, then you may want to give your animals bottled water until your pet gets used to drinking the tap water in a new location.
Lacking a Survival Kit
Other moving mistakes to avoid include not have a survival kit for the day of the move! There are things you will need on the day and shortly afterward. If these items are packed in boxes you won't be able to find them when you need them. Set aside items like a cell phone charger, important documents, medications, a change of clothes, contact lenses, reading glasses, and anything else you might need. Pack them in a bag or box that you make sure to keep with you.
Final Thoughts
Planning ahead is the most important thing you can do when you are moving and to help you avoid moving mistakes. Make a list of the things you need to do before you start packing things in moving boxes. Ensuring that you have decluttered and gotten rid of items will help to create and alleviate any stress or anxiety associated with the move.
About the Author
The above real estate article "10 Exhausting Moving Mistakes to Avoid" was written by Sharon Paxson of Newport Beach Real Estate. Sharon is a residential Realtor® with experience representing buyers, sellers, and landlords with their real estate transactions since 2005. We welcome the opportunity to share our expertise and guide you through the home buying or selling process.
We service the following Orange County CA areas: Corona del Mar, Huntington Beach, Laguna Beach, Newport Beach, Newport Coast, and more! If you are considering selling your home, we welcome the opportunity to work with you and list your home with a top Newport Beach CA Realtor.