Moving Tips
There are moving tips that can help you to plan your move. Moving can be a stressful experience for most people. However, you can make your home move a lot easier and uncomplicated by planning ahead. Savvy movers know that it is all about organizing your move to turn into a smooth operation.
Although moving can be stressful, it is also exciting to embark upon the next phase of life with a new home in a new neighborhood! What better way to enjoy the process than to move with less stuff. If a seller is moving to a new home out of the area or a new condo, planning ahead will simplify the move.
Top Moving Tips for Beginners
If you have never planned a moved before, you will immediately start to think about your home move as a major undertaking. But if you are organized, you can save both save money and time by getting planning ahead. Start planning your home move when you list your home and stand back and let others do the work.
Declutter, Declutter, and Declutter Again
Yes, we are all guilty of collecting clutter. Take a look around your home, and it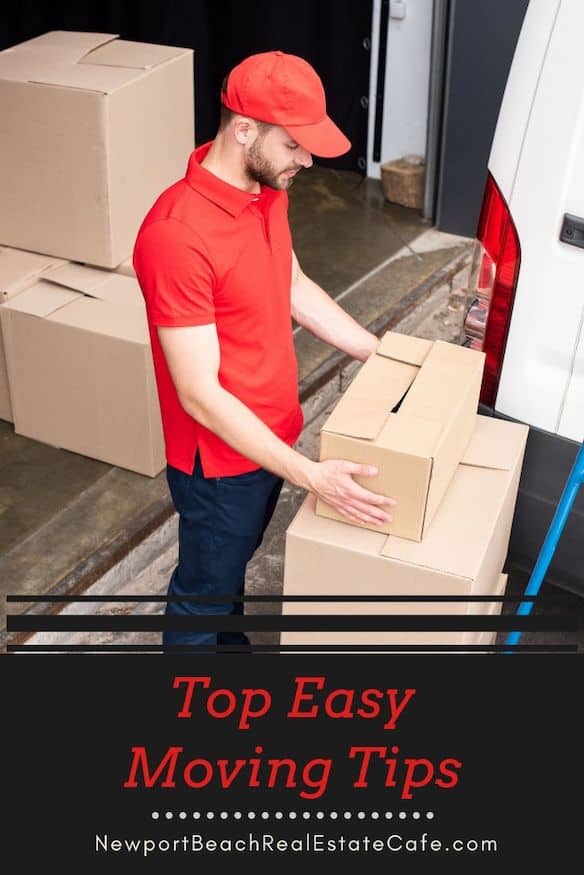 will not take you long to realize your home is filled with things you really don't need. If you don't use it or need it, get rid of it.
Take what you don't need to consignment shops or have a yard sale. There are many online consignment stores such as Poshmark to help you easily sell clothing which may have value. Who knows, getting rid of the clutter may even help to finance your move.
Old linens and towels which are not going to be utilized can be donated to animal shelters. Check out their websites to see what items they take and need. If you donate, please be sure they are clean. Shelters always appreciate donations.
Make a Packing List
About eight weeks prior to your move, you will want to create a packing list. After items have been purged there will be less stuff to pack. Make sure you keep a binder or folder with important documents such as mortgage information, insurance papers, and moving estimates.
If your new home needs appliances such as a refrigerator or washer/dryer, then it is a good time to order those and have them ready for delivery prior to the move-in date for convenience if possible.
Organizing Moving Companies
Once you have decluttered you will need to get at least three quotes from moving companies. Make sure that you compare the prices, and also, check on insurance. Who is going to pay the bill if your flatscreen TV ends up being damaged? Or your glass sofa table gets shattered in a move.
Some companies will provide you with boxes, but if they don't do so as part of the service, check out free options such as Craigslist, as someone who just moved wants to get rid of their boxes.
Start packing every day. This is a smart way to ensure you don't have to pack everything at once. Just leave the essentials such as clothes and what you need in the kitchen. Also, make a packing list. It will stop you from worrying and going through boxes when you think you have forgotten to pack an item.
Colored Coordinated Moving Tips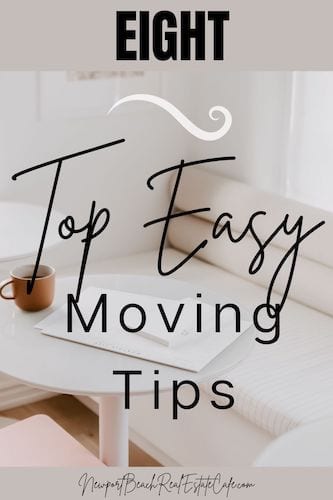 There are a plethora of ways in which you can make your home move way easier. To make the unpacking process on the end easier, consider color coordinating your move. It is easy to do.
Assign a color to each room of your new property and mark any boxes which are to go in that particular room with the same color. When the moving company starts to unpack their truck, they can immediately carry the right colored box to the room with the same color. Remember to number the boxes as well, and give a copy of your list to the movers.
All you need to do is to unpack and put away your possessions. It will save you time, and saving time when you move often means saving money. If you need to decorate your new home, you still have the option of leaving items in boxes until you are ready to unpack.
Mid-Week or During the Weekend
Most moving companies are really busy at the weekend. To save money, you want to see if you can move in during the week. Also, remember that mid-month is often less busy with moving companies. Taking things like timing into consideration can save you a lot of money.
Keep in mind if you are moving from a home located in a homeowner's association, there may be limitations on when you can move such as a holiday or the weekend.
Packing Materials to Utilize
Most of us have precious items we take extra care of and mean more to us than some of our other possessions. Investing in better boxes is a good idea. You can purchase boxes at packing stores or Home Depot. Many homeowners pack using blankets and towels but it can make boxes heavy.
If you are looking to complete much of the move yourself, you don't want to put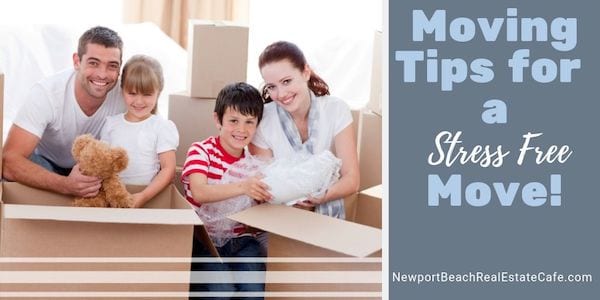 extra strain on your body. See if you can find some bubble wrap or other plastic packaging materials. Tonnes of packing materials are thrown away every year, and why not make use of them again? After you have used it, take it back to a recycling center.
Moving Tips for Furry Friends
So, you thought your cat and dog would not notice what is going on? Did you know that more cats go missing before a house move than at any other time? You need to make sure your furry friends feel safe and don't experience too much upheaval. As a matter of fact, it is a good idea to arrange a stay for your cat in a pet hotel in the weeks leading up to the move.
Dogs are also sensitive. Don't pack away your dog's basket until the final day, and make sure he still has access to food and water.
There are some great tips for relocating with pets including crate training your pup to keep them safe during the move. Organizing their food in large zip locks and have plenty of bottled water on hand. Even if your dog is used to drinking tap water at your home now, the water may be different at a new home. It is recommended that you provide bottled water until they have adjusted.
Final Thoughts
Moving is all about organizing your home and keeping things under control. Keep a list of all of the boxes and items you are expecting to come off that truck to ensure that you have got everything that you need and want in your new home. Utilize the color code system to put the boxes in the correct room and to make the process simpler.
Find Other Valuable References for "Top Easy Moving Tips" from Real Estate Professionals Across the Country. Check out the articles below, and please share on Social Media if you found the articles helpful.
Other considerations which need to be taken into account include the cost of the move. Bill Gassett has written an excellent article Tips for Saving Money During a Move. He discusses only taking what you need and determine how much of the move you can do on your own.
Paul Sian has put together an excellent resource which are Smart Tips for your Next Move. He discusses the importance of utilizing a dolly if you are going to be DIY moving. He discusses other options including hiring movers and being organized in order to find items after you have moved.
Moving can be a very stressful process. Kyle Hiscock has shared Five Stress Relieving Tips for Moving to a New City. The article discusses the importance of researching the local economy and job market prior to moving. Additionally, research things to do in the city you are considering.
When moving it will impact the entire family. John Cunningham has written a very informative article Tips for Making Your Move Easier and Fun for the Kids. John suggests having the kids help pack so they feel as though they are part of the process.
About the Author
This real estate article "Top Easy Moving Tips " was written by Sharon Paxson at Newport Beach Real Estate. With experience since 2005, we look forward to the opportunity to meet you and work with you.
We work with clients within the coastal Orange County CA area including Corona del Mar, Newport Beach, Newport Coast, Tustin and more! If you are considering selling your home, we welcome the opportunity to work with you and list your home with a top Newport Beach CA Realtor.