Relocating with pets may seem like an overwhelming process. Moving to a new home can be a very exciting time, however, it can be stressful for your pets. The following are some considerations to keep in mind for moving with pets.
Be sure to keep your pet's bedding, toys, and food. It is a good idea to not change foods when you are relocating with pets.
Where are You Moving?
Start researching cities and communities and consider the local city ordinances and community requirements so make sure you can have your pets. Indoor pets such as a cat or a bird will have fewer requirements than a dog.
Crate Train Your Pup in Advance
So you have decided to buy a new home and you are relocating to a different area. And you have pets. There are some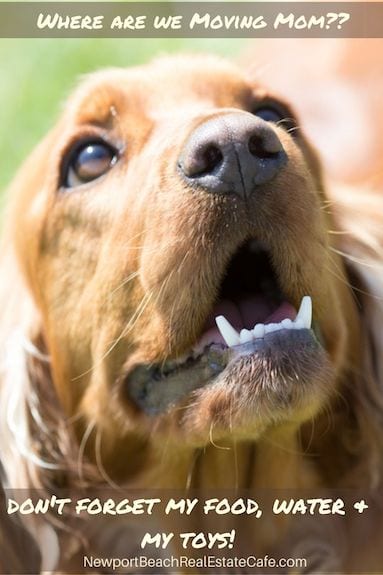 things that you can do to help make the transition easier for your pets.
If you have a couple of months before you move, I strongly recommend that you start to crate train your pets with relocating with pets. Both dogs and cats can be crate or kennel trained. It is not punishment, and should not be used as punishment. If you can crate train an animal prior to moving, then they can safely be kept in the crate for short periods. This is not something that you can do overnight, it takes time but pets are smart!
Crate training is the safest thing you can do for your pet. So when you are beginning your actual move process, your pets will feel secure and safe in their kennel or crate. Keep in mind, dogs are den animals and they will go in the crate on their own as they feel secure in this environment. I personally use crates not only in my house but in the automobile as well.
The only cautions, of course, is to make sure they are cool and in the shade, and not left in a hot car.
If you are shipping your dog, airlines are very strict with respect to shipping an animal. The temperature has to be within a certain guideline, and the dog has to be in a certain size crate. This is another reason to crate train in the event you will be shipping the dog.
Breed Restrictions
There are actually some cities that have breed restrictions and you are not allowed to have a certain breed in an area. Generally, those breeds may include Pit Bulls and other fighting breeds. You need to find this out BEFORE you decide on a city. If YOUR best friend is a Belgian Malinois and the breed restriction exists, then you may not be able to move to that city and keep your dog.
Additionally, there are other requirements in certain cities such as mandatory spay and neuter, and I recommend finding out about this before you move to that city!
If you have an intact dog and want to keep them that way, if the dog gets out, then you may get them back spayed!
Home Owner's Associations
Home owner's associations in certain condo communities and in certain communities may have standing rules and regulations about the number of dogs you can have, and the size of the dog. I have seen weight restrictions on a dog as well. This should be researched well in advance. There truly could be adverse outcomes if a buyer bought a home in an area and their dog was not allowed!
Be sure to check out if there is a limit to the number of dogs and size of dogs so you are fully aware of what the rules and regulations are in an area when relocating with pets.
Buying a Home with a Fenced Yard?
If you have a dog, you will want to have a fenced yard so the dog can be safely let outside. Be aware if there is wildlife in the area including coyotes or raccoons. And those animals seem to be in most locations and can target small domestic animals. It is generally best to keep your pets in at night to keep them safe. I reside in a populated area and see raccoons and have seen coyotes in broad daylight.
Some dogs can be trained with electronic fences as well if there is wide open space. Fences generally have to be a certain height so the dog cannot jump over!
Is there a Dog Park or Bark Park Nearby?
Research the community and find out where the bark parks and the dog beaches are located. I personally do not frequent these places as I prefer to always have my dog on a leash. And be sure to check out the leash laws in the city and community you are moving to. Most cities and parks have strict regulations that require animals to be leashed at all times, however, there are specialty dog-friendly areas that do allow animals to be off-leash such as a dog park or a dog beach.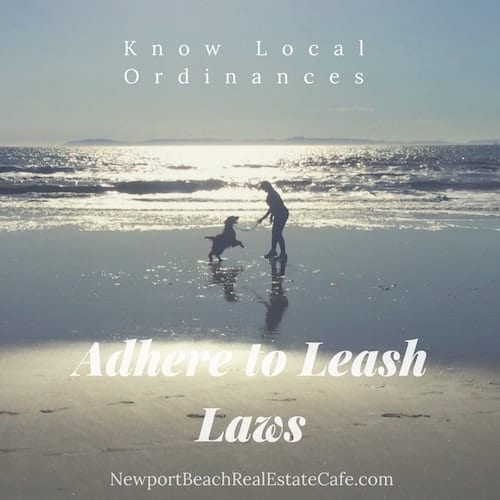 Depending upon the location, there may be times that you are allowed to walk your dog on the beach. In Newport Beach CA, leashed dogs are allowed on beaches prior to 10:00 am and after 4:30 pm. There are some dog beaches and parks which do allow off-leash dogs in Huntington Beach CA and surrounding cities.
Be sure to have all health tests and vaccinations in place when moving to a new neighborhood, and be sure to obtain a city license for your dog.
Where are the Local Vets & Emergency Vets
Your Realtor should be able to provide you with a recommendation for local vets in the area, and it is a good idea to establish a relationship prior to your move. Have your current vet send over their veterinary records so the new vet will be aware and have your dog in their system!
Nobody ever wants to take their pet to an emergency vet, however knowing where they are located and their hours is highly recommended!
Exotic Pets
Moving with exotic birds can be accomplished fairly easily. If you are going to be a few days to your destination, I would recommend purchasing a travel cage so the bird is comfortable. They are fairly social and will have confidence. Be sure to bring their food and bottled water.
Make a Travel Kit
Dog or cat food
Bottled water
Medication if they are on any medication
Water bowl or bucket
Doggie bags to pick up!!
Be sure to take extra food and bottled water with you on your trip. And if you are moving to another city or a different location, then you may want to give your animals bottled water until your pet gets used to drinking the tap water. Whenever I travel with my dogs, I only give them bottled water to avoid them getting upset stomach. Traveling can be stressful for a pet, and that can trigger an upset stomach.
Along the Way
There are many pet-friendly hotels and some do charge a cleaning deposit and others do not. La Quinta does not charge a cleaning or a pet fee. They often have outdoor space to walk the dog as well! So you can make those arrangements along the way when relocating with pets, and filters can be set in hotel search for pet-friendly hotels.
In Your New Home . . .
When you arrive at your new home, prior to letting any of the pets in, you will want to fully inspect the inside and the outside for anything left behind that could be a hazard to the dog or cat. Bringing along their familiar bedding, bowls, food, and bottled water to help them to adjust.
Final Thoughts
There are many considerations when you are relocating with pets, this process can be started well in advance of the actual move date! Crate training to keep them safe is preferred, but not always possible if there is an older animal. Having the pets in a secure environment will help to minimize the stress.
Research the community you are relocating to and make sure there are no breed restrictions and understand community requirements and HOA rules and regulations. Having a vet set up in advance will help to have one more step taken care of.
Moving with pets can be challenging, but it can be done. Be aware of your pet and their behavior and if they are exhibiting any unusual behavior, then you may want to take them to the vet!
Other Top Resources For Relocating with Pets in Mind
Relocation Tips for Moving with Pets via Anita Clark, Selling Warner Robbins
14 Steps for Buying a House via Kyle Hiscock, Rochester Real Estate Blog
13 Steps for Moving with Tips via Bill Gassett, Maximum Exposure Real Estate
Buying a Home with Pets in Mind via Paul Sian, Cincinnati and Northern Kentucky Real Estate
If you thought this article about relocating with pets to be an interesting read, please share it on your Social Media platforms.
Thinking of selling your home? I have a passion for Real Estate and welcome the opportunity to share my marketing expertise and knowledge! Please contact me!