Moving can be a stressful time, so planning ahead can help to make the process smoother. Once a home seller has a moving date in mind, then it is time to organize the move and make decisions if a seller will be using a moving company or planning the move on their own.
Although moving can be stressful, it is also exciting to embark upon the next phase with a new home! Each day we are bombarded with messages on how to simplify our lives and slow down. What better way to achieve this than a fresh start with a new move, along with less stuff! Whether a home seller is moving to a new home out of the area or a condo, planning will simplify the move.
Plan the Move
Once there is a moving date, then it is time to make decisions about how the move will be done. There are considerations as to whether or not to hire professional movers, utilize a container for storage, or do it yourself. Usually, there is some compromise and some combination of moving between using a professional and DIY. Often times, it is important to pack valuable and fragile items to ensure their safety.
Clean out and Declutter
There is no better time to clean out and declutter mercilessly prior to a move! It is important to not keep unnecessary stuff which can just weigh a person down! Keep the sentimental items and those can be packed and labeled. Cleaning out drawers, closets and getting rid of old linens.
Old linens and towels which are not going to be utilized can be donated to pet shelters. There is a wildlife sanctuary local to this area, which always appreciates donations such as towels and linens.
It costs money to move items, so the fewer items that are moved, the less it will cost. Consider selling items that you no longer need on eBay or other sites. Garage sales are a great way to get rid of items, however, they are not always the best return on your investment! And there is always the option of donation.
Make a Packing List
Start about eight weeks out and create a packing list. After items have been purged there will be less to pack. Keep a binder or folder with important documents such as insurance papers, mortgage information, moving estimates and more.
If the home that a person is moving to does not have appliances such as a refrigerator or washer/dryer, then it is a good time to order those and have them ready for delivery prior to the move in date for convenience if possible.
Make an inventory of items that you are moving, and keep track of the items on a spreadsheet!
Hire a Moving Company or DIY
About six weeks prior to your move, contact professional movers to obtain a quote and make a decision as to which mover will be under contract. Consider if a specialty mover may be needed for large items such as a Grand Piano. If a seller has a safe for valuables or for firearms, it is important to check with the mover if they move those items or if there are additional fees.
Ensure the moving company has insurance, and keep a record of that as well. This is also a good time to schedule turning on the utilities and scheduling a change of address.
Begin packing boxes so that it is not a last-minute effort to pack all the boxes just a few days before the move. It is not recommended to pack the daily essentials, but other items can be boxes and labeled!
Purchase Moving Supplies
A variety of supplies is needed for moving including different size boxes, tape, scissors, box cutter to open boxes, sharpie permanent markers, bubble wrap for the fragile items and paper to wrap items. Wrapping fragile items or kitchen items with kitchen towels, or other linens to help to keep them secure, and utilizing towels will cut down on the expense of bubble wrap.
Label Boxes Clearly
Other items needed include labels to write on, and depending upon the size of the home, color coding each room can be beneficial and streamline which room movers will move the boxes. Ensuring that the boxes are labeled clearly with the location and what items are inside is helpful!
For personal valuables such as jewelry and other items, it is in the seller's best interest to pack that themselves, and they should also pack all their own toiletries and prescription medication.
Moving with Pets
Moving with pets also need to be planned. The day of the actual move, it might be in the pet's best interest to board them for the day. Having movers and unfamiliar people in their domicile can create stress for the pet. During the actual move, putting the dog or cat in a crate crating the dogs or cats is recommended, because it is safer for them. Ensure there are sufficient food and bottled water for them as well.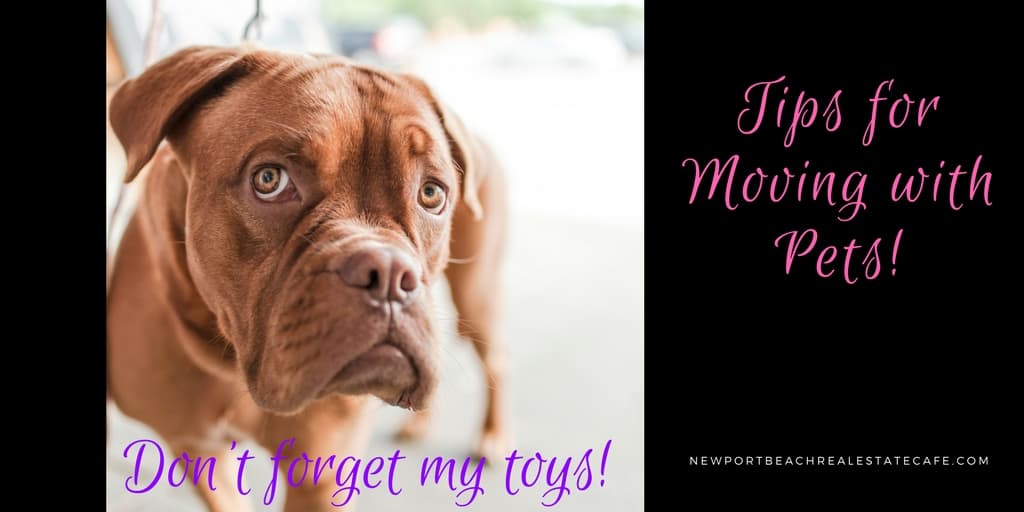 Also, planning for exotic pets needs to be planned as well. Exotic birds may need a travel cage and have their food and bottled water too.
Cleaning Supplies
Having cleaning supplies and a kit to clean the home after the moving is beneficial. Floor cleaner, vacuum, mop, and other cleaning supplies so that the home is ready for a new buyer to take possession! Keeping the utilities on until the seller has moved or can be coordinated with the new buyer moving to the home.
Final Thoughts
Even thinking of moving can be stressful, because of the amount of work that it requires. Planning the move ahead of time will help to alleviate stress and knowing what to expect about two months out can help to organize and reduce the amount of stress!
Find Other Valuable Resources for "8 Tips to Plan a Stress-Free Move" from Real Estate Professionals Across the Country. Please check out the articles below, and please share across Social Media if you liked the articles.
Using Checklists When Buying or Selling via Paul Sian, Cincinnati and Northern Kentucky Real Estate
9 Money Saving Moving Tips via Kyle Hiscock, Rochester Real Estate
Moving Containers VS Moving Trucks via Bill Gassett, Maximum Real Estate Exposure
5 Tips for Selling Your Tenant Occupied Home via Michelle Gibson, Wellington Fl Real Estate
Why Buying a Small Home may be the Best Move via Jeff Nelson, Live Gulf Shores Local
About the Author
The above real estate article "8 Tips to Plan a Stress-Free Move" was written by Sharon Paxson of Newport Beach Real Estate. With combined experience since 2005 with representing sellers, buyers, landlords, and tenants, we welcome the opportunity to share our knowledge and expertise and guide you through your real estate transaction.
We service the following Orange County CA areas: Corona del Mar, Huntington Beach, Laguna Beach, Newport Beach, Newport Coast, Orange, Santa Ana, Sunset Beach, Tustin and more! If you are considering selling your home, we welcome the opportunity to work with you and list your home with a top Newport Beach CA Realtor.