Moving with children is not the ideal situation. Most parents, and kids, find moving stressful. However, what do you do when you have managed to land your dream job on the other side of the country? Often you have no choice than to pack up your home and move.
But, how do you make the moving process easier? There are some great tips for moving to help the process go smoother. Of course, it is easier to move with older children, moving with toddlers or younger kids is often an adventure in itself. It is all about taking the stress out of the situation. There are many ways to help your children prepare for a move.
Being prepared and organized will help the move go smoother. Communicate about everything including anticipating what "can" happen will help to avoid unnecessary stress. Anticipating problems and being prepared for them will help things to go smoothly.
Should I Rent Or Buy?
Moving to a new town is a challenge for the entire family. Decide upfront if you want to rent or buy your new home. Unless you know your new home town well, it is a good idea to rent for a while before you buy a new home. After all, you want to make sure that you are in the right part of town. Whether you are deciding you want to rent or buy, you still want to pick the best neighborhood to live in.
Nearby good schools are important, but at the time, you should not forget about yourself. Having easy access to work will make your life easier in the long run.
If you are considering a condo community, you will want to know the home owner's association's rules and regulations. Questions to ask if there is an HOA include:
How many parking spaces do we get?
Are there specific times that we can move into our new place?
Can we move on the weekend?
Are we allowed to have pets?
Are there breed or size restrictions?
If you have sold your home, put your money in the bank. Find a bank account that pays you interest plus gives you instant access when you find the right new property. It is important to make sure you have funds available for a new family home.
Packing Up The Family
Packing up a family is not easy. When you are moving a long way, it's a good idea to declutter as much as possible. But, remember kids are sensitive. It's best to let someone look after the kids while you pack up the home and declutter.
Never try to pack boxes with toddlers around, they will take out as much stuff as you put in. Once boxed up, put the boxes away so that the kids don't have access to them.
Top tips for moving with children and a stress-free move!
Click To Tweet
Explain To The Kids
You should always explain to your kids that you are moving to a new town or part of the country. Tell them about the positive aspects of moving like making new friends and fun things to do in the area.
Thanks to the Internet, it is easy to show your kids exciting things like beaches, parks and nearby activities for kids. They need something to look forward to as much as you do.
Sell What You Don't Need
Your kids' rooms will probably need dejunking. Kids don't play with all of their toys, and you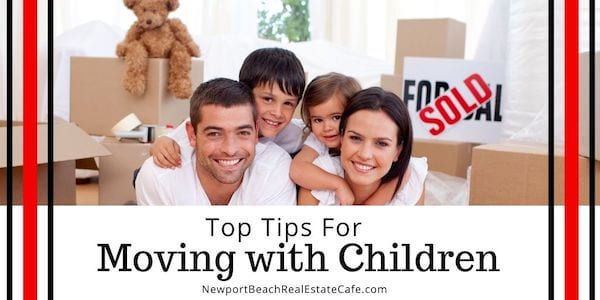 probably have a pretty good idea of what toys to pack and not to pack.
Unwanted toys can be sold on Craig's list or even at a yard sale. If you decide to go for a yard sale, it is best to get someone to look after the kids for the duration of the sale. They will only get in the way and you will worry about them.
Consider donating the toys or any unwanted items as there are many who will benefit from donations.
Find Out About Schools and Child Care
Before you move, make sure that you find out more about local schools and child care. It is better to be sure that all of the arrangements are in place before you move. Get in touch with them, and make sure they can fit your child or children in.
Ideally, your new home should not be far from good schools or nurseries, and you should be able to get there quickly from work.
Last Things to Pack
The last things to pack are clothes and a few personal pieces. Children often appreciate having their own suitcase with their clothes and smaller personal items such as cuddly toys. It makes them feel important and they become part of the process. Be sure to include their favorite pajamas, toys and favorite snacks for the actual move.
Surprise your kids at the new home with a toy in the closet so they are excited about their new room and home!
What About The Family Pets?
If you have family pets, it is important to take them into consideration. You want to prepare the pets for moving and this needs advance preparation. Children hate being parted from pets and you should make sure that you can take your pets with you. Rehoming pets is a stressful experience and best avoided.
Special arrangements often need to be put into place for pets. They need to be comfortable if you have a long way to travel, and a safe place to call home when you arrive at your new destination.
Consider making a travel kit for your dogs:
Bottled water – dogs generally are used the water where they live, and tap water in a new location may cause a GI upset.
Dog or cat food
Dog beds
Crate
Medication
Water and food bowls or bucket
Doggie bags to pick up!!
Final Thoughts
Being prepared when moving with children is necessary. Make sure children have access to toys and cuddly toys when traveling. It will give them something to do and cuddly toys are, of course, nice to cuddle, and provides security. Make frequent stops along the way. That turns the entire family moving experience into an exciting adventure for everyone to remember.
About the Author
Top Newport Beach CA Realtor Sharon Paxson has written the article "Top Tips For Moving With Children". We have experience since 2005 providing real estate services for buyers, sellers, landlords, and tenants. We welcome the opportunity to meet you and assist you with your real estate transactions.
We provide real estate service to our clients within the coastal Orange County CA area including Corona del Mar, Newport Beach, Newport Coast, Tustin, and more coastal towns!