There are obvious reasons why your home is not selling. You have listed your home for sale, and you are not seeing any activity. You may not be getting a single showing or any offers either. There are many reasons why your home may not be selling and these reasons can range from your pricing, the presentation, and photos, or it could be because your real estate agent is not marketing the home properly.
We will identify the problems and find answers to this often urgent question, as to the reasons why your home is not selling.
The Property is Overpriced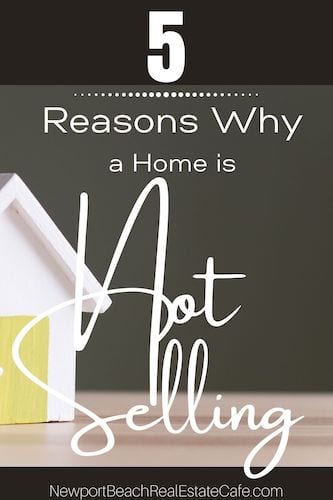 Today's home buyers are informed. They do research online before they ever even make an appointment to look at your property. Today's buyers keep up with home prices, and they know when a home is overpriced. Buyers are generally not going to be wasting their time viewing an overpriced home. Buyers value their time and their house-hunting starts from home on the internet! If the home is overpriced, it is another reason why a home is not selling.
Even if you do manage to fool them into coming to view your house with either crafty descriptions and exaggerated photography, and they find it's not what they expected. They will know the home is overpriced and they'll feel deceived and won't make an offer.
Buyers usually know, even better than sellers, why a home is not selling. When pricing a home, a smart seller will try to think like an informed buyer, thus avoiding false (and often emotional) price justifications.
In addition to finding a buyer to pay your price, the home will have to appraise. Make sure that you and your agent are aware of the value of the home in the market so you can price it accordingly.
Your Home Is Not Up to Par
The fastest way to turn away a potential buyer is to leave your home in poor condition with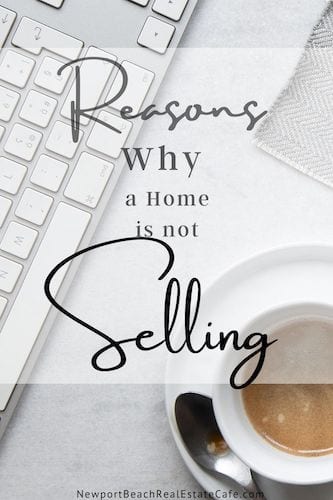 obvious red flags and signs of deferred maintenance. Obvious signs of deferred maintenance is another reason why a home is not selling. If you are selling a home with maintenance issues, then you will need to need to price it accordingly. There are pros and cons of selling a home as-is. You don't want buyers noticing the maintenance and are reasons why a home is not selling.
You may be asking yourself what are the signs of deferred maintenance. Deferred maintenance stands out and includes stained ceilings, missing roof shingles, uneven flooring, cracks in the walls, and dry rot are all common signs of a home that has been neglected. These issues are big red flags and you better believe they'll quickly turn away a potential buyer.
If your goal is to sell a home as-is, quickly, and for the asking price, you may want to make sure it is in the best condition without deferred maintenance – and not just base the price on square footage. There are some money-saving home improvement tips so that you can address deferred maintenance in a cost-effective manner. Buyers are looking for value for their money. There are some home improvements that will bring a seller a good return on investment and encourage buyers to pay a good price.
Noxious Odors in the Home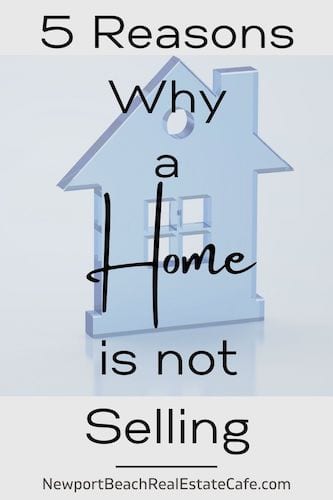 Buyers quickly develop impressions of a property when they first get their sights on the home. Unpleasant odors will turn off most potential buyers.
Most of us only think of cigarette smoke when unpleasant odors are mentioned, but there are so many other things to look at including:
Spicy foods
Old carpets
Old worn-out furniture
Pet hairs and their bedding odor
All of these items have the potential to trap bad odor and retain them for a long time. A great suggestion is to board your pets when selling to avoid turning off potential buyers.
Cooking and spicy food odors can get into the walls and it can be difficult to get the smell out. A good suggestion, in this case, is to repaint!
Thankfully, most odors can be eliminated with deep cleaning and some quick use of Google. A great way to know whether the smells are gone for sure is to have a few unbiased people come into your home for a 'smell test.'' Be cautious about scented candles or plugins that will mask the noxious odors as they can be equally as offensive as other odors that exist.
Your Listing Photos are Lacking
It's said that one picture is worth a thousand words- and the same applies in real estate. In fact, 90% of buyers make a decision on whether to view a house just by taking a quick look at the listing photos.
If there are very few photos or no photos at all, or if the photos aren't good enough, potential
buyers will move on to the next listing. According to Multiple Listing Service, homes with few or poor photos are bypassed, while homes with numerous, good-quality photos get noticed.
Take quality, professional photos; where neither you nor the camera or the flash is visible. Utilize wide-angle lenses for interior shots. Use plenty of light showing off every room's best features. And if you're not a skilled photographer, enlist the services of a professional.
The Home Has Too Many Days on the Market
Potential buyers often ask how long a property has been on the market as they wonder why a home is not selling. They then use this information to compare the property with other nearby homes in the area. A home that has excessive days on the market often avoided by most prospects.
5 Obvious Reasons Why Your Home is Not Selling
Click To Tweet
If your home has spent too many days on the market without many showings or offers, this is the time to have a serious talk with your agent about why the home is not selling. It's time to adjust the price. Also, discuss the marketing strategy with the agent to ensure there is plenty of internet marketing.
Final Thoughts
It can be extremely frustrating when a home continues to sit on the market without any offers. If you have listed your home for sale, and not seeing any activity, then you want to adjust quickly. You will need to step back and consider every aspect of the home from the perspective of a home buyer. This is the best way to know why your home selling efforts aren't fruitful and are able to fix the problems early on.
About the Author
The above real estate article "5 Obvious Reasons Why Your Home is Not Selling" was written by Sharon Paxson of Newport Beach Real Estate. Sharon is a residential Realtor® with experience representing buyers, sellers, and landlords with their real estate transactions since 2005. We welcome the opportunity to share our expertise and guide you through the home buying or selling process.
We service the following Orange County CA areas: Corona del Mar, Huntington Beach, Laguna Beach, Newport Beach, Newport Coast, and more! If you are considering selling your home, we welcome the opportunity to work with you and list your home with a top Newport Beach CA Realtor.