There are some fantastic ways to compare local moving companies. If you want to use a professional moving company for your next home move, there are a lot of options to choose from. It certainly pays to do your research before you select the mover that is right for you. There are some top moving tips and one of them is to find a reputable moving company.
There are well known national, as well as local moving companies to choose from. And even if a company is highly rated, it may not be the best choice for you on either price or the services they offer.
So that you get the best deal on your next move, we show you the things you need to do when looking for local moving companies. Whether or not you are buying or renting your new home, it is important to compare local moving companies.
Be Clear on What you Need
If you know what level of service you need and what size moving truck is required, this will help you
narrow down your search. Some moving companies, particularly local, may not offer the type of service you need for your move. You can check their websites to find out if they provide the service you need or not. When you are looking to compare local moving companies, it is important to determine your needs in advance.
Ask people you know for referrals for moving companies they have worked with. You might find a great company that you wouldn't have otherwise considered.
If you have a one-bedroom apartment or a studio, a 10 or 12-foot moving truck should be big enough. A 14 to 17-foot truck should be enough for most one or two-bedroom moves. If you have a three-bedroom home or larger, you will need a 20 to 26-foot moving truck.
Check Their Reviews and Customer Feedback
Once you have a list of companies that meet your requirements, you need to check what previous customers think of the service they provide. It is easy to find customer feedback online for local moving businesses. You can find feedback on Yelp, Google, Facebook, Trustpilot, and other sites.
While they might have customer testimonials on their own website, this isn't ideal. Since the company can delete messages that are not favorable on their website, it is unlikely that there is going to be negative feedback there. You can also ask to speak to past customers as this is another great way to compare local moving companies. There are moving websites that you enter your moving information and will receive multiple quotes from various companies.
Make sure the movers provide quality service and that customers were happy with the price they paid. While there are bound to be occasional problems and negative feedback as a consequence, you want to avoid companies that have got multiple unhappy customers. If something doesn't seem right with the moving company, cross them off your list.
Be Sure to Obtain Written Quotes
You need to get quotes from at least 3 movers to make sure you get the deal that is right for you. Though you have to be careful when comparing prices as different moving companies will include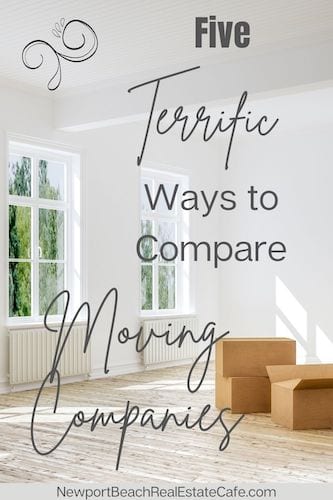 different things in their basic price.
You may well find that the quotes you get are quite different from one another, make sure that this isn't down to extra charges that you'll end up paying.
While some companies might offer online quotes, it is best to contact them directly for a more accurate assessment. It should be remembered that these quotes are just estimates, and you could well end up paying a lot more than the amount quoted. This is another great way to compare local moving companies and obtain the best service for the best price.
If a company is willing to send a representative to offer you a quote in person, this should give you a more accurate idea of how much you will pay. When comparing your quotes you need to look at their pricing structure as well as what they include in the service. Do they charge an hourly rate, or do they charge per job? Watch out for extra charges that could push up your bill if you need them.
Before you make your final choice, check that they are licensed and insured. You should also check with the Federal Motor Carrier Safety Administration to find out if they are registered with the Department of Transport.
Preparing to Move
There are lots of things to do when moving. You will need to declutter and throw away unnecessary
items. It is a good idea to do so, as you are moving anyway. You can find boxes in a variety of places, and they can be pricey to purchase. You can find boxes for free locally, all you have to do is a little planning to find them. Most businesses are happy to accommodate, so they don't have to get rid of them.
If you plan on having your children help pack up, there are some excellent tips for moving with children that should be considered.
Scheduling Your Move
Once you have completed our steps, you should have found a company that you are happy with and will provide a reliable service. The next thing to do is check that they will be available when you need them. If you call them to check availability, you can mention that you are still deciding which movers to go with, and they might offer a discount. The more organized you are, the more you will experience a stress-free move.
You will find that some moving days will be cheaper than others. If you have some flexibility about when you need to move, you might be able to save some money. When you are ready to book the moving service, be wary of companies that ask for a large deposit ahead of the moving date.
If you have pets, then there are some excellent tips on moving with pets. On the day of the move, you need to plan ahead for your pets to ensure their needs are tended to.
Final Thoughts
If you have followed our tips, you should have less to worry about on moving day. You should also be able to cut down on the costs of your move, so you have more money to fix your new home up the way you want it.
About the Author
The above real estate article "5 Terrific Ways to Compare Local Moving Companies" was written by Sharon Paxson of Newport Beach Real Estate. Sharon is a residential Realtor® with experience representing buyers, sellers, and landlords with their real estate transactions since 2005. We welcome the opportunity to share our expertise and guide you through the home buying or selling process.
We service the following Orange County CA areas: Corona del Mar, Huntington Beach, Laguna Beach, Newport Beach, Newport Coast, and more! If you are considering selling your home, we welcome the opportunity to work with you and list your home with a top Newport Beach CA Realtor.