Buying a second home has become a common phenomenon and is an excellent way to grow your real estate portfolio. A second home purchase can be a great investment whether you plan on purchasing your dream home in your favorite vacation spot or buying an investment property. Buying a second home can be the first of multiple investment properties.
Real estate is considered one of the best options for investment. Homebuyers prefer to invest in real estate as it yields high returns when the property has been owned for a long enough period. There are some who utilize their excess income to purchase real estate.
Buying a second home has become quite common. So, if you are planning on buying a second home, there are the top 10 facts to consider before you invest your money in a second home.
Reasons Why You are Buying a Second Home
There are many reasons why you may be considering buying a second home. You will need to determine what type of home that you are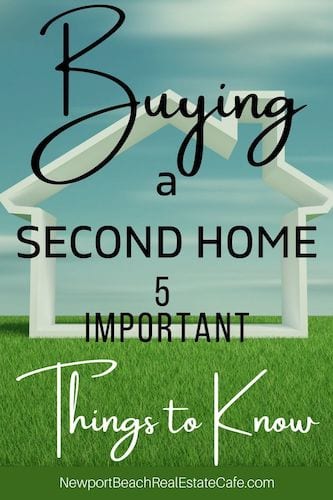 searching for. It may include a single-family home or a condo.
Vacation Property: You may want to purchase a second home as a vacation home. Perhaps you want a lake house or a beach house to get away on the weekends and holidays with your family and friends. You may want to reserve it only for you and your family's use versus renting it out when you own a vacation home.
Commuter Home: Perhaps your spouse has a job that is just too far to get to every day, so you may end up purchasing a second home closer to your business or place of employment. You may be purchasing a condo or something smaller to utilize during the week or work schedule.
Investment Property: Buying an investment property is a great idea for a second home purchase, but there can be drawbacks. Keeping it occupied or rented all the time is important, and the rent ideally covers all your expenses and makes you a profit. With an investment property, you will either be flipping and reselling the home or utilizing it as a rental property. You will want to plan ahead to avoid making costly mistakes when flipping a home.
Primary Residence: You may be purchasing a second home as your new primary residence with a plan to upgrade to that home, and keep your original home as a rental property. Ideally, you will be getting rental income from your first home that will make you a profit.
Can You Afford a Second Home
Your finances need to be in tip-top shape in order to buy a second home and have a second home mortgage. You will want to make sure that you have already saved for your retirement and do not have any outstanding high-interest credit cards to pay back. You want to have an excellent financial position as well as a good credit score to obtain a mortgage loan for a second home.
As a buyer of a second home purchase, it is important to save for your down payment so it is sufficient and you keep some reserves as well. There are some financial factors to bear in mind.
Down Payment: Unless you are paying cash, just like your primary residence, when you are buying a second home, the lender will require a down payment and a mortgage. Whether you are buying an investment property or a vacation property, the lenders see the second home as having more risk. It is more likely for a homeowner to default on a second home versus a primary residence. Often times the lender will require a 10% down payment for conventional loans and 20% for a jumbo loan. The earnest money deposit is generally 3% of the purchase price and is part of the downpayment.
Interest Rates: Lenders will generally charge higher interest rates as the same logic applies to the down payment when buying a second home. For a mortgage lender to protect themselves against any potential loss in the event of a default on the loan, there are generally higher mortgage interest rates on a loan of a second home. Be sure to discuss the interest rate with your lender, and ask if you can buy down the rate to obtain a lower interest rate. Although this will be more expensive up front, it will save you on the monthly payments.
Debt to Income: When you are qualifying for a mortgage for a second home, you will have to meet the debt-to-income requirements Debt to income is the amount of debt you have versus the amount of your income. to qualify. You can calculate your debt to income ratio by adding up your monthly expenses and divide it by your monthly income. Mortgage lenders generally require a debt-to-income ratio of approximately 43% or less in order to receive approval for a second mortgage. Ideally, you will want to be able to afford the mortgage without the rental income.
Buying a Second Home | 5 Important Things to Know
Click To Tweet
Costs of Owning a Second Home
There are many costs of owning a second home, just like there are costs associated with your primary residence. If you are paying cash for your second home, you won't have a mortgage payment to factor in, however, you will still have all the other costs that are associated with owning a home. There can be additional expenses of owning a second home including maintaining the yard and ensuring the home remains in good repair.
Mortgage Payments: If you have decided to obtain a loan when you are purchasing a second home, then you will have a monthly mortgage payment that will need to be made when buying a second home. You can decide whether or not you want to impound the property taxes and insurance on the monthly mortgage payments. This can be arranged with your lender when you are obtaining a loan.
Property Taxes: You will have annual property taxes that are owed on the property and should be taken into account when buying a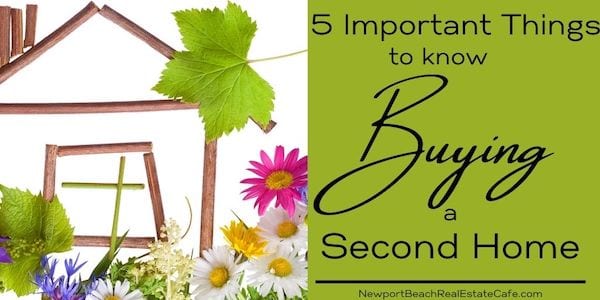 second home. As stated above, you can either have the property tax impounded with your loan, or you can pay them yourself. In California, the property taxes are due in two installments per year.
Home Insurance: Other expenses associated with owning a rental property or a second home is home insurance. If it is your second home or vacation property, you will be able to obtain homeowner's insurance. If the home is an investment property and you are getting rent for the property, then you will need landlord insurance. Landlord insurance is significantly more expensive than homeowners. Be sure to consult with your insurance agent to ensure you have proper coverage. The reason why landlord insurance is higher as there is a higher risk for a rental property versus your primary residence.
Maintenance: Be prepared for the maintenance costs of a rental property when buying a second home. When you are the owner and landlord, you will be responsible for making the repairs on a property. You will likely be painting the property between tenants. You may have other repairs such as replacing screens, ensuring the yard has been maintained, and more.
You might receive an emergency call in the middle of the night for a water leak, so you need to be prepared for the hassle of being a landlord. You could also hire a property manager and pay them for the task of renting and managing the property.
If the property is renting for $3000 per year, then you will receive $36,000 in rent. It is a good idea to budget approximately 10% of the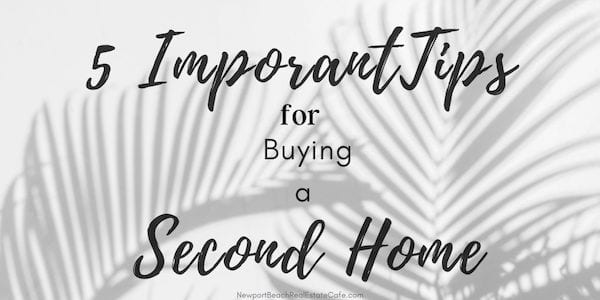 total rent, so in this case, you would budget $3,600 for repairs on the property.
If the home needs a lot of repairs after a tenant has vacated the property and the landlord or owner does not have the reserves to make the repairs, then the owner may try to obtain a home equity line of credit. A HELOC or home equity loan (line of credit) may have higher requirements for a landlord to obtain. There are lenders that require rental property owners to have sufficient equity in their property owner before they approve a HELOC.
Vacancy: Right now, there is very low inventory in both home sales and homes for rent. If a well-maintained home comes in the market, it is likely to be rented quickly. However, keep in mind that there could be vacancy periods with the home. If it takes 60 days for a home to be leased, then using $3,000 a month for rent, that would be a loss of $6,000 when the property is sitting vacant. That is too much time for a home to be sitting vacant. Additionally, there are safety considerations for vacant homes. Vacant homes can be targeted by criminals and it is a good idea to keep the electricity on and to use timers for lighting in the home.
Steps to Buying a Second Home
The steps to purchase a second home are very similar to purchasing your primary residence or home. We will review the process of buying a home.
Meet with a mortgage professional to ensure that you will be able to qualify to purchase a home. You will fill out a mortgage application and provide the lender with all your financial information. Obtain a preapproval letter from the mortgage lender and find out information about the amount of the loan as to whether you will be obtaining a conventional loan or a jumbo loan. Discuss the mortgage rates to ensure that the loan or mortgage payment will be affordable. It is a good idea to find a local lender that works well with your real estate agent.
Find a local real estate agent to work with. It is a good idea to make a list of questions about you will communicate with each other. Discuss with your agent if they are a buyer's agent or a seller's agent. Be sure to look for an agent who is local to the area where you will be buying a home. The local Realtors will know the differences between the communities and help you to select the best neighborhood to purchase a home.
Find a home that you love! You will want to be ready to view properties and make sure that you already have your preapproval in hand. Expect to see multiple offers right now due to the low inventory. There are some necessary tips for getting your offer accepted in a bidding war. You want to avoid making mistakes with a multiple offer situation, as you will likely lose the property.
Once you have an accepted offer, be sure to go through your due diligence process such as reviewing disclosures and having a home inspection. After you have reviewed the home inspection, you can ask the seller for repairs on the home. The seller is under no obligation to repair the home, however, it is a negotiation from the original purchase.
Remove home buying contingencies after you have performed all your due diligence and you are satisfied with the condition of the home.
The loan will fund after the underwriter gets all their prior to doc and prior to close conditions met. Be sure to give the lender whatever they ask for to make sure you stay within the agreed-to time frames. The property will then close escrow when it is released to record with the county!
Renting Your New Property
It is a good idea to hire a real estate agent to list your new place for lease for you. The real estate agent can advertise on your behalf and bring you, potential tenants. Ideally, it is up to you as the landlord to decide on which tenants to select. It is recommended that the tenants have a good income, stable employment, and a good credit score.
Final Thoughts
There are many considerations for buying a second home that comes into play. It is important to consult your tax advisor to understand the tax benefits and tax deductions of owning an investment property. Also, be sure to consult with your financial advisor to ensure that it is a good investment when buying a second home. If you have any questions about buying a second home, please reach out!
About the Author
The above article "Buying a Second Home | 5 Important Things to Know" was written by Sharon Paxson, one of the best Newport Beach CA Real Estate agents. With experience since 2005, representing buyers, sellers, and landlords, we welcome the opportunity to share our expertise with you and guide you through your real estate transaction.