Everyone wants to live in the best neighborhood. When searching for a home, a very common question that is asked of real estate professionals is, "how is the neighborhood?" A seasoned real estate agent should be able to provide neighborhood information for their clients such as the number of homes in a community, the percentage of owner-occupied owns versus non-owner occupied, recent comparable sales, and more.
Once a home buyer has gone through all the necessary steps to ensure they are going to be proceeding with a home purchase, and they know what city they want to reside in there are other necessary steps to consider when choosing a neighborhood. Not all neighborhoods are right for every home buyer! It all depends on what the buyer is looking for whether it be a large lot, lifestyle, proximity to shopping, and more.
Affordable
One of the first considerations when searching for the best neighborhood is determining whether or not it is in the buyer's price range. Some neighborhoods may have features that make certain areas have a higher value such as an ocean or waterfront view! Homes that back up to a busy street may not have the same value as a home on the same street with an interior location.
Establish a budget and check out the affordability of neighborhoods to live in!
Click To Tweet
Schools
This is one of the most important considerations to take into account when searching for a neighborhood is to consider the schools. Even if a home buyer is not going to have children or is past the time of life when they have small children, schools are highly important. Consider re-sale!! If a home is located in a highly sought after location with desirable schools, then the buyer pool will be larger for selling. Always think resale!
Information about schools can be obtained from the school or district's websites, and also from GreatSchools.org.
Crime and Safety
A buyer needs to perform their due diligence including looking at the crime and safety in a neighborhood. Let's face it, crime is everywhere! An excellent way to look at the crime in the area is to look at the Police Department Calls for Service which is on Police Department websites. Additionally, utilizing Google to search for crime in the area is another good resource. Another important consideration is to view the Megan's Law website.
Visit the neighborhood, talk to neighbors and get their impression on the area. A homeowner can minimize their risk by utilizing security cameras and alarms too. There are simple precautions including keeping garage down, doors to home locked and windows too. If a homeowner has security cameras they can generally be seen on the exterior of the home.
Location and Proximity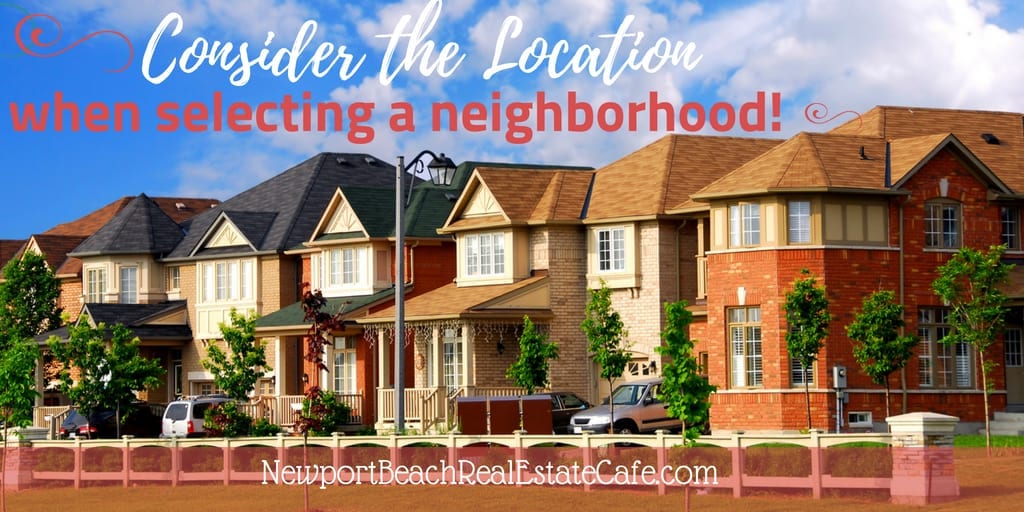 Consider the proximity of the neighborhood within a city. If a buyer has a need to be close to freeways and highways for commuting and/or airports for their occupation that should be high on the list. If a neighborhood is a far distance from highways and freeways and adds to the commute time, this is another factor that should be considered.
Walkability
Walkability is a measure of how friendly an area is with regards to walking. Walkability indicates how you walk to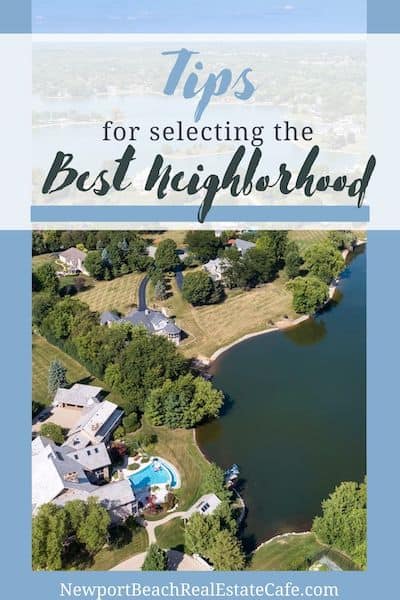 conveniences without utilizing a car.
Walkability is a selling point and many Real Estate agents will point out what the walk score is. The score can be located on Walk Score. Walk Score has graded most neighborhoods around the country so you will find it is an excellent tool. Walking is beneficial to all and has many health benefits including reducing stress, and benefits to a person's cardiovascular system. Is the neighborhood walking distance to shopping, dining or to local activities. Consider if the neighborhood is walking distance to schools and other local conveniences. Walkability is important and many enjoy the outdoor lifestyle! I see many people in my area walking with their dogs and it is not only good for the person, it benefits the dog as well.
HOA
If a neighborhood has an HOA or home owner's association this can be an additional expense to a homeowner. Condo communities have HOA's which generally have some type of common area and a monthly HOA fee. A lender will take this fee into account when qualifying a buyer for a loan. Planned unit developments may also have CC&R rules which have rules and regulations which can govern what a homeowner can do with the property. This should also be considered if a homeowner is planning a major remodel, sometimes there are architectural committees which require may require the approval of any remodeling, paint colors, architectural changes, and more.
Final Thoughts
There are many considerations when searching for a neighborhood, and it is an area where a homeowner will want to enjoy the lifestyle and community. The walkability is so important in today's times as a homeowner can walk to restaurants and shopping to enjoy the lifestyle in the area.
Find Other Valuable Resources for "6 Tips for Picking the Best Neighborhood to Live In" from Real Estate Professionals Across the Country. Please check out the articles below, and please share across Social Media if you liked the articles.
9 Tips to Choose a Neighborhood via Kyle Hiscock, Rochester Real Estate
Steps to Home Buying via Joe Boylan, Colorado Springs Real Estate
Looking for the Best Neighborhood via Bill Gassett, Maximum Real Estate Exposure
Do Not Buy the Best Home on the Block via Luke Skar, Inlanta Mortgage
Homeownership Facts via Paul Sian, Greater Cincinnati, OH and Northern KY
Pros and Cons of Buying in a Gated Community via Michelle Gibson, Wellington Home Team
About the Author
The above real estate article "6 Tips for Picking the Best Neighborhood to Live In" was written by Sharon Paxson of Newport Beach Real Estate. With combined experience since 2005 with representing sellers, buyers, landlords, and tenants, we welcome the opportunity to share our knowledge and expertise and guide you through your real estate transaction.
We service the following Orange County CA areas: Corona del Mar, Huntington Beach, Laguna Beach, Newport Beach, Newport Coast, Orange, Santa Ana, Sunset Beach, Tustin and more! If you are considering selling your home, we welcome the opportunity to work with you and list your home with a top Newport Beach CA Realtor.