When you need storage facilities during a home move or for whatever reason, there might be many options available to you. There are many storage options including storage units and storage pods. Oftentimes, when homeowners are moving, they may be utilizing a storage unit. But how do you compare storage companies?
We review the critical tips you need to consider so that you get the right storage to meet your needs.
Unit Sizes
Understanding how much room you need when renting from storage companies will help you compare your options. There are a lot of different storage unit sizes available, and renting a larger unit than you really need is a waste of money. You want to save money when moving.
If you can stack your moving boxes up while they are still in your home, this can help. It should assist you to get a better understanding of the amount of space you will need in your unit, and this will help you choose. Sizes can typically range from 5 x 5 to 20 x 20 or even larger, with the costs varying accordingly.
You can stack boxes and furniture to make the most of the size of unit you have. Make sure to position the heavier items at the bottom and leave room down the side of the unit, so that you can easily gain access to more of your stuff. Ideally, you find free moving boxes to store your items in a storage unit.
Security
If you have some valuable possessions you want to keep in your unit, security will be an important factor to consider when comparing storage facilities. Some companies will have a better focus on security than others, so check what the storage companies offer before making a reservation. Security at a storage unit is just as important as your home security.
U-Haul is among the best well-known storage companies for good security provision in storage companies. But does the company you choose have video surveillance, electronic security gates, and an on-site manager?
You will want to research the security of the storage company to ensure that your items are secure. Take the time to create a spreadsheet of the pros and cons fo each of the storage companies that you may be considering to store your items.
Insurance Options
Your homeowner's insurance might provide you with some coverage for your possessions, though it won't cover much. The storage business might include some basic level of insurance in their price, but you could still need more. Choosing an optional extra insurance policy will make sure you are fully covered should your items be lost or damaged when stored.
8 Necessary Tips to Compare Storage Companies
Click To Tweet
Do You Need Full Service
If moving your items into storage is going to be difficult, full-service storage might be a better option. Having someone else do the hard work, like packing your stuff and loading it onto a truck to move into your unit, could be a great option in a lot of circumstances. You will want to avoid making exhausting moving mistakes when relocating your items to a storage unit.
Some storage companies will offer this service, and though it will be an extra cost, it could well be worth it.
Types of Storage Facilities
You will likely have indoor and outdoor units available. Outdoor units will normally allow you to drive right up to the unit, making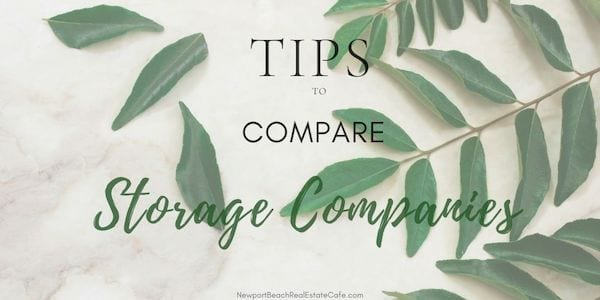 unloading your vehicle very straightforward. Though with this type of unit, security won't be as good and climate controls aren't generally provided.
With indoor units, access will be more restricted, improving security. They will also likely have climate controls and a greater range of sizes. The downside is that you can't park right outside the unit.
Climate Controls
Climate controls will be more important the longer you expect to store your items. This will protect them from changes of temperature that can lead to mold or mildew growth that will damage your items. This is particularly important if you are storing clothes, furniture, documents, artwork, but useful in protecting everything you store.
Access to Your Storage
If you know that you will only want to access your unit during business hours, this isn't going to be a concern. But if it might be more convenient to use your unit in the evening or through the night, you need to find out what the facilities offer.
Some storage companies do offer 24-hour access, but there may be extra charges for this. If this is an important consideration, make sure you know this is available at the facilities you want to use.
Prices
The price you pay for your storage unit will be very important to many people. When you are clear on the things you need from your storage unit, it will be easier to compare the prices.
Storage prices vary depending on your location, with city storage typically being more expensive, partly due to demand. Companies often offer low prices for new customers, so you might find your first month only costing you a dollar.
Public Storage is one company that advertises low introductory offers such as this. It is a good idea to research who has the best offers in order to secure a reputable storage unit at a good price.
The price is another item you need to add to your spreadsheet included in the pros and cons of a storage unit.
Final Thoughts
If you use our tips to help compare your storage options, you should keep your stored items safe and save yourself some money at the same time. There are top moving tips when storing your items in a storage unit. Make sure you check out the company you finally pick before you reserve your unit. Read customer feedback to make sure you are making a good choice.
About the Author
Top Newport Beach Real Estate Agent Sharon Paxson has written the real estate article "8 Critical Tips to Compare Storage Companies". With experience since 2005 representing sellers, buyers, and landlords with their real estate transactions, we welcome the opportunity to share our knowledge and expertise and guide you through the home buying or selling process.