You might have heard about escalation clauses, but what are they? You need to know!!
When you are ready to make an offer on a home, including this type of clause, could help you get the home you want in a competitive market or in a bidding war. Let's take a closer look at escalation clauses.
What is an Escalation Clause?
An escalation clause is an addition to a purchase contract that allows the buyer to increase their offer price automatically. If the buyer makes an offer, but the seller receives another and better offer, the escalation clause allows the first buyer to increase their offer. In this competitive market, the buyer should make the highest and best offer.
Though the principle of this type of clause is fairly straightforward, there can be a few details that complicate matters.
How do Escalation Clauses Work in Practice?
The exact details of an escalation clause can vary greatly, but there are a few common factors. The clause will state the original offer price as well as the maximum amount that buyer is willing to offer. The clause will also set out how much the buyer is willing to increase their offer when the clause is triggered.
For example, if a purchaser has made an offer on a home for $200,000 and they include an escalation clause, they might increase their offer by $5,000 in the event of a higher offer.
They can set a limit to their offer, and the escalation clause will increase their offer until it gets that maximum or their offer is accepted. This can be a very effective tool when making an offer on a home, as it ensures the buyer's offer is going up in value. This is a method of ensuring that the offer will be considered by the seller. It shows that the buyer has serious consideration with the home purchase.
When Should an Escalation Clause be Used?
These types of clauses are only going to be required when you can be fairly confident that the seller will get multiple offers. This type of clause does show the seller what the maximum offer the buyer is willing to make, and so hands over a lot of negotiating power to the seller.
Also, some sellers will not accept an offer with an escalation clause. Instead, preferring that every buyer submits their best offer. This can potentially lead to buyers offering higher offers initially so that they beat other potential purchasers.
Are There Going to be Multiple Rounds of Offers?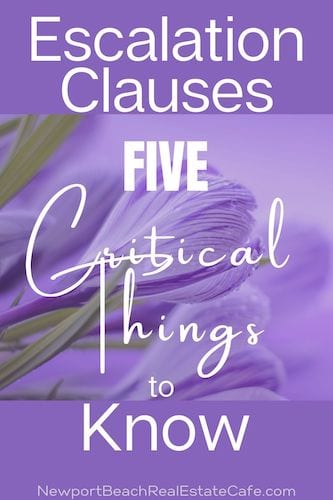 If the real estate agent has indicated that there will be multiple rounds or offer review processes, this can be a great time to use an escalation clause. These will normally happen in a hot seller's market where using this clause can give you an advantage. Your buyer's agent should be providing you guidance on how to prepare the most competitive offer to have a shot at having your offer accepted.
The seller's agent may collect offers from buyers and then respond to the best bids by a certain date. If you are using this clause, it will mean that you can avoid much of the back and forth process the other buyers will participate in.
Though this can put you at a disadvantage too. If there is going to be a second round of offers, the seller will know your maximum bid will be. This amount can be revealed to other buyers. This can happen to increase the offers from other interested buyers and means the buyer with the clause is disadvantaged. In this competitive market, buyers are waiving all kinds of contingencies that can be very risky. Many buyers are not including an appraisal contingency which could put the buyer at risk if the property does not appraise.
Treating Every Situation Differently
When you are making an offer on a home, using escalation clauses might not be the right approach for every situation. There are steps to buying a home, and an escalation clause may not be the right way to go.
Help from your real estate agent should go a long way to show you whether using this type of clause will increase your chances of getting the home you want or not. You will want to have your home buying process planned out in advance and know what you need to offer in order to have your offer considered.
A lot will depend on the market conditions, and the research carried out by your real estate agent can also show how the seller reviews the offers they receive.
Final Thoughts
The idea of using escalation clauses can be an added stress for home buyers, but the process of creating a clause like this isn't complicated and shouldn't be feared. You want to avoid making mistakes in a multiple offer situation because if you do, you will likely lose the home you are making an offer on. Whenever you are entering into a bidding process for a home, the situation is going to be stressful enough, so, understandably, you don't want more complications.
When you make an offer in a competitive market, it is important to be realistic about how much you have to spend and the home that will buy you. When you are competing against other buyers, there is pressure to increase your offer to win. But if you give into this, you could find yourself in financial problems later on that could lead to foreclosure.
Although in a bidding war, it can go either way as well. If the buyers are not persuing homes as aggressively as they need to in order to get the home they want. Because the market is so competitive right now, sellers are generally not concerned with selling a home quickly in a seller's market. If the property is at a good market value, and interest rates are low, stretching your finances that little bit further could be beneficial long-term. Overpricing a home, even in this competitive market is not a good idea.
About the Author
Top Newport Beach Real Estate Agent Sharon Paxson has written the real estate article "What is an Escalation Clause | 5 Critical Things to Know". With experience since 2005 representing sellers, buyers, and landlords with their real estate transactions, we welcome the opportunity to share our knowledge and expertise and guide you through the home buying or selling process.