Moving Tips
There are money-saving moving tips that will help you plan your move in the most economical fashion! Moving home is a difficult process, with a lot of stress and problems to overcome. One common problem is the cost involved, but there are some money-saving moving tips that can help you at this stressful time. These moving tips will help you to have a stress free move.
We take a look at the 8 moving tips that could reduce your costs for your move.
Reducing the Number of Items You Need to Move
If you have fewer things to move, your moving costs are going to be less. Moving home gives you the perfect opportunity to have a sort through your possessions and get rid of the things you no longer use. This means you will have fewer things to pack and require less space in a moving truck. Other moving tips include having fewer things to move. There are some great locations to donate items after you have decluttered your home.
You could even sell the things you no longer want. There are apps you can use such as eBay, Poshmark, LetGo or you could even having a garage sale or sell things online. A donation to charity is another option and will give you a tax deduction on your bill at the end of the year.
Doing Things Yourself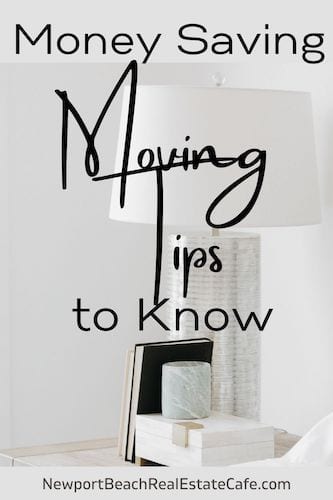 Other moving tips include trying to do as much as you can yourself. The more things you can take care of yourself the better for your budget. If you can do all of your packing or a lot of it, you will save a great deal. Renting your own moving truck will, of course, be cheaper than hiring professionals. Renting a truck should be at the top of your list and it is important to research the different moving truck companies.
You don't have to do everything yourself if you have friends or family that can help out. Perhaps you know someone who has a truck that you can borrow, and friends or family that can help on moving day. You might have to buy them a drink or a meal to convince them to help, but it will certainly be cheaper. While you are planning your move, one of the first things to do on the list is to change your address.
Save on Moving Supplies
If you don't leave everything till the last minute with your move, you can save a lot on moving supplies. If you ask around, you might find some friends, family, or neighbors who have some boxes they can give you. Failing that, you can check online for people that have moving boxes to give away.
Local grocery stores and other retailers can be great sources of free boxes as well. Just ask in stores you visit in the months leading up to your move to see what boxes you can get. There are some great locations to find free moving boxes.
You can also use clothes, towels, and other linen to protect your more delicate items. This will save you money on bubble wrap and packing peanuts and should help you avoid breakages.
Moving Tips to Avoid Damaging Your Possessions
Even if you think you've saved a lot of money on moving home, damaging something expensive will take away all of those savings. To avoid this, you should pack expensive items like flat-screen TVs, in their original packaging if you still have them. It is possible to buy specialty boxes for those sorts of items to reduce the risk.
If you have certain items that you want to move, then you can pack them up to avoid any damage. If you have figurines and have the original boxes, putting them in the original packaging should prevent damage.
Moving Tips | 8 Money Saving Hacks
Click To Tweet
Shipping Your Items
If you don't have many large items to move, you might find it works out cheaper to ship your items via USPS. This might be true if you are moving long-distance with a smaller number of boxes to transport. There can be exhausting moving mistakes that you will want to avoid.
Hiring Low-Cost Movers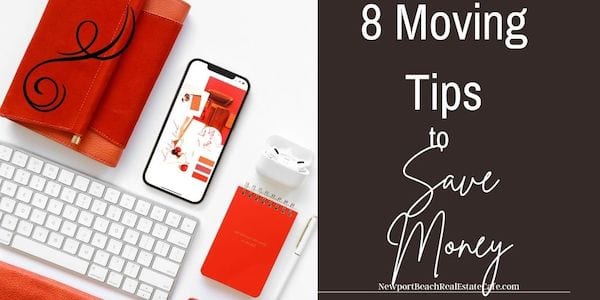 If you need help from professional movers, there are lower-cost options available. Make sure you get many quotes and check customer feedback to make sure they are reliable. You want to compare local moving companies to ensure you are getting a reasonable quote. Get their costs in writing so that you don't get surprised by extra expenses when you can least afford them.
Moving at a Less Expensive Time
Certain times of the year are more expensive than others. People are more likely to want to move during the summer months for obvious reasons, and these will be more expensive as a consequence.
The beginning and the end of the month, as well as the weekends, are going to be more expensive. Scheduling your move for a less popular time will help save you a lot.
Negotiating Discounts
If you would like to pay less for your moving expenses, you could just try asking. Professional movers might be able to give you a better deal on their costs or offer you some advice to help reduce your bill. Everyone understands that moving home is an expensive time, so people could be willing to help you cut your costs if you just ask.
Final Thoughts
If you follow our moving tips you can have a stress free move to a new city at the same time saving a lot of money. Sometimes all it takes is doing more of the work yourself, but even if you want to hire movers, there are still money saving options available.
About the Author
The above real estate article "Moving Tips | 8 Money-Saving Hacks" was written by Sharon Paxson of Newport Beach Real Estate. Sharon is a residential Realtor® with experience representing buyers, sellers, and landlords with their real estate transactions since 2005. We welcome the opportunity to share our expertise and guide you through the home buying or selling process.
We service the following Orange County CA areas: Corona del Mar, Huntington Beach, Laguna Beach, Newport Beach, Newport Coast, and more! If you are considering selling your home, we welcome the opportunity to work with you and list your home with a top Newport Beach CA Realtor.