Repair Your Home Before Selling
There are reasons why you should repair your home before selling. How easy you will find it to you sell your home, isn't a matter of chance. Much of it will come down to your location and the current market situation, but there are some things you can affect.
The condition of your home is one such thing. If you take the time to repair your home before listing it, you should get a better outcome. When you repair your home or make smart noticeable upgrades, it will make your home sell faster and for more. Obvious signs of deferred maintenance is a reason why a home may not be selling.
Some repair choices are going to be better than others, and if you make the right choice, the money you spend on repairs will really pay dividends.
Ideally, you can add inexpensive items to decoratively stage your home and do so inexpensively. This will improve the overall ambiance of the home.
What is Important to Buyers?
Unless you are selling your home as-is, it is important for buyers to see that the home has been maintained. When you
are going to repair your home before selling, you need to understand what is important to a buyer. So that you make better use of your money, and don't waste your time on repairs that aren't going to help sell your home, you need to think about what buyers are looking for when you are going to repair your home before selling.
Walk around your home and list any defects and problems that need attention. Try, if you can, to look at it impartially. This won't be easy as you know your home very well, but it will help you view the property as potential buyers might. This should show you the most important things that you need to spend money on.
It is very easy to neglect minor problems, but while these things won't matter to you, potential buyers will notice. Perhaps there is a stain on your carpet that is so familiar to you that you don't even notice it anymore.
Some chipped paint or peeling wallpaper can easily be forgotten, but they are things you need to add to your list. Someone viewing your home for the first time will notice something like this. And ensuring that the home has a coast of fresh paint is a good return on investment.
You also need to think about the areas of your home that will produce better results. Certain rooms, like the kitchen or the bathrooms, will benefit more from your attention. An updated kitchen is something all buyers will appreciate. Your yard is another area that can make a big difference to the perception of possible buyers. Repairs in these areas can often be done very cheaply and prove very cost-effective.
Take Care of the Landscaping
You need to make sure your yard is tidy with the lawn trimmed and edged. Cut back bushes and trees to allow more light into your home, and pull out the weeds. If yard work isn't your thing, get a professional in to keep the area maintained.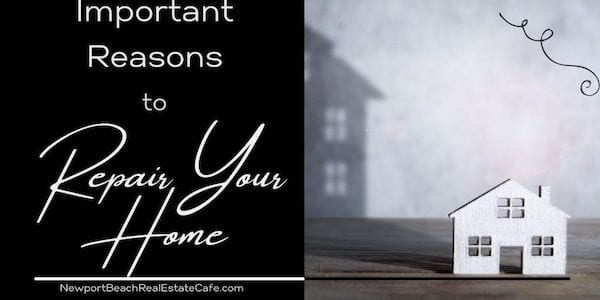 Also, make sure the front door is more welcoming, with a fresh coat of paint or stain. Buy a new mat to improve the appearance, and keep any furniture well maintained as well. Update your light fixture or if it is still in good condition, be sure to clean it of any cobwebs or debris. The curb appeal of your home is the starting point as buyers form their opinions about your property.
Wooden Flooring
Many buyers favor wooden floors. If you are considering replacing the carpet, wood floors might be a better option. If you already have wooden floors, thoroughly clean them, fix any damage to refurbish them so that buyers will be impressed.
Boost Your Bathrooms
Another important factor is bathroom updates when you repair your home. Make sure your bathrooms sparkle, as buyers want to see clean and modern bathrooms. Tiles can be steam cleaned, and the grouting can be renewed. Reapplying the caulking around sinks and bathtubs is often necessary and a straightforward task. A new mirror and more lighting can make a big difference to the smallest rooms in the home. Updating the bathroom will help the condition of the home. Buyers do appreciate bathrooms that have been upgraded. Another item to consider is the fixtures in the home that can be updated.
10 Important Reasons To Repair Your Home Before Selling
Click To Tweet
Windows and Doors
Another item to consider when you are going to repair your home before selling is to consider the windows and the doors. If you have a broken lock or stuck window, it isn't going to leave a good impression on the buyer. They wouldn't be forgiven for wondering what else is wrong with the home if you can't even deal with obvious problems with windows and doors.
Painting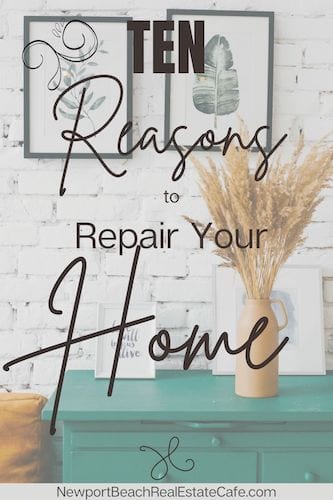 Dull rooms can benefit from a fresh covering of paint in neutral colors that increase their appeal. While you might have chosen a bold color palette for your rooms, this might not be to the taste of many potential buyers.
Buyers want to imagine themselves living in the home, and if the colors are bold, it can be difficult for them to see beyond the paint. Of course, they can repaint in their own preferred colors, but they are unlikely to think like that or want the extra work when they have just moved in.
When you repair your home complete these simple repairs, you will be enhancing your chances of selling your home faster. You will have made your home closer to what buyers are looking for, which should increase the selling price. Paint is an important consideration when you are going to repair your home.
Final Thoughts
Addressing all of these items in your home will make for a nicer home and will definitely boost home value. Even if you are not selling your home, it is a good idea to keep it in good condition and well maintained. The improvements that you make to the home will help to improve the condition of the home. You can update your home affordably by using money-saving home improvement tips.
About the Author
The above real estate article "8 Important Reasons to Repair Your Home Before Selling" was written by Sharon Paxson of Newport Beach Real Estate. Sharon is a residential Realtor® with experience representing buyers, sellers, and landlords with their real estate transactions since 2005. We welcome the opportunity to share our expertise and guide you through the home buying or selling process.
We service the following Orange County CA areas: Corona del Mar, Huntington Beach, Laguna Beach, Newport Beach, Newport Coast, and more! If you are considering selling your home, we welcome the opportunity to work with you and list your home with a top Newport Beach CA Realtor.