There are buyer mistakes that you want to avoid. Buying a single-family home or condo for the first time is very exciting, and there are some crucial steps that must be taken into consideration when beginning the home buying process. It is exciting and often times first time buyers will go out and preview open houses and fall in love with a property and think they are ready to make an offer. There are many considerations when beginning the home buying process, and the following are some imperative steps to consider and avoid making mistakes!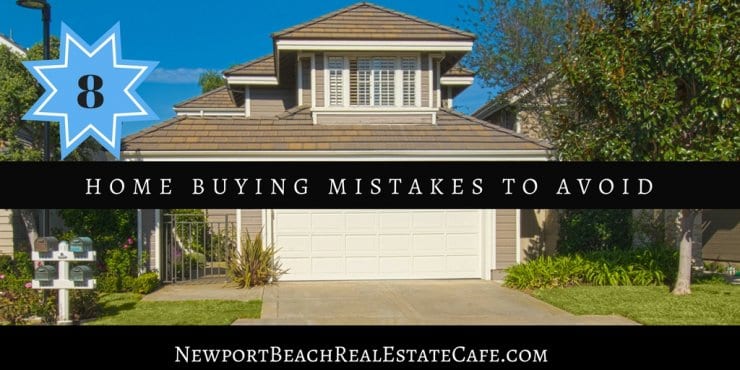 Not Considering the Area
Have you ever been to an open house with brand new construction, and looked at the homes? They are staged beautifully and designed to have an emotional appeal to the buyer. A buyer might be looking at all the new kitchens and bathrooms, but is this really the area where a buyer wants to reside. New construction might be best for a buyer, however, it is important to consider all your options. New construction may have Mello roos or other additional taxes which should be investigated as they are additional costs.
There are very important considerations when looking at an area or city to live in. One of the first and most important considerations are the schools, even if the buyer does not have children, or does not plan to have children, schools are hugely important for resale. Additionally, look at a home in an area, does it back up to a busy street, or is there a sports park behind it with lighting which stays on until 10:00 pm at night? I am not so sure I would want that in my backyard, and the noise and lighting can be distracting.
Look at the market trends in an area. A buyer will be able to look at market trends more easily in an established neighborhood versus new construction as previous sales should be considered.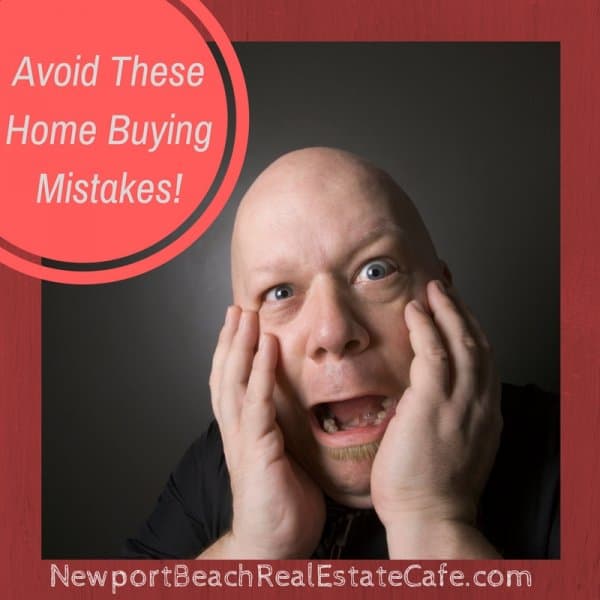 Other factors to consider, does the neighborhood have a home owner's association, and what are the costs associated with it, and what are the amenities that a homeowner will have.
Skipping the Mortgage Pre-Qualification
What the bank is willing to lend you and what you think you can afford may not be in alignment. Having poor credit, and income which is not stable may impact a buyer's ability to qualify for a home loan. Obtaining a mortgage pre-qualification is the most important step before starting to even preview or look at homes. It is so easy to go out and look at homes and fall in love with an area only to find out that a home may be way out of your price point. It is imperative to establish what you CAN afford before starting to look at homes.
If you do not obtain a pre-approval, then you may be wasting time including the buyer's agent, the listing agent, and the sellers. If a buyer signs a purchase agreement and is not able to obtain a loan, then the process will have been a waste.
If a buyer knows the purchase price and loan amount that they are qualified for, then a buyer should be looking at homes in that price point.
Making a Large Purchase During the Loan Approval Process
If you do anything to alter your credit score during the home buying process, this can impact your ability to get the loan. Avoid making any large purchases such as an automobile purchase until after the loan has funded, the property has recorded and escrow has closed. Even if a buyer has been pre-approved for a home loan, that is not a guarantee that the buyer will obtain the loan.
Shopping for Homes Out of Your Price Point
A buyer may be wasting their time looking at homes that are outside of their price point. If they cannot afford the home or obtain a mortgage on the property, then there really is no point in looking at homes which are at a higher price point. I have had many buyers who want to "just look". It can be very disappointing for a buyer to look at homes they cannot afford, and then finding out the reality of what they can afford can set unrealistic expectations.
Skipping a Home Inspection
A home inspection is a buyer expense and can range in price for several hundred dollars depending upon the size and amenities of the home. A home inspection is limited, non-invasive inspection of a property and it is done usually in association with the purchase of the property. Home inspections are recommended by the buyer's Realtor and depending on the outcome of the home inspection, a buyer may utilize that as a contingency to not proceed with the purchase. Home inspectors have training and certifications (which may vary state by state) to conduct a home inspection.
It is highly recommended to obtain a home inspection during the due diligence period. Buying a home can be daunting and will be the single largest purchase that a buyer will make. As a buyer, it is imperative to find out as much as possible about the property and ensure that the systems of the home are operable including HVAC, plumbing, electric and more. The home inspection results may trigger other inspections. Having the knowledge about property and the systems will help a buyer decide if they want to proceed. You don't want to purchase a home with deferred maintenance, plumbing leaks or mold and systems that are inoperable, as they will be extremely costly for a first time home buyer.
Not Considering Home Re-Sale Value
One of the most important factors when purchasing real property is considering resale value. There are many factors which affect the value and the area/location is one of the most important considerations. Schools are another factor, even if the buyers don't have children, you may be selling your home in the future to a family with children. I have had buyers who specifically bought in a specific neighborhood so that their children can attend that school.
Consider the location of the home in the area that you are looking at. Is it a waterfront home? Consider the location of the home, does it back to a busy street, as this can impact value.
Maintenance of the home is also imperative as this will help a seller obtain top dollar when it is time to sell in the future!
Failing to Consider Additional Expenses
When working with a mortgage lender, they will take into account the additional costs to a buyer will know every month what the out of pocket expenses are going to be. Some additional expenses that will be considered are the monthly home owner's association fees which can range in cost and home insurance.
Other expenses that may arise may be home maintenance and repairs which can also range in price. If a refrigerator goes out and is not covered by a home warranty plan, then that can be a very pricey replacement. Garage doors need maintenance, and the home should be maintained. Deferring maintenance expenses can end being very costly in the end. Should selling be a consideration in the future, then anyone buying a home will want to know if there is deferred maintenance and that will be reflected in the purchase price!
Not Utilizing a Buyer's Agent
As a buyer, it is important to utilize your own agent. Utilizing the agent that has the home listed may be a conflict of interest. Keep in mind the listing agent already has the seller represented. A buyer does not have to use an agent who is holding an open house or a model home agent.
A buyer's agent will guide the home buyer through the home buying process. There is not a cost associated with utilizing your own agent, and it is the seller who pays the real estate commission. The buyer's agent is also objective and will provide recent comparable market analysis to ensure that a buyer is not overpaying.
Final Thoughts
When purchasing real estate, it is most likely the single largest investment you will make. It is important to remember it is a business transaction and keep the emotions out of it. Buying a home has many benefits, and objectivity is key when purchasing a home. Remember to utilize your own agent to represent your interests, be sure to have a home inspection and look at the potential re-sale for the future.
Find Other Valuable Resources for "8 First Time Home Buyer Mistakes to Avoid?" from Real Estate Professionals Across the Country. Please check out the articles below, and please share across Social Media if you liked the articles.
13 Home Buyer Mistakes via Luke Skar, Inlanta Mortgage
What Not to Do Before Buying a Home via Bill Gassett, Maximum Exposure Real Estate
Buying Etiquette 101 via Michelle Gibson, Wellington Home Team
5 Mistakes to Avoid When Buying a Home via Kyle Hiscock, Rochester Real Estate Blog
About the Author
The above real estate article "8 First Time Home Buyer Mistakes to Avoid" was written by Sharon Paxson of Newport Beach Real Estate. With experience since 2005 representing sellers, buyers, and landlords with their real estate transactions, we welcome the opportunity to share our knowledge and expertise and guide you through the home buying or selling process.
We service the following Orange County CA areas: Corona del Mar, Huntington Beach, Laguna Beach, Newport Beach, Newport Coast, Orange, Santa Ana, Sunset Beach, Tustin and more! If you are considering selling your home, we welcome the opportunity to work with you and list your home with a top Newport Beach CA Realtor.