There are some definite pros and cons of an HOA community. If you are planning on moving to a home that is part of a homeowner's association, you might have some real estate questions. There are plenty of reasons why living in an HOA community is a good thing, but there are some downsides too. When you are searching for a neighborhood to live in, you will want to find out as much information about the community as to pick the best neighborhood to live in.
We take a look at the things you need to think about before you choose to live within a homeowner's association community. There are costs of homeownership that will include homeowner's association fees if you move to a property with an HOA. You will want to avoid mistakes when homebuying, so understanding what an HOA is will be beneficial.
What is a Homeowner's Association?
A homeowner's associations exist for the purpose of maintaining and setting rules for a small area. This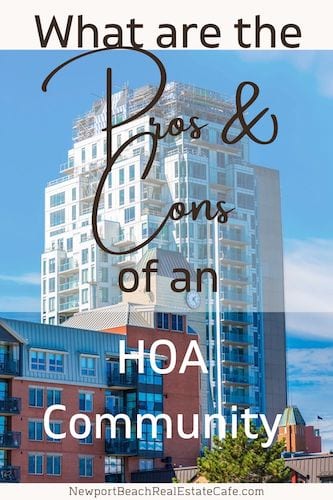 could be an apartment building or housing development, where they set rules to ensure the community functions well. Condo communities do have HOA's as there is a common area.
Homeowner's associations have CC&Rs. CC&R's is an acronym for covenants, conditions & restrictions. The CC&Rs are considered the rules of the neighborhood. They will describe the requirements of the neighborhood and limitations about what is allowed to do with your property.
The HOA will charge fees to its residents, which could range from less than $50 to over $1,000 per month. They will also frequently require that people looking to move to the community meet with them beforehand so that they understand the community rules.
A well-managed association can really be great for a community, but if it isn't managed reliably, the opposite will be true. Poorly managed HOAs can have many problems that make living in the community unpleasant. If you are looking to move to this type of community, you need to understand how well the HOA is operated.
The Pros of Living in an HOA Community
There are many benefits of residing in a condo community that has an HOA or homeowner's association.
Yard Maintenance
If you don't like doing yard work, living in an HOA could be great for you. They will take care of the maintenance of outside common areas meaning you don't have to mow the lawn anymore. They will also handle any pests, prune trees, and fix any general maintenance issues. HOA's generally will cover the exterior maintenance of the physical structure as well. With your own backyard or space, there are tips to accessorize your outdoor space.
If you're looking for a low-maintenance home, a property within an HOA could be the answer.
Access to Amenities
Many HOAs include community amenities for you and your neighbors to use. amenities that may be included are tennis courts, racquetball courts, community clubhouses, swimming pools, gyms, parks, greenbelts, volleyball courts, and more. When you reside in a community with an HOA, you get the benefits of these amenities without needing to maintain them yourself. Landscaping and pool maintenance is paid for directly from the HOA.
Socializing
Living in a community like this will naturally draw you closer to your neighbors. Not only will you meet them when using the amenities, but also in community meetings. Often events and social gatherings will be organized by the association too. There are often social activities such as book clubs where the neighbors get together.
Bills Included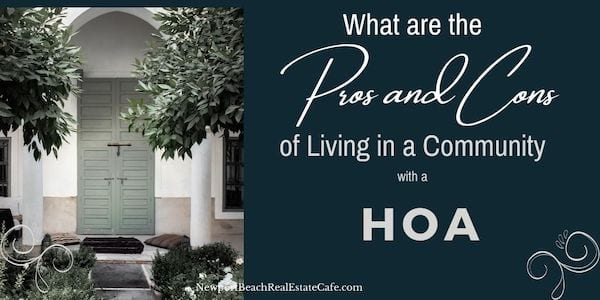 The homeowner's association you are living in will group the bills that are covered in one monthly payment. This can include your utilities, trash, recycling, insurance, and maintenance fees if they are covered by the association. Only having to pay one bill per month makes things a lot easier, and could be something you're really looking for.
Annoying Neighbors
Living close to your neighbors almost inevitably leads to some issues. Whether it's barking dogs, loud music, or illegal parking, it can make your life difficult.
The association, however, will be able to deal with any of these neighbor disputes. This means you don't have to confront the neighbor that's causing a problem, and the association will intervene and deal with the issue.
The Cons of Living in an HOA Community
The Cost
Though living in such an area may offer you more, you will have to pay for it. If you don't use the amenities offered very much, this can seem like an unnecessary expense.
Following Rules
If you are not the sort of person who likes to stick to the rules, living in this type of community could be an issue. They may have restrictions on what you do with your home, parking, hanging up towels, and even the number of pets you have.
You need to make sure that the rules of the community aren't going to restrict your life more than you would like. If you are a dog lover, be sure to check the pet policy and the number of pets allowed.
Remodeling
If you want to remodel the outside of your property, the association's rules might prevent you. They might have restrictions on the colors you can use and even the plants you can grow.
Most HOA's do have an architectural review committee that can restrict what you can do when remodeling the exterior of the property. There can also be restrictions on what paint color a homeowner is choosing and more. There can be height restrictions as well that are governed by the city. This is common in communities that have water views.
Privacy
Living in this type of community will naturally lead to less privacy. Community living tends to lead to people knowing more about other people's business, and if you don't like the sound of that, perhaps you won't like living in this type of community.
Is Living in a Homeowner's Association Community Right for You?
Living in this type of community isn't going to be best for everyone. If you like the pros we've covered, and the cons don't seem too bad, perhaps this is the right type of living arrangement for you. But if your privacy, freedoms, and living expenses are paramount, perhaps look at a different type of home.
Before You Buy . . .
When you are going through the home buying process, there are many factors to consider. You will want to find out exactly what the HOA allows before purchasing in that neighborhood. Another important factor is to look at the reserves of the HOA to ensure it is financially sound. And check to see how often the HOA dues are raised. Reviewing this information is a contingency of the purchase of the home. Do not remove that contingency until you have performed all your due diligence.
Final Thoughts
Be sure to review all the HOA documents and ensure it is well run. Talk to the neighbors and inquire about living in the neighborhood. Oftentimes, a property that has an HOA can be great because of the extra amenities. Enjoying a pool without the hassle of having to pay for it is a definite benefit.
About the Author
The above real estate article "Pros and Cons of Living in an HOA" was written by Sharon Paxson of Newport Beach Real Estate. With experience since 2005 representing clients with their real estate transactions, we welcome the opportunity to share our knowledge and expertise and guide you through the home selling or buying process.
If you are considering selling your home, we welcome the opportunity to work with you and list your home with a top Newport Beach CA Realtor.