Living in a retirement community can be something that you may consider when you reach the age of 55 or above. If you are 55 years of age or older the idea of living in a retirement community might appeal to you. They can help you more easily enjoy your retirement with community activities and amenities that you will be interested in.
If you are considering moving into this type of community, there are some important facts you need to consider, let's take a look.
Choosing the Right Type of Housing
When you are considering downsizing your home, you may want to look at what type of housing will be ideal. Before you look at which retirement communities are right for you, you need to understand the type of housing you want to live in. Do you want to live in a single-family home, or will a condo be better? There are many benefits of living in a condo.
There are pluses and minuses for each, with more privacy with a single-family home but more maintenance and upkeep expenses. You will have less space with a condo, but less to take care of, saving you some money. Additionally, condo communities generally provide home insurance for the structure as that expense is included in your monthly HOA dues. Most retirement communities will also have an HOA that will cover the cost of maintaining the common areas.
Make Sure the Retirement Community is Well Managed
The management of the community needs to be working in a way that improves the area and works in the best interests of residents. Unfortunately, this isn't always going to be the case.
You should speak to the management company themselves as well as residents so that you can find out if there are any problems with the running of the community.
Retirement Community Living
These communities frequently have activities available for the residents, so you need to find out what the community offers and if it is right for you.
They could also have amenities like tennis courts or swimming pools, but if you don't play tennis or like swimming, these are things you were paying for that you won't be using.
Following the Rules
When you join a retirement community like this, you will have to agree to abide by their rules. This could limit the things you can do with your home and require you to keep the front yard well-maintained to ensure it has good curb appeal.
If you haven't lived in a homeowners association area before, this could feel very restrictive. Be sure that you understand their rules before you decide to move into a particular community because if you aren't happy, it could make living in the home very difficult for you. There are pros and cons of an HOA.
Take your time to research the community and understand the rules and regulations before commiting. The last thing you want to experience is regretting your move.
Checking the Costs
Before you decide on which of the retirement communities you want to live in, you need to understand the costs involved. You may be required to purchase a membership to live within the community and this is unlikely to be cheap.
The required fees will be used to pay for maintenance, management, and cover the costs of the amenities in the community. You need to be sure that these fees are going to be within your budget.
Is the Location Right for You?
Make sure the location of the retirement community is close to the places you frequently visit. Perhaps you want to be near to family or a big city with all the things that offers.
Does the Home Offer Enough?
When you are buying a home in retirement communities, there are more things to consider. While no one really wants to think about health problems when you get older, you should when it comes to a retirement property. A single-level home, with the main level entry, is ideal for anyone above the age of 55. As seniors get older, it is common to see knee or hip replacements, and having a home free is barriers is beneficial.
A condo in a retirement community is an ideal place to age in place. It is common for older people to have mobility issues, so is the house going to be suitable should that affect you?
Financing a Retirement Home
It is more common for seniors to purchase retirement homes with cash, but if this isn't the case, you need to have a good understanding of your financial situation. There are options to obtain a mortgage for a property that may work for a senior including the family opportunity mortgage.
If you are 62 or older, a reverse mortgage might be right for you. A reverse mortgage is a way of financing your retirement by using the equity you have in your home.
Meet the Neighbors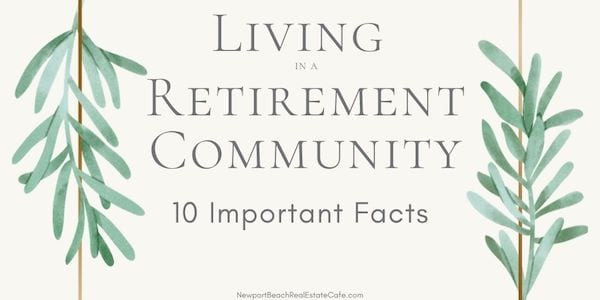 If you plan to take advantage of living in a community, you'd better meet a few of the neighbors first. This should give you an understanding of what the community is like and whether you will get on with people in your neighborhood. You will definitely want to pick the best community to live in that is suitable for your own needs.
Though you can't expect to make friends with everyone, being on good terms with people in the community will make your retirement living better.
Getting Approved
Depending on the type of retirement communities you are looking to move to, they may have some barriers to entry. The management of the community might want to check that you are the right sort of person that will fit in with the community. You will want to be comfortable in your new community, so it is important to perform all your due diligence before you hire a mover and move in.
10 Important Facts about Living in a Retirement Community
Click To Tweet
This might mean that they want references or to check your financial records. Check with the management, or ask your real estate agent if you will have to go through an approval process before you will be allowed to buy.
Final Thoughts
Living in a retirement community may not be for everyone, but it does offer a sense of community. Keep in mind it is stressful to move to a new city. Seniors may be stubborn and choose not to move to a new community. Some communities will offer a meal service as well. There can also be safety checks to ensure a senior is safe in the home they are residing in. There are many activities for a senior to enjoy as well, and it is good to get involved to avoid the sense of isolation.
About the Author
Top Newport Beach Real Estate Agent Sharon Paxson with Newport Beach Real Estate has written the article "10 Important Facts about Living in a Retirement Community". With experience since 2005 representing clients with their real estate transactions including home buying, home selling, and working with lease clients. We welcome the opportunity to share our knowledge and expertise and guide you through the home selling or buying process.