Are you considering buying a condo? Here is what you need to know! If you are purchasing a property in an area, but you just cannot quite qualify for a single-family home? Then you may want to consider purchasing a condominium. Condominium communities create affordability in specific areas which may have a higher price point and open up the real estate market to buyers deciding to locate to a specific area. And condos tend to be more affordable. Many of the complexes may cover different utilities such as water, and that is included as part of your monthly HOA bill.
What is a Condo?
A condo is an individual unit that is located in a shared complex that is owned by an individual. A condo is a type of real
estate where units with as few as two, or several are separated into individual units and surrounded by common areas. In your condo, your specific residence would be privately owned. Most condos have shared walls, or you may have a neighbor above or below you. Condos may also be detached and there may also be a zero lot line. Condos are a great way for a buyer to get into the real estate market and can be a hassle-free way to own property.
Do Condo Communities Have a Home Owner's Association?
Most likely, YES! Because there are shared walls and common areas, they need to be maintained by a home owner's association. Often times the HOA will pay for utilities, and the HOA may also include the insurance of the structure. The HOA maintains the common area including the siding of the building and the roof in most cases. When you are purchasing a condo, you will get a copy of the HOA documents, it is recommended that you read them thoroughly!
There are generally CC&R's (Covenants, Conditions & Restrictions) which are rules that must be adhered to when residing in a condo community. They describe the requirements and limitations of what you can do with your property. The CC&R's can place restrictions on paint colors for example. And the CC&R's may also have guidelines about the size of a pet or the number of pets allow, and be sure to check as there can be breed restrictions in the condo community and in the city! There are also parking guidelines as well!
You will want to find out this information once you are in escrow by thoroughly reviewing the documents so you know what the rules are to live in a specific community.
The HOA will charge the homeowner a monthly HOA fee, and you want to find out the amount, frequency and exactly what it covers! This amount should also be taken into consideration when obtaining a loan! Review the HOA financials and look at the reserves.
Where Do I Store my Stuff?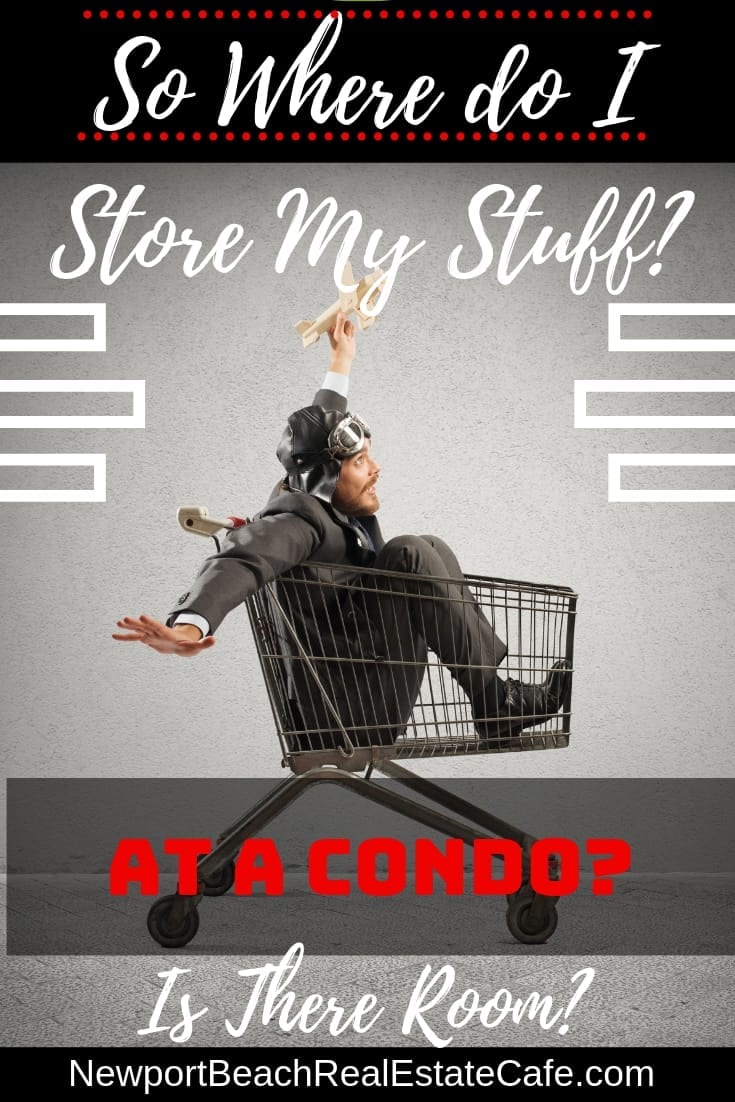 There are some condo complexes which do not have garages, but there is generally some type of storage cabinets for the homeowners. If you need a property that has a garage, then be sure to let your Realtor know so that information is included in the search filter! There can be a carport and a garage, or even just a carport. And you may be limited to the amount of assigned parking there is at the property. Certain complexes may also have a shared garage, and there may be locked cabinets for the owner's use to store their items.
If there is not a washer and dryer hookup in the condo, then it may have a shared laundry area. Some of these shared washers and dryers are also coin-operated, so you need to take that into consideration as well.
What Type of Insurance Do I Need?
In general, the HOA will pay for the building insurance. However, as a homeowner, you will need "walls in" insurance or H06 insurance and this will cover the contents in the property. This type of insurance is generally less expensive than the traditional home owner's insurance. The benefit of paying the HOA is that it pays for the maintenance of the structure and the insurance.
Can I get a VA or FHA Loan in All Condo Complexes?
Not necessarily! If you have a VA benefit, of course, you want to take advantage of that benefit when obtaining a loan. However, in order for a lender to loan on a condo, the condo complex has to be approved by VA or FHA in order to obtain that type of loan. That is another great reason to make sure you meet with a lender first, before embarking on the home viewing process. If a buyer is obtaining a loan that requires approval, that info needs to be obtained prior to showing homes!
Amenities
Most condo complexes have some type of amenities which are maintained by the Home Owner's Association. Some of the amenities may include a common area room, pool, spa, tennis courts, basketball court, gym or volleyball courts. The common areas are nice to utilize and another place to meet your neighbors. The amenities are for the exclusive use of the residents.
Litigation
This is important to ask if there is any litigation in the complex against the HOA as this can impede your ability to obtain financing. If there is any pending litigation this can prevent the ability to obtain financing. Lenders don't like to lend on properties that have outstanding litigation. The litigation can be from personal injury and more. If a Realtor has a property listed for sale, that is another important question to ask.
Questions to Ask!
How often has the HOA gone up over the past 10 years?
What is the policy on renting on the property?
What are the condo association rules and regulations?
What does the HOA cover?
Are there any assessments coming up?
Is there any pending litigation in the complex?
Does the condo complex allow pets? If so, what is the size, number of pets and are there breed restrictions?
What is the percentage of owner-occupied?
Final Thoughts
Buying a condo is a fantastic way to purchase a home and offers less maintenance as well for a homeowner who really doesn't want to take care of all the exterior maintenance that a single family home may require. Condos do appreciate along with the market and having upgrades in the home make it more appealing to a potential buyer. Be sure to take into consideration the location of the unit in the complex, and end units are really nice as there are fewer common walls.
Find Other Valuable Resources for "Considering Buying a Condo? Here is What You Need to Know!" from Real Estate Professionals Across the Country. Please check out the articles below, and please share across Social Media if you liked the articles.
What to Know About Home Owners Associations on HOA via Bill Gassett, Maximum Real Estate Exposure
Tips for Downsizing to a 55+ Community via Petra Norris, Lakeland Florida Real Estate
Everything You Need to Know About a Condo HOA via Jamohl DeWald, Portland OR Real Estate
How to Avoid Buyer's Remorse via Luke Skar, Mortgage Realty
What are HOA Violations via Michelle Gibson, Wellington Home Team
About the Author
The above real estate article "Considering Buying a Condo? Here is What You Need to Know!" was written by Sharon Paxson of Newport Beach Real Estate. With combined experience since 2005 with representing sellers, buyers, landlords, and tenants, we welcome the opportunity to share our knowledge and expertise and guide you through your real estate transaction.
We service the following Orange County CA areas: Corona del Mar, Huntington Beach, Laguna Beach, Newport Beach, Newport Coast, Orange, Santa Ana, Sunset Beach, Tustin and more! If you are considering selling your home, we welcome the opportunity to work with you and list your home with a top Newport Beach CA Realtor.